Welcome back to Good Points, a Q&A about credit card points, the people who collect them, and where they take us. Today's guest is James Lai, an e-commerce entrepreneur, and the Co-Founder of APÉRO Wine. As you'll learn below, he takes full advantage of his business expenses to earn points and travel the world.
If you know anyone who just won't shut up about their points strategy, have them send an email to shep@gizmodomedia.com with the subject line "Good Points" for a chance to be featured. We want to talk to everyone from professional travelers who spend their lives on the road, to people who save all their points on one trip per year, so don't be shy!
---
What first got you hooked on collecting points?

I've been collecting points for years through my business, but didn't learn how to maximize my redemptions for travel until a friend told me about her Cathay Pacific Business Class travel adventures. I spent a few weeks fully immersing myself in the points game and booked my first round-trip Business Class flight from Los Angeles to Hong Kong. I distinctly remember sitting up in the middle of my lay-flat seat and biting into a juicy burger that I opted for as my mid-flight snack. I had the biggest smile on my face as I knew that travel would never be the same.
What are you trying to accomplish by collecting points? Pay for all of your small trips? Splurge on vacations that you wouldn't otherwise take? Somewhere in between?
At first, my goal with collecting points was to take the edge off travel. I have a hard time getting comfortable on airplanes, so I'll typically book a Business Class seat for flights over four hours.
G/O Media may get a commission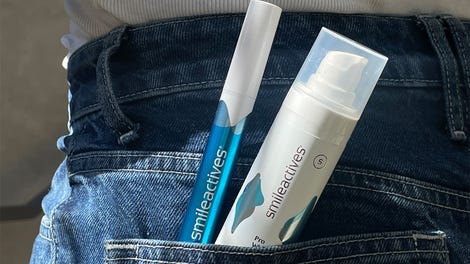 58% off
Whitening Powerhouse Pen & Gel Duo
Then, I started optimizing my vacations by staying at luxury hotels and resorts. I believe that happiness is one of the few things that doubles when shared, so I tend to bring family and friends on trips with me.
What credit cards do you currently hold, and why'd you get them?
The Business Platinum® Card from American Express: Centurion Lounge access,a membership to WeWork for that "Digital Nomad" lifestyle, 1.5x points on purchases over $5000 (maximum 1,000,000 bonus points per year), and a 35% point rebate on your select qualifying airline (maximum 500,000 points back per year). I consider this card a requirement for any business owner.
Chase Sapphire Reserve®: A 3x multiplier on food and travel makes this card my go-to for the bulk of my personal life. It also transfers to my beloved Hyatt group of hotels. Lastly, a reimbursement for TSA Precheck or Global Entry membership fees (ed. note: up to $100), a $300 annual travel credit and a Priority Pass membership make this card the ultimate travel companion.
What point redemption are you most proud of?
It has to be locking in a flight on Qatar Airway's QSuites. My girlfriend and I got the two center seats, so we were able to turn that into one big double bed. Their on-demand dining service was impeccable. Booking was tricky since at the time, the QSuites were only available on routes leaving from IAD and JFK, so we spent a few days in NYC before our trip.
What point redemption are you least proud of?
Before learning about using points for travel, I must have spent a few million points on gift cards for Home Depot and restaurants. They did come in handy when remodeling my office, but the redemption value is extremely cringe-worthy.
Do you chase status at a specific airline or hotel chain, or do you just shop around for the best deals, locations, and flights?
For airlines, I really value trying out different brands and products so I don't build any loyalty there. For hotels, I am loyal to Hyatt because of their great redemption rates, service and the fact that they are partners with MGM Resorts. Once you become a Hyatt Explorist, you can status match with MGM's Gold tier, unlocking a whole host of benefits for all your Vegas-goers.
What's the first card you recommend to people who are interested in getting into points, and why?
The Chase Sapphire Reserve. Aside from a healthy sign-up bonus, it fits into most people's lives with the 3x points on travel and food. Its other benefits like the $300 annual travel credit, TSA Pre-Check & Global Entry membership fee reimbursement, and Priority Pass membership are actually usable. Combined with strong transfer partners, this card is a great way to dive head-first into learning about points.
What's one piece of advice you wish you'd known before you got into points collecting?
Business and First Class award flights are typically very difficult to redeem and are often a product of great timing, and flexibility in schedule. You'd better be available to hop on a flight at an off date/time and be creative with your routes. Searching for award award availability is extremely time-consuming. You might feel like giving up, but don't. You'll be surprised by last minute releases in award availability and planning a trip around a destination you might not have otherwise considered is an adventure on its own.
How do you keep track of things like points, bonus categories, free nights, and annual fee dates?
I don't really. I dive into my points when I'm ready to book a trip. I just memorize what card to use for what purchase and occasionally log in to my credit card portal to see if there are any current offers for better redemption rates or bonus points. Subscribing to any number of good points blogs will keep you in the loop with the latest news.
What's the next big trip on the horizon for you? Are you using points to pay for any or all of it?
I'm planning a trip to Taipei for the fall. I will be using ANA's portal to book a round trip Eva Air Business Class flight for 90K points transferred from American Express. The Grand Hyatt there is phenomenal and can be had for 15,000 Chase Ultimate Rewards points per night. If you can, upgrade to a room with Club access. The food is fantastic, and there's a great cocktail hour starting at 4pm.
Top three items on your travel bucket list?
Unwind in the Maldives
Eat at Sukiyabashi Jiro in Tokyo
Do an extended stay in Bali
Favorite city you've ever visited?
My recent favorite city is Valletta, Malta. A charming place full of history and culture with a booming culinary scene.

Favorite airport?
Hong Kong International Airport. If you ever get a chance to check out Cathay Pacific's "The Wing" lounge, nothing else comes close. Besides being visually stunning, the food is the best lounge food I've ever had. Not to mention the Aesop amenities in the bathroom.
Worst airport?
Istanbul. It's crowded, grimey and gross.
Favorite hotel you've ever stayed in?
The Parker Palm Springs, designed by Jonathan Adler. A mid-century modern marvel.
Airplane drink of choice?
Scotch on the rocks.
Three items you can't travel without?
Bose QC35 noise canceling headphones.
Suitcase of choice?
The Genius Pack G4 carry-on for short trips. Or the Tumi Alpha 3 wheeled duffel for international flights.

Can you sleep on a plane?
Yes, I knock out immediately. I have a funny feeling it has something to do with the airplane exhaust fumes that slowly build up before take-off. I've slept through countless meals.
Window seat or aisle seat?
Window. I'm a sleeper so I like having a wall to lean on.
---
Gizmodo Media Commerce has partnered with The Points Guy Affiliate Network for our coverage of credit products. Gizmodo Media Group and The Points Guy may receive a commission from card issuers.
---