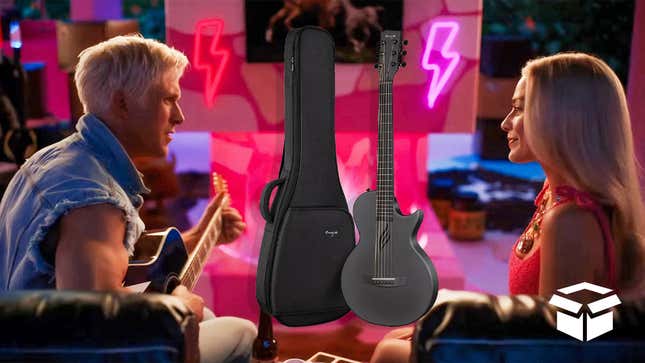 Based on the amount of laughter my theater had and the anecdotes I've heard from friends who date men, it seems having the guitar played at you is a universal experience. If you watched the Barbie movie and thought, "Wow, I should learn to play Push by Matchbox Twenty, then you may have gotten the wrong message. However, I'm not here to stop you. I'm here to tell you this Enya Nova Go beginner acoustic guitar is on sale. It's half-size (great for bringing to the beach), made from carbon fiber, and comes with a starting bundle. That includes a case, strap, cleaning cloth, and strings. Next thing you'll know, you'll be strumming along to the words of Rob Thomas to a woman who's not sure what to do with herself for the next three minutes and twenty-three seconds. I can proudly say I've never done that, but I have paused a movie to mansplain to a date the importance of a scene and the contribution it left on cinema. I'm just as bad if not worse. Hell, at some point I might do it for this scene. I am so much worse.
Enya Nova Go Carbon Fiber Acoustic Guitar | $162 | Amazon | Clip Coupon
The Enya Nova Go guitar is normally priced at $300, but right now it's both set at 37% off and there is a coupon you can apply on the product page to save an additional 15%.