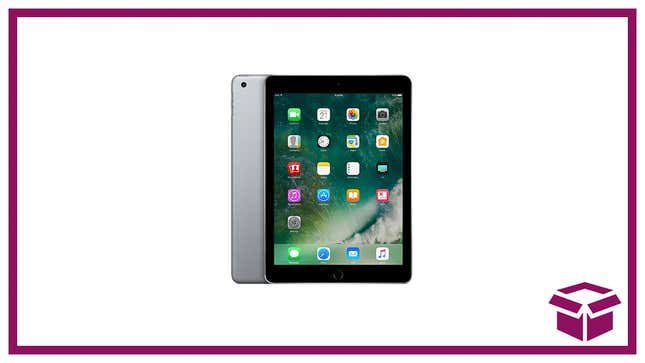 You want to buy some new tech? But you want to save cash? And you want to conscientiously reduce waste and your carbon footprint? Well, there's a solution for you! Buy refurbished. You can get new gadgets at a steep discount by giving gently used tech a new home. And you help to reduce waste from overproduction. Now that we got your attention, check this: StackSocial has a sale on a refurbished Space Gray, 128GB Wi-Fi Only, 9.7" 6th Generation (2018) Apple iPad. They're selling it for $175 – or 16% off the normal price of $210.
Refurbished Space Gray, 128GB Wi-Fi Only, 9.7" 6th Gen (2018) Apple iPad | $175 | StackSocial

The tablet's Wi-Fi capabilities allow you to go online through any Wi-Fi network or through a hotspot. An 8MP camera allows you to capture sharp videos and photos. And it features a rechargeable battery that provides 10 hours of usage time on a full charge. Powered by an A10 Fusion chip, the tablet offers smooth performance and quickness for multitasking through countless tabs and apps. The 9.7" Retina display offers stunning clarity and vibrant colors, perfect for binge-watching sessions of The Other Black Girl and Never Say Never. The 128GB hard drive gives you ample storage for apps, photos, and videos. The 6th Gen iPad also supports Apple Pencil, allowing for precise drawing and note-taking experiences for your table. This refurbished 6thGen Wi-Fi Only iPad is a sleek, powerful tablet that combines style and functionality in a versatile device that effortlessly caters to your needs, from productivity to entertainment. And you can save money and be conscientious about your carbon footprint? Don't lose out on a bargain!