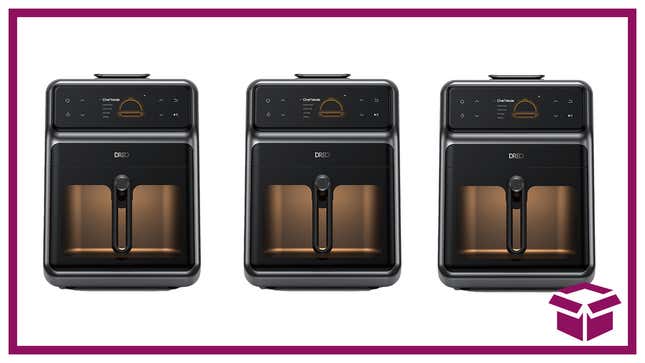 Precision timing is the key to cooking, and the key to scoring the best deal at the right time. Now you can do both — the revolutionary Dreo ChefMaker is hitting Kickstarter today, and the Launch Day Special brings you this amazing new appliance and accessories for $199, 45% down from the MSRP of $359.
Snacktaku Drinks Pepsi's Time-Jumping 1893 Cola Flavors
Dreo ChefMaker | $199 | Kickstarter
If you've missed our previous Kickstarter deals, like the AnkerMake M5 3D printer, here's how it works: Innovators bring their wares to Kickstarter for crowdsourced funding, usually with a limited number of slots available, and the earlier you're able to get in, the better the deal. And that is the case here — the $199 deal for the Dreo ChefMaker is one day only.
So why jump now? Because the ChefMaker — the world's first combi fryer – has so much potential to change the method and quality of your cooking. Dreo is touting perfectly done interiors and delicious crispy exteriors for any kind of meat or fish and perfectly prepared vegetables, with over 44 preset cooking programs to cover a huge range of foods and preferences. It's easily customizable to suit any palate, and the Dreo App monitors the cooking process and comes with recipes, videos, and tutorials.
The ChefMaker's basket is also dishwasher safe for easy cleanup, unlike most countertop cookers, and the black metal with transparent viewing window and touchscreen control will enhance your kitchen instead of cluttering it.
What if you miss the Launch Day Special? The ChefMaker will still be on Kickstarter, but the sooner you get there to back this great project the better. The Super Early Bird Special ($229) runs May 24 and 25, after which the Early Bird Special ($259) is available for the next 200 backers. Once that is exhausted, the Kickstarter Special price of $279 kicks in.