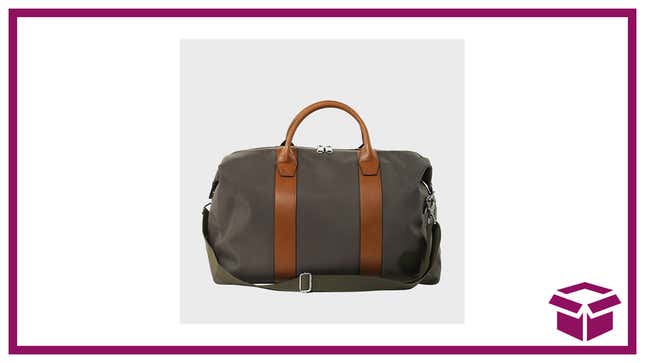 We all need reliable bags to get us through daily life — whether that's a weekender for travel, a briefcase or backpack for work, or a duffel for the gym. But finding the right combination of style, durability, and value can be difficult. That's why we're excited about Steele & Borough, a brand that began in Stockholm in 2015 with a mission to deliver perfectly engineered bags to customers everywhere. (You can get 10% off your purchase at S&B's site when you sign up for their newsletter.) Their options not only look great, but it's clear that every detail has been finessed to ensure the user experience is perfect. In fact, the founders of S&B spent the last seven years perfecting just five bags, all of which combine a timeless aesthetic with cutting-edge and super-functional vegan materials. If you're looking for classic style and great functionality, these are the bags for you.
Weekender and duffel bags, briefcases, and more | 10% off when you sign up for their newsletter | Steele & Borough 

S&B's weekender is their quintessential design — a total classic that puts a modern spin on weekend duffels from the past. Available in a range of colors, the bags are constructed of water-resistant nylon and vegan leather. They include several pockets to ensure you stay organized during your travels. And best of all, the price is right — they are just $211 (before your discount).
The weekender is a great option for trips as well as the gym. But in case you want a bag with slightly different proportions to hold your workout gear, S&B also offers a great-looking duffel. In its design, the duffel reflects their commitment to top-notch materials and construction. And its classic look means it will be stylish forever. As with the weekender, the price is amazing — the duffels are just $174.
If you're like us, no bag gets as much wear and tear as the one that carries our laptop to work. And for that function, S&B offers several options, including a briefcase ($138) and a specially designed laptop bag ($156). Both deliver the same high-quality design and construction as the rest of S&B's collection — so you can trust that no matter how much your work bag gets used, features like the zippers and the handles will hold up well.  
If briefcases and laptop bags aren't your thing for commuting, S&B has you covered with its classic backpack. Available for $156 in two colors, the backpack will keep you looking sharp and discreet on the bus or subway while offering the same durability and style as the rest of S&B's collection. Water-resistant nylon and perfectly engineered details (like the zippers) will ensure that your experience is A+ every day.