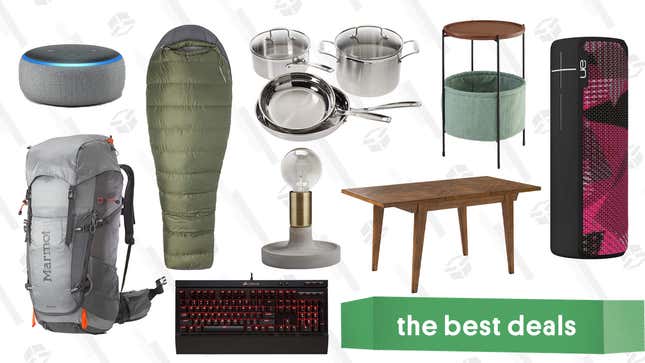 Discounted Marmot hiking and backpacking equipment, 50-70% off at J. Crew Factory, and Final Fantasy VII: Remake lead off Friday's best deals from around the web.

Bookmark Kinja Deals and follow us on Twitter to never miss a deal. Be sure to read our guide on how to prepare for Prime day and bookmark our Prime Day deals hub to be ready for the big day.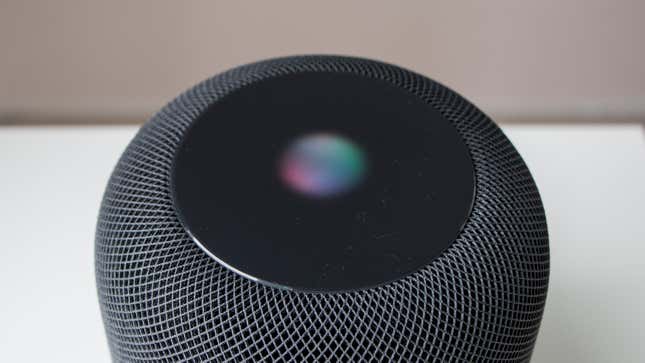 Apple's HomePod is a lot more attractive now that AirPlay 2 is out, and you can get one from Target for $200 today, a big down drop from the usual $300. This is the cheapest we've seen this particular unit.

---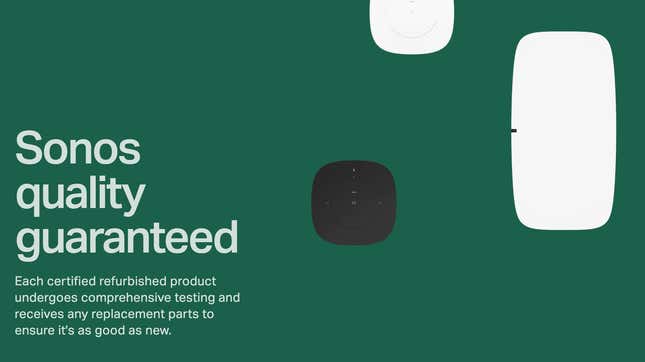 We occasionally see deals on individual Sonos refurbished products, but we've never seen a refurb sale like this.

For a limited time, you can grab a Sonos Play:1 for $119, a Sonos One with Alexa and Google Assistant for $139, a Play:5 for $399, a Playbar for $549, and a Sonos Sub for $549.
Note: If one color is showing up as out of stock, try the other.
The $119 Play:1 is the refurb deal we're most used to seeing (though it's been quite some time), but the others are extremely rare. Savings compared to buying them new range from $30 to $150, and you get the same one year warranty, free shipping, and free returns that you'd get with brand new speakers. So whether you're starting your Sonos setup, or adding to the family, you'll want to grab these before they're gone.
---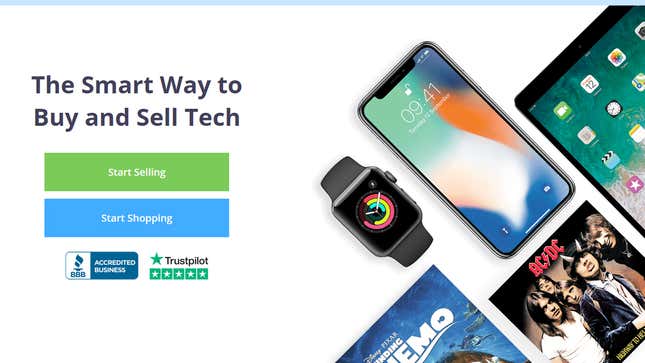 Save big on refurbished electronics with Decluttr's Fourth of July sale. On top of the reduced price of these products, you can use the promo code INDY15 to save an extra 15% off popular products like iPhones, MacBooks, Samsung Galaxies and more.

You have until the the 7th to take advantage of this deal, but I'd suggest you act soon... they have limited stock on the best stuff.
---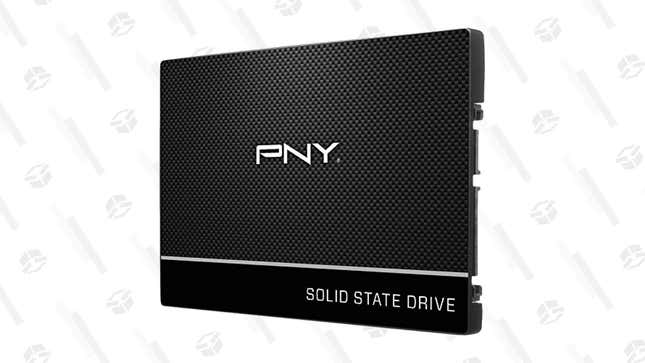 The best upgrade for an old PC is an SSD, and if you don't need a ton of space, this 240GB model from PNY is down to $30 today, an all-time low. You could even stick it in a cheap enclosure, and use it as an ultra-fast portable hard drive.

If you have a desktop with ample storage, thanks to its built-in HDD, you can use a 120GB SSD to house the operating system.

---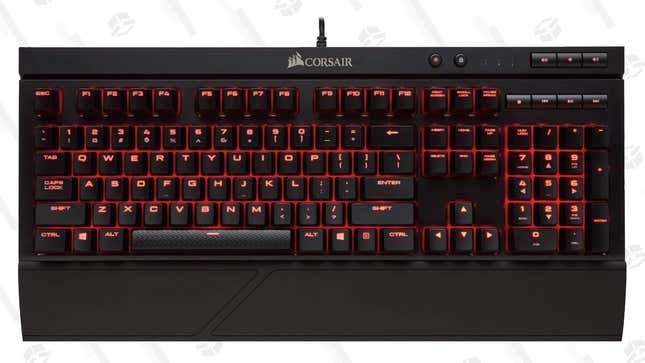 There's a pretty big gulf in quality between cheap mechanical keyboards and expensive ones, but every once in awhile, you can get an expensive board for a cheap price.

That's certainly the case with Corsair's K68, now down to an all-time low $60. Featuring linear Cherry MX Red switches, dynamic lighting, and custom programming, it'll be a massive improvement over the keyboard your employer provided you, or the one that's probably plugged into your computer at home.
---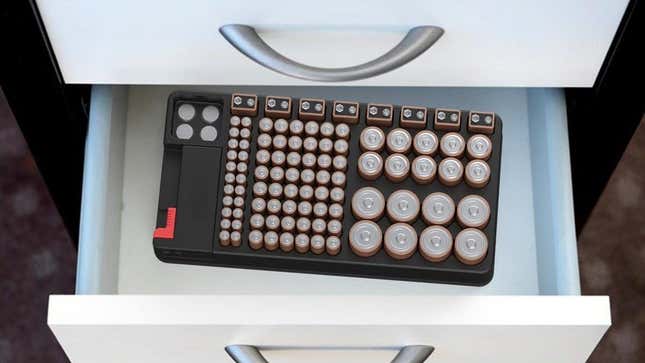 Batteries: you know you have them...somewhere. But somehow, the drawer you search always has three AAAs when you need four.

I'm not saying this battery storage box will solve all of your problems: you'll have to remember where you kept it, and you'll have to buy batteries to put in it. But it'll at least give you a fighting chance of finding the batteries you need, when you need them. It even has a built-in tester, so you can get rid of (or better yet, recharge) the dead ones.
This is similar to another battery organizer we recently posted, but it's actually cheaper at $12 with promo code 40KI1TR8.
---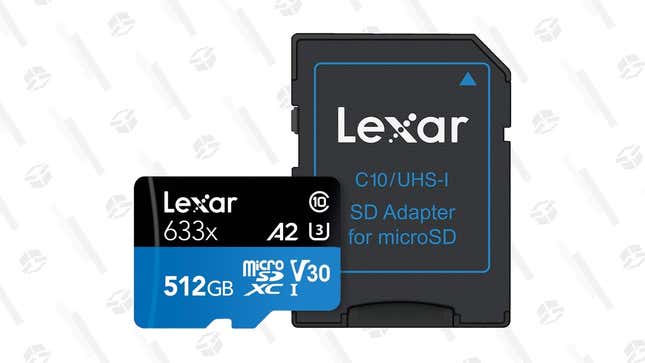 I don't need to tell you that most technological advancements of the last few years have destabilized democracy, led to tremendous human suffering, and is possibly making us grow horns.

But...
512GB microSD card for $74? I'm not saying that makes up for all the other stuff, but it helps.
---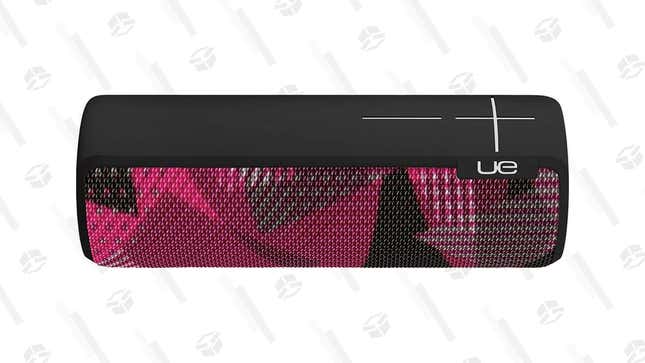 Summer's here which means, more time by the pool. Luckily for you beach-loving, music lovers the UE Boom 2 is the waterproof sequel for one of the best Bluetooth speakers of all time, and DailySteals has it marked down to $78. This UE speaker is water resistant, can pair via NFC and you can even make a stereo system with a second UE Boom. Make sure to use the promo code KJBOOM2 on checkout to see the discount.

---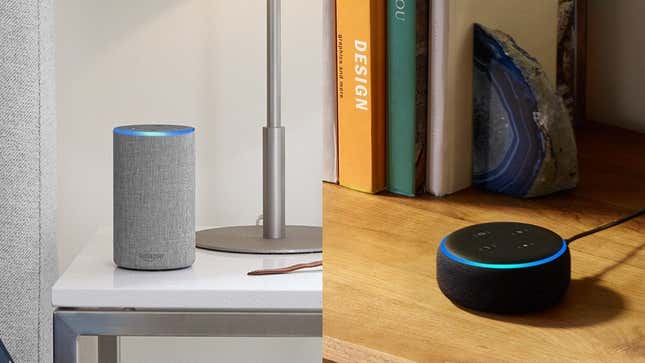 If you somehow don't already own all the smart speakers you could possibly need, both the Echo and Echo Dot are on sale for the best prices ever as part of Amazon's lead-up to Prime Day.

The larger Echo is priced at $70 (within $5 of the best price ever), or $60 each if you add two of them to your cart. The smaller Dot is down to $25, within a dollar of the best deal we've ever seen. But don't forget that you can get one for just $.99 with the purchase of an annual Audible subscription for $120 (down from $150).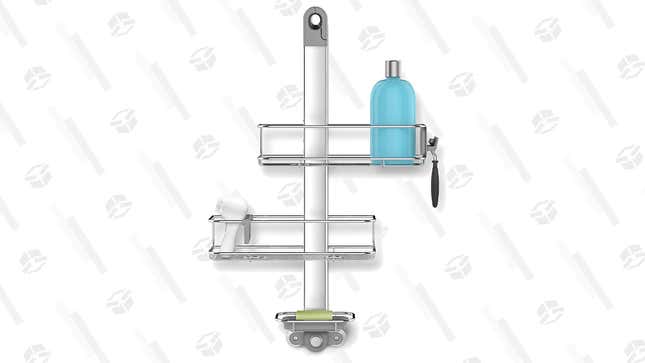 If you think all shower caddies are the same, you obviously haven't seen simplehuman's.

The shelves on this model can adjust up, down, and even sideways to make room for all of your grooming equipment, plus it includes two razor hooks on the side, and even dual suction cups to accommodate for uneven shower tiles. That's a lot thought put into a household item that you've never thought about, and it's $10 off today on Amazon.
---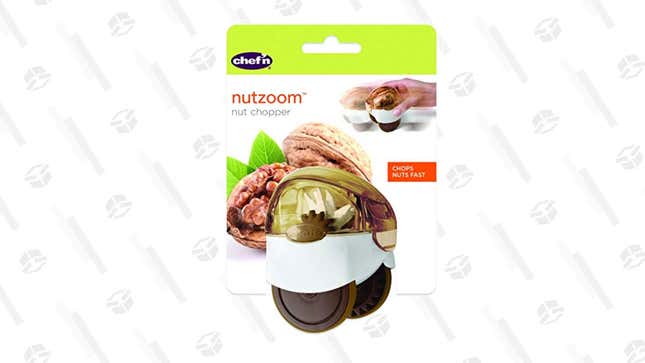 Why pull out a cutting board and knife when you can make chopping easy? You can chop nuts all day long with the Chef'n NutZoom Nut Chopper. You can roll this tool and mince nuts like pecans, peanuts, almonds, walnuts, hazelnuts, and more. Right now, the NutZoom is $9 on Amazon.

---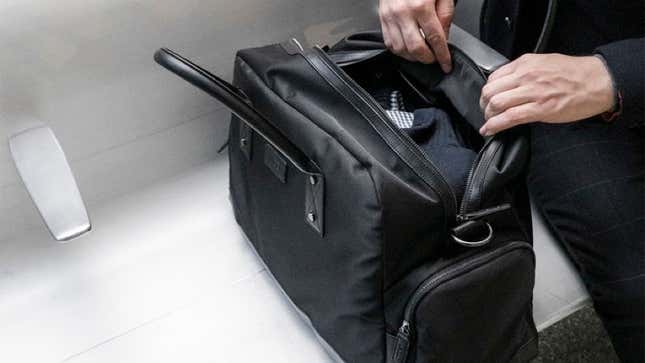 I'll always stan a good rolling suitcase, but for quick weekend getaways, a grab-and-go duffel bag is worth its weight in gold, especially as airlines get ever more restrictive with their baggage policies. Azcoe's Arx Weekender, now taking preorders on Kickstarter, looks like it's going to be an exemplar of the weekender bag genre.

Made from a thick, durable ripstop material, and accented with leather handles and a reinforced leather floor that gives you a flat base for packing, the Arx feels like the type of bag that could last you for decades. It's got big, chunky zippers, huge metal rings for attaching a shoulder strap, thick grommets holding the handles in place...and yet it looks elegant, rather than technical.
On the organization front, you'll find an interior laptop pocket (which is sadly missing from far too many weekender bags, a shoe compartment with unapologetic metal air vents, and a few other assorted pockets both inside and out.
When the sample bag arrived at my doorstep, I still hadn't taken a close look at the campaign page, and I genuinely thought it was going to be a $200-$250 bag. But I was pleasantly surprised to see that earlybirds are available for about $88 (after accounting for currency conversion). If you don't already have something like it, you can get your order in now, with shipping expected in December.
---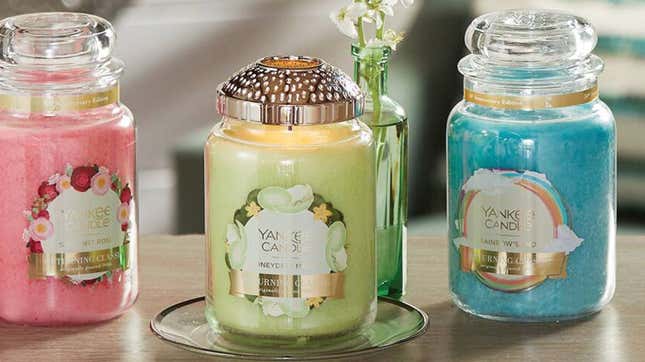 We've said it before and we'll say it again, you need absolutely no excuse to buy a candle. If you want 20 candles to cover every inch of your house, then buy yourself 20 candles. Though we'd advise you to buy your candles while they're on sale, no one should buy that many candles at full price. Right now, you can get 50% Off Large Classic Jar and Tumbler Candles using the promo code EXTRA10.

If you plan to spend your summer in the sun, you'll probably like Yankee Candle's Catching Rays scent, which is $15 during this sale. Or maybe you'd prefer something soft and subtle like Beach Walk? You can check out Yankee Candle's large two wick tumbler scents and large jar candles to find and get 50% off your favorites.
---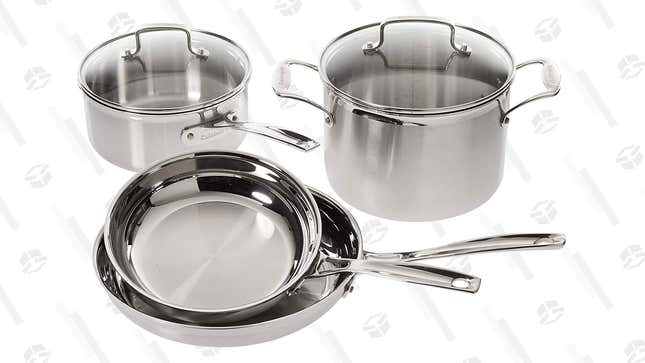 If you're still using those lame pans you got from Target during college, maybe it's time you upgrade. Today's Gold Box is dropping the price on a Cuisinart Multiclad Pro Stainless Steel 6-Piece Cookware Set.

We've written about these almost-All Clad pans before. Shep says, these pans are "built with a tri-ply steel-aluminum-steel construction, which ensures durability, a non-reactive cooking surface, and fast, even heating."
This normally $200 set includes 3qt. sauce pan with a lid, 6qt. stock pot with a cover, and a 9" and a 11" skillet. These prices are only available today though, so don't let these deals simmer for too long.
(For what it's worth, you can get the 8-piece set for just $20 more. I'd get that instead, tbh.)
---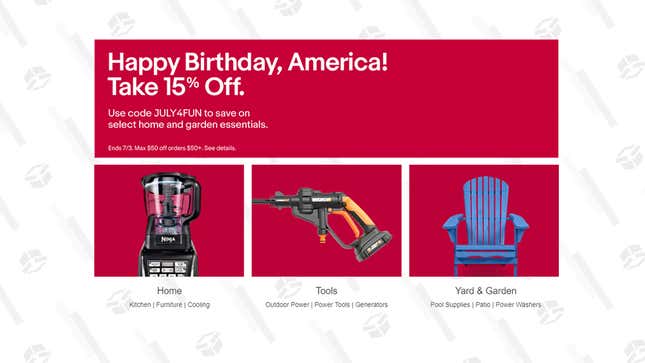 Celebrate the Fourth of July by taking advantage of eBay's Home and Garden Essentials 15% off coupon. Use the code JULY4FUN during checkout to get markdowns on . Just a heads up though, you can use the code twice and the discount maxes out at $50.

---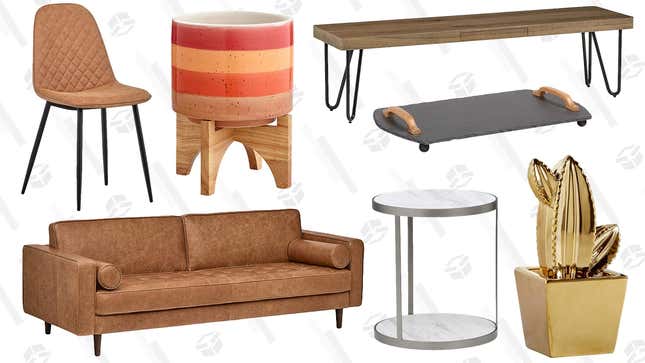 Looking to get some trendy mid-century modern look without spending a fortune? Amazon's got you covered with a bunch of Prime-only deals from its trendy Rivet brand of furniture, as part of the company's lead-up to Prime Day.

Over 80 products are included in this sale, ranging from planters and lamps all the way to dining tables and full-sized leather sofas. Just remember that all of the deals are exclusively available to Prime members, and that they all ship for free.
---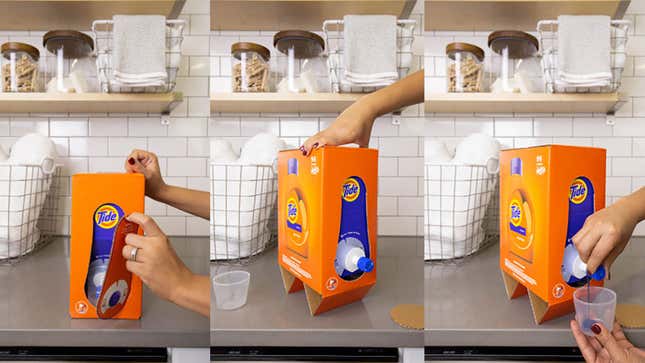 You might remember hearing about Tide's Eco-Box a few months ago. Rather than a plastic bottle of detergent that's put inside a box and shipped to your house, it actually is the box. Compared to a traditional detergent bottle, it's made with 60% less plastic and 30% less water, and honestly, it seems like an unambiguous step forward in eco-friendly packaging, one that we'll probably be seeing more of in the future.

If you're curious to check it out yourself, Amazon's offering a 20% coupon, bringing the 96 load container down to $15 when you combine the deal with Subscribe & Save. Just remember to cancel after your first delivery if you don't want to keep receiving it.
---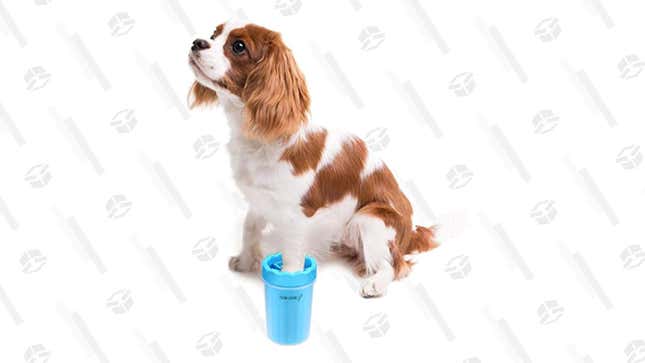 Dogs make our lives 20x better, just by existing. While they are great companions, they are terrible at cleaning up after themselves. If your dog loves to run around in the mud and then immediately wants to play inside, we know your pain. You can get an Oak Lead Paw Washer for $9 on Amazon when you clip the 8% coupon and use promo code 563VZPRO. You can keep this right by the back door or toss it in your bag or car when you take your dog for a walk. So, you'll hopefully never have to clean mud up off your floors again.

---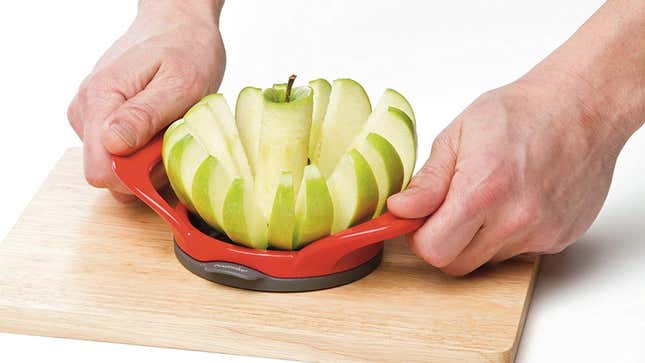 Obviously, you can slice an apple with a regular knife. But if that's something you do often, Prepworks by Progressive's dedicated slicer will save you a ton of time, and is a great deal at just $7.

If you want to make a snarky comment about this apple slicer and corer being a vile kitchen unitasker, I invite you to write it out on a piece of paper, then crumple it up and swallow it.
---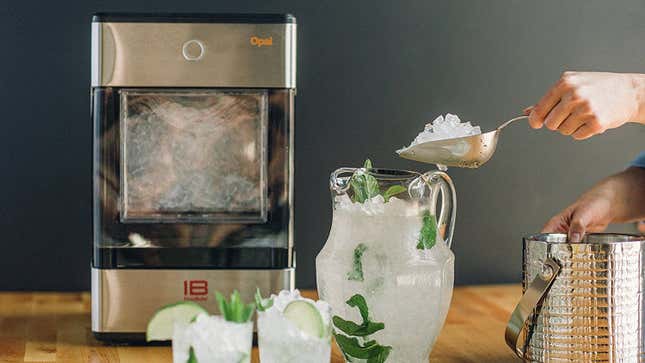 Nugget Ice Maker | $378 | Amazon
You might know it as nugget ice, or Sonic ice, or for you Texans out there, Buc-ees ice, but no matter what you call it, we all know it's great. Now, there's an expensive machine that can make it for you at home, but today, it's $175 less than its original price right now, and easily down to a new all-time low.

...It's still expensive, but damn that ice is good.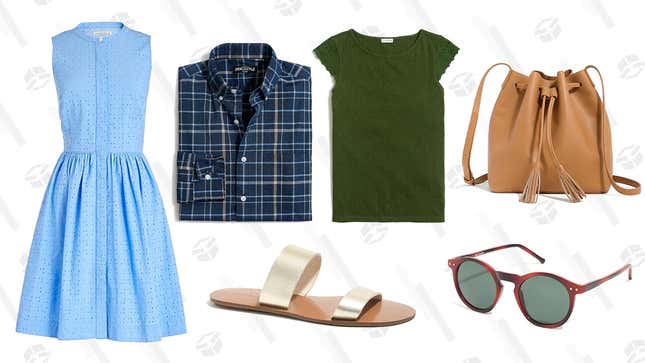 J.Crew Factory is already marked down significantly compared to its regular J.Crew counterpart, but now, the Factory is taking its discounts to a whole new level. Men's and women's styles on the site are 50% to 70% off, kids' styles are 50% off, and clearance items are on sale as well. To get 50% off clearance, you can use the promo code SPARKLE. The whole factory is currently stacked with summertime staples in that classic J.Crew aesthetic, so shop and save on those in-season styles now.

---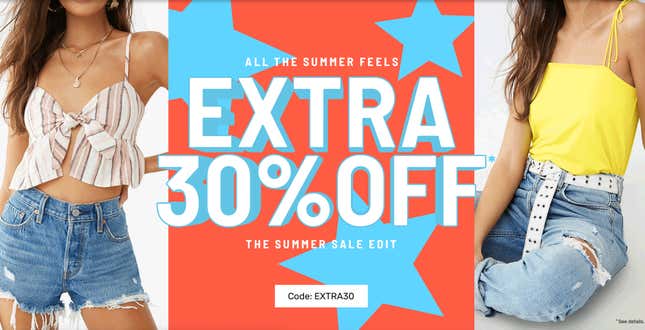 Forever 21 is already known for stylish, yet inexpensive clothes, but today, the brand is slashing prices even further by taking an extra 30% off sale items. Right now, select styles of sweaters, activewear, skirts, dresses and more are marked way down with promo code EXTRA30 — which means a good portion of the stock is under $10.

That's not the only deal that Forever 21 has going on right now. If the sale rack isn't calling your name, you can also get 30% off full-priced swimwear with the promo code SWIM30. If you already had some items in your cart at Forever 21 that aren't from the sale section and aren't swimwear, you can at least get free shipping. For orders over $30, use the code FREESHIP30 and for orders over $75, you can get express shipping with the code EXPSHIP. Sadly, these promo codes cannot all be combined, but they give you a few shopping options.

---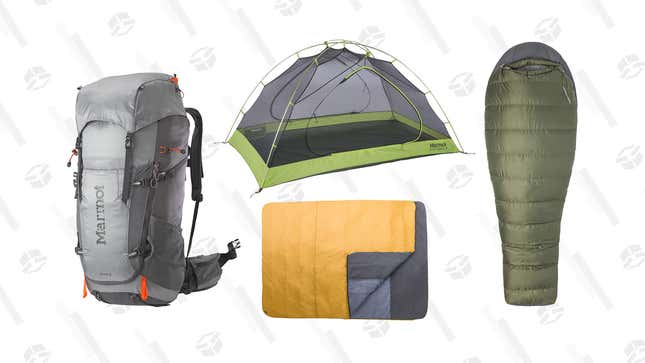 Marmot makes some truly excellent outdoor gear, and right now, Amazon's marked a bunch down. Whether you're looking for a new hiking backpack, sleeping bag, inflatable pillow, or a lightweight tent, this sale has you covered.

---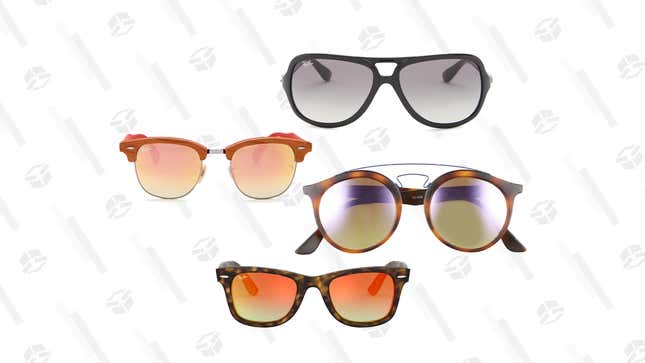 Pick up a new pair of Ray-Bans from Nordstrom Rack, right now. Dozens of styles are discounted and, well, it's summer. You'll probably want one to go with your tan and that slight hangover you're going to have.

Don't forget, they're not just fashionable—they're also helpful in shielding your eyes from ugly people. Prices start at about $60, so start looking before the sun sets on this deal.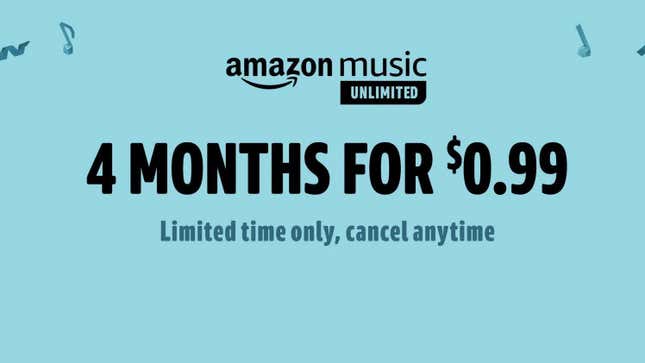 At $8 per month for Prime members, Amazon Music Unlimited was already more affordable than Spotify Premium or Apple Music, but Amazon's sweetening the pot for new members by offering four months for $1, for a limited time as part of the company's lead-up to Prime Day.

This deal is even available to non-Prime members, though it'll renew at $10 per month instead of $8. But either way, four months to stream the new Vampire Weekend and Carly Rae Jepsen on repeat for free? Yes please.
---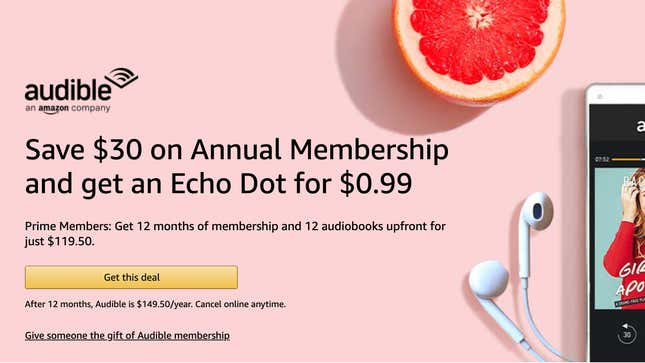 If you've never been an Audible member, you can still get your first three months for $15. But if you've been a member in the past, or you're just ready to commit for a longer period of time, Prime Members can also save big on an annual membership as part of Amazon's lead up to Prime Day.

For a limited time, Prime members can get an annual membership for $120, down from the usual $150, or $180 if you paid month-by-month. Plus, once you sign up, you'll receive an email with a credit to get an Echo Dot to listen to your books with for just $.99.
As a reminder, every month, Audible members can choose one audiobook and two Audible originals to add to their library for free, and those titles will be yours to keep, even if you cancel your membership somewhere down the road.
---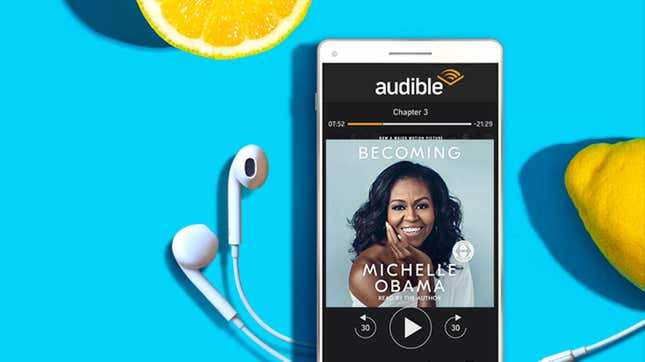 It really does pay to be an Amazon Prime member. As Prime Day(s) rapidly approaches, Amazon has a new limited-time, exclusive deal. You can get three months of Audible for the price of one. That's right, it is only $5/month (or $15 total) for a three-month subscription to Audible. The only catch? It is only for Amazon Prime members and only available to new Audible users.

Each month, you can download two Audible originals, and one audiobook of your choice for free, each of which will be yours to keep forever, even if you cancel your membership. Individual audiobooks frequently cost $15 or more, so you stand to save a lot on the latest hits.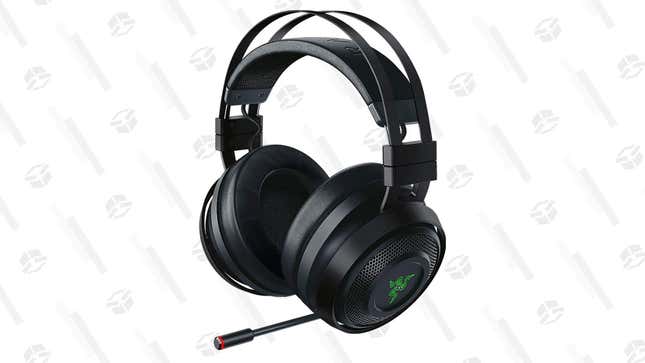 Right now, you can pick up the Razer Nari Ultimate for just $150, the first discount we've seen on these particular gaming headphones. What sets this headset apart is its haptic tech, which means the ear cups will react and vibrate to things going on in your game.

Here's what Kotaku had to say:
No one needs to have their head vigorously shaken while getting shot at in Call of Duty. Many people probably prefer to listen to "Marshmello" without coming away feeling like someone stuck a pair of tiny vibrating sex toys up their nose. I certainly did not imagine I would ever enjoy such things before trying out the Razer Nari Ultimate wireless haptic feedback gaming headset. And hell, if you took the Nari Ultimate away from me tomorrow and I never wore another haptic headset again, I wouldn't miss it terribly. I do not need to feel sound, but damn, it's a nice option to have.
These headphones typically sell for about $200, and they can work with almost every gaming device out there, including PC, PS4, Xbox, and your smartphone. Oh, and they're wireless and have a retractable mic, so that's a big plus, too.
---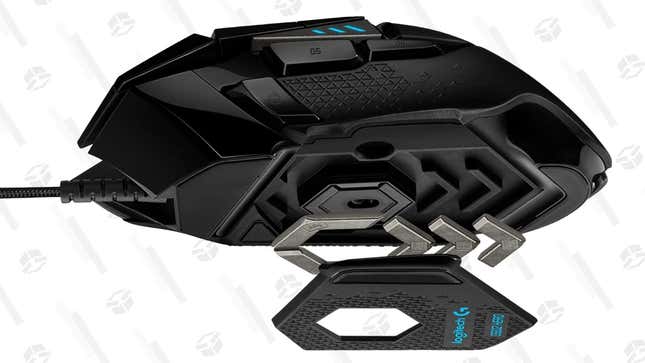 Late last year, the iconic and reader-favorite Logitech G502 gaming mouse got an upgrade, and the new HERO model is on sale for an all-time low $52 on Amazon.

Everything you know and love from the old 502—the customizable weights, the 11 button layout, the RGB lighting—is still here, but the HERO model adds Logitech's new 16,000 DPI HERO sensor, up from the previous model's 12,000 DPI.
---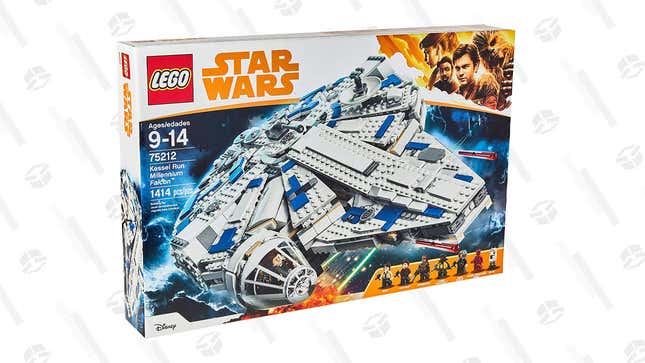 You don't have to be a nerf-herding scoundrel to appreciate this deal on a 1414-piece LEGO Star Wars Solo: A Star Wars Story Kessel Run Millennium Falcon set. 

It's down to $120 today on Amazon, which is about $50 off its original price.
---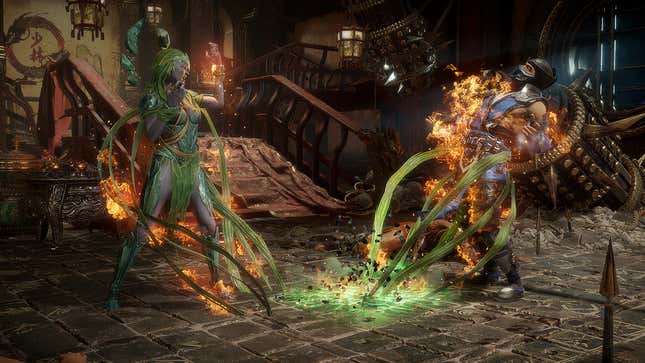 If your gaming needs a bit less cartoonish whimsy, and a more gratuitous body horror, boy do I have a deal for you. MassGenie is cutting the price of the recently-released Mortal Kombat 11 to just $35 after clipping the $13.66 coupon, for both the PS4 and Xbox One.

From everything we've seen, this latest entry into the Mortal Kombat franchise is one that diehard fans have been clamoring for.
---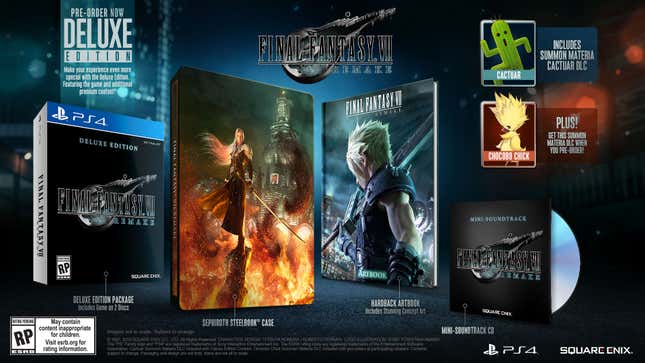 Final Fantasy VII Remake is finally out next March (along with, uh, just about every other video game?), and Amazon's currently offering a $24 discount when you preorder the Deluxe Edition, or an $18 discount for the standard.

That includes the game, a steelcase, an art book, a sound track, and some exclusive DLC. With the discount, your price only comes out to $14 more than the standard edition, so if you were going to pick up the game anyway, this is worth considering. Kotaku got a hands on with the game (and details about its new combat system) at E3 this week if you're on the fence.
---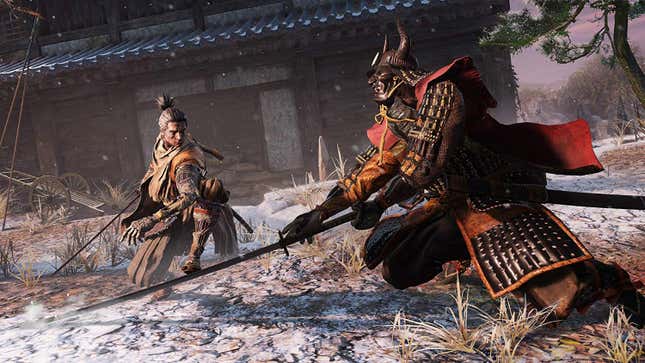 Sekiro: Shadows Die Twice is a deceptively expensive game, since you'll have to budget for some CBD gummies to keep yourself calm, or failing that, for a new TV after you throw your controller through your current one. That being said, the game by itself is down to $33 on PS4 and Xbox One today, an all-time low.

From Kotaku's review:
The player quickly becomes the butt of that joke, as Sekiro is punishingly difficult. (This should be shocking to roughly no one, given that it's made by From Software, developer of the infamously challenging Souls games and Bloodborne.) The combat requires real attention to detail and a willingness to drill down on a few sets of possible reactions. Boss and mid-boss battles are a furious interplay of choreographed patterns mixed with improvisation. First you learn an enemy's moves; then, maybe five or 10 deaths later, the real battle begins. Learning the early boss Lady Butterfly's attack patterns is that much more satisfying because the presentation is excellent. She moves like a dancer, and her attack animations tell a story.

I found myself deeply immersed in the way these battles worked, obsessing over each animation, every cue, every possible breakaway combination that could happen as a result of my own reactions. Combat in Sekiro is like a dance, but it's also like a series of the fastest-ever choose-your-own-adventure branches: Parrying this leads to a thrust. Not blocking leads to a sweep. With the addition of shinobi prosthetics and skills, all of which can be upgraded via skill trees, the options open up immensely. As stubborn as Sekiro is in forcing players to learn how each enemy telegraphs its moves, there are still lots of ways to approach each encounter.
Tech
HOME
LIFESTYLE
MEDIA
GAMING
Deals You May Have Missed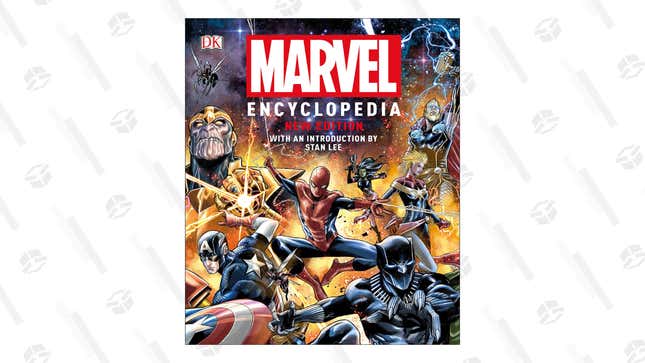 Avengers: Endgame is coming back to theaters two months after its initial release, but we still have gotten over watching it the first time yet. If you're still trying to wrap your head around the end of an era, you can dive even deeper into the Marvel universe with this encyclopedia. For just $22, you can learn more about favorite characters like Spider-Man, Black Panther, Captain America, and of course, Iron Man. The Marvel Encyclopedia has a special touch, as the introduction was written by Mr. Marvel himself, Stan Lee.

---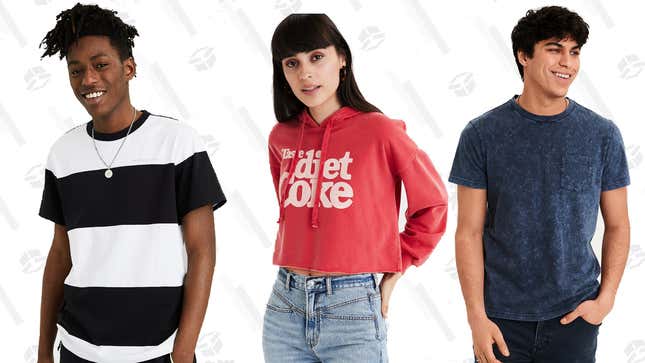 Sure, the Fourth of July isn't actually until next week, but that doesn't mean the sales aren't already upon us. All clearance is under $20 at American Eagle right now, including Men's, Women's, and Aerie. It is a great time to stock up on those AE Heathered flex t-shirts that are only available online, while they're only $10. On top of the clearance sale, all swimsuits are BOGO and all shorts are 40-50% off.

---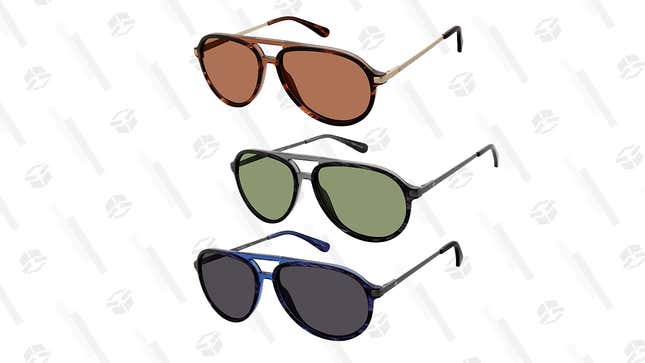 Celebrate National Sunglasses Day (and complete your Tony Stark cosplay) with our exclusive discount on these Sperry Oak Island Polarized Browline Aviator glasses. Choose from three colors: Brown, Navy and Black, each coming down to a low $19 with the code KINJA15.

These particular glasses sell for around $80-$100 elsewhere, so this a particularly good buy. And don't be scared off by the not-so-mainstream storefront; you can use Amazon and Paypal to checkout.
---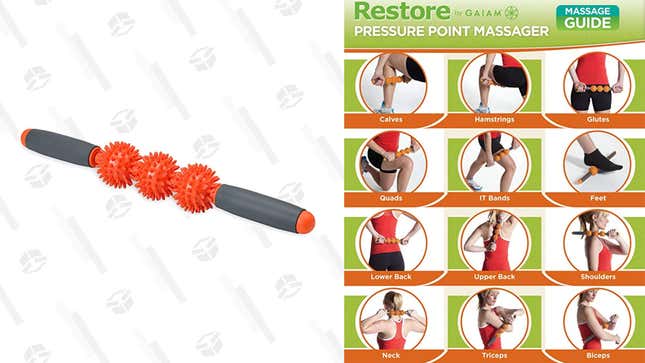 Got a kink in your neck from lifting something a little too heavy, or getting too confident in your yogi abilities? You might want to get yourself a massage roller to use after every workout or after a night of sleeping a little funny. Right now, you can grab the Gaiam Restore Pressure Point Massage Roller for $8 on Amazon.

---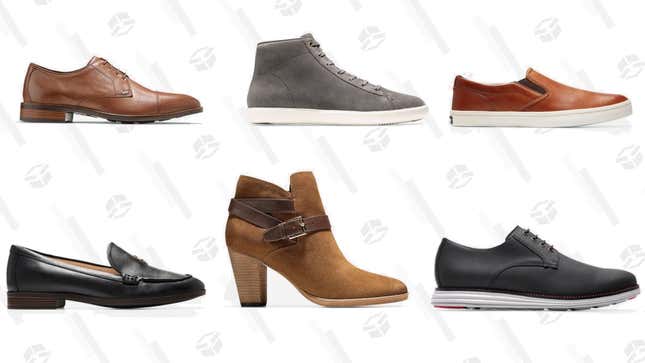 Cole Haan is definitely a brand that can make you think twice on account of the price. So when they kick off a Fourth of July sale, it's the perfect time to act.

Hundreds of popular products are on sale for up to 60% off, including a few of our favorites: 2.ZERØGRANDs starting at $80, the sweater-like ZERØGRANDs with Stitchlite wool for $70, the versatile All-Day Trainer with Stitchlite, and a whole lot more. So shop now, and kick off your summer with a pair of great new shoes
---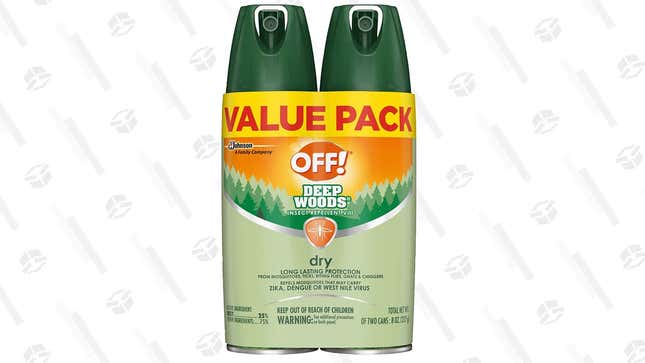 Bugs and mosquitoes are undefeated in the summer, but you can at least make yourself a difficult target with this discounted OFF! Deep Woods value pack. $9 gets you two bottles of 25% deet spray, down from the usual $10-$11.

You can also get extra savings if you use Subscribe & Save, and just cancel after your first delivery if you don't need any more.
---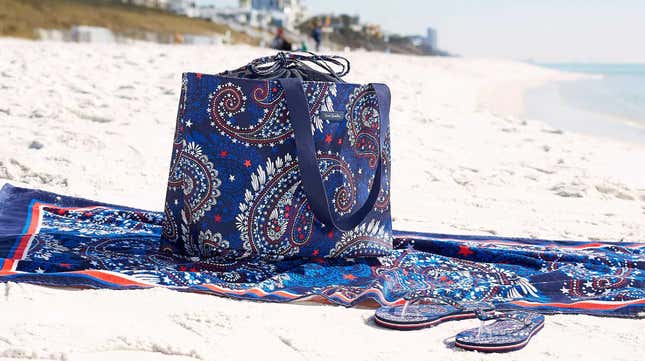 You might remember Very Bradley as the brand of the paisley quilted tote carried by your great aunt, but in recent years, the retailer has expanded their prints beyond florals into more modern patterns. And I must admit, their solid bags, duffels, pouches, and other travel accessories are downright stylish. So consider taking advantage of the brand's three different sales for the 4th of July. You can shop 30% off travel, 30% off the Fireworks Paisley pattern, and the 40% Off Summer Sale on select styles and patterns. There's a reason that tote from years back is so memorable; these bags hold up. And there are patterns to please any taste — yes, including good ol' paisley.

---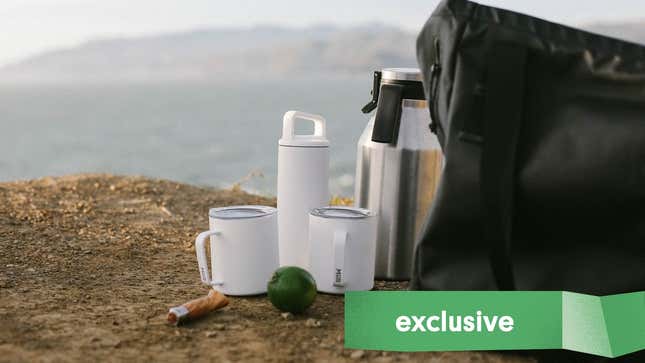 From growlers and howlers to tumblers and camp cups, Miir makes some of our favorite drinkware around, whether you're hauling it into the backcountry, or sipping from it at home.

Today on Amazon, most of their wares (including the wine bottle and wine tumbler, which are usually excluded from these sales) are about 25% off their regular prices (prices vary a bit by color, in some cases), and our readers can save an extra 10% on anything they sell with promo code KinjaDeals30. We'll toast to that. A few favorites are below (along with their deal prices), but you can also just head over to Miir's Amazon storefront and browse from there.
Bonus: Don't miss out on the Limited Edition designs, which feature great artwork and bold colors.
---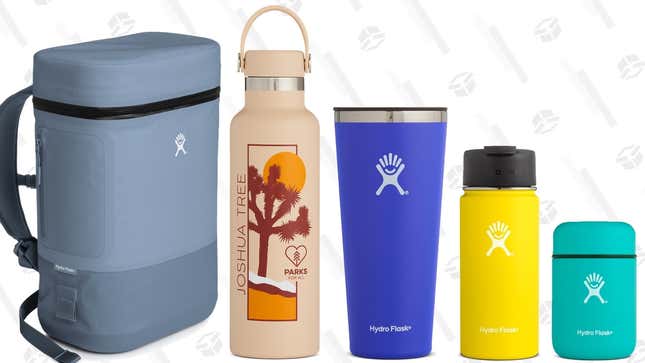 Vacuum-insulated bottles can keep drinks hot or cold all day long, and Hydro Flask makes some of the most popular options out there. Their wares don't go on sale often, but from now through the Fourth of July, the entire site is 25% off, with the discount taken automatically at checkout. Every cooler, every coffee mug, every limited edition bottle, and every tumbler in every color imaginable is on sale (except for MyHydro custom bottles and the Journey Series), so drink up.

Bonus: Use promo code COLDH20 for free upgraded shipping at checkout.
---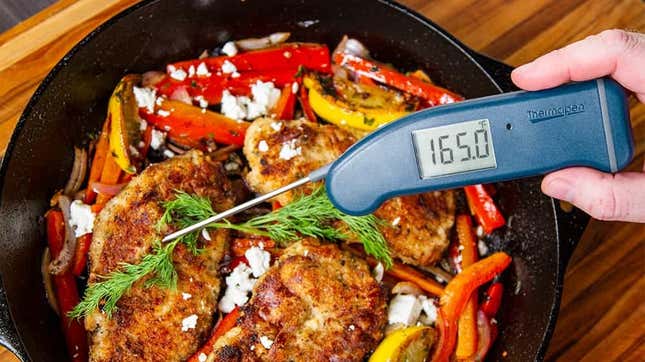 Outdoor barbecues will be back before you know it, and you can be ready for that (and all of your other cooking needs) with a 15% discount on the best kitchen thermometer money can buy: the Thermapen Mk4.

You guys love the Thermapen because it displays the temperature in 2 - 3 seconds, has a 3,000 hour battery life, is waterproof, and is accurate within 0.7°F. Step back into the kitchen in just about any nice restaurant, and you'll probably see some ThermoWorks gear in use.

Here are just a few readers gushing over it:

Thermapen Classic (or really any of the Thermapens). Bar none the best thermometer for cooking I have ever bought — accept no substitutes.

Somewhat expensive at ~$70-$120 range, but I've been using mine for years and years, and it still gives me an accurate reading in less than three seconds. Well, well worth the price. Especially excellent for the grill. - theburners
Without a doubt. No other thermometer comes close. I've said it before on Kinja that the Thermapen is the best piece of kitchen equipment I've ever bought. - the-return-of-samba00
This model doesn't see significant discounts very often, and even then, deals on every available color are even rarer.
---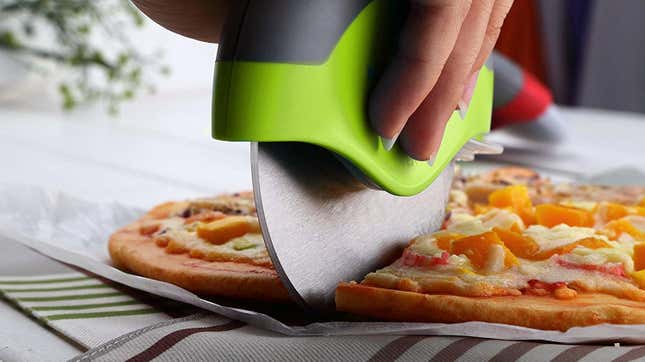 It's a unitasker, I know, but there's just no good substitute for a pizza cutter wheel, and this model from Kitchy is one of the most popular and highly rated (4.8 stars! 2,900 reviews!) you can buy.

The green model is down to $11 from its usual $14 today, so you'll have a few bucks leftover to buy more pizza. Just save me a slice.
---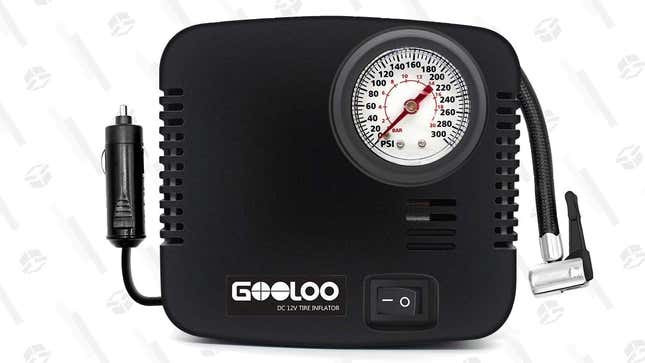 While it's certainly not as fast as the coin-operated air compressor at a gas station, this glove box-friendly compressor can save your bacon if you have to change a tire, or just can't be bothered to find a bunch of quarters. And speaking of quarters, it'll only cost 32 of them with promo code 9XNRBQ52.

This one's powered by plugging into your car's power outlet, so if you have a flat tire and a dead battery, it might be time to call AAA (and possibly eat some CBD gummies). But hey, it's $8 and can save you a lot of headaches.
---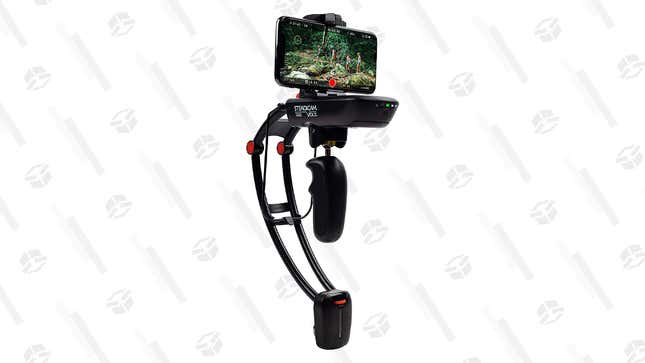 Create buttery smooth video on your smartphone with this $80 Steadicam Volt gimbal. Like other gimbal/stabilizer devices, this device effectively removes shake from your videos which makes the footage you shoot a lot more professional.

This $80 price is the lowest we've ever seen. So, if you are an aspiring mobile videographer, don't let the curtains close before you pick one up.
---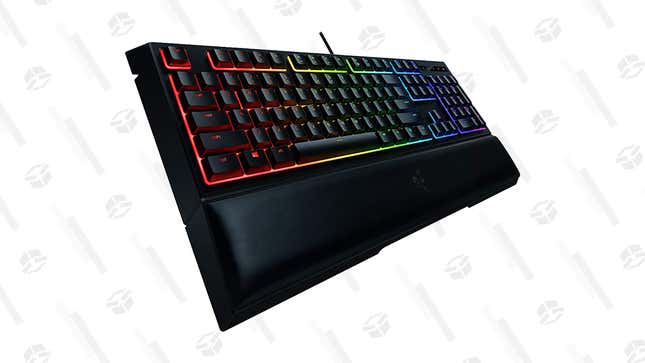 Razer's Ornata keyboard is all about compromise, the right kind. And for $60, it's also a steal.

This keyboard combines the long travel of a mechanical keyboard and the relative quietness of a membrane-style keyboard.
In his review, Kotaku's Mike Fahey said the "spring of the membrane coupled with that lovely mechanical click and the half-eight keys mean my fingers fly across this thing. It feels like they are being actively propelled from key to key."
It's currently a few bucks off the lowest price we've seen. This is my keyboard at home and I love it.
---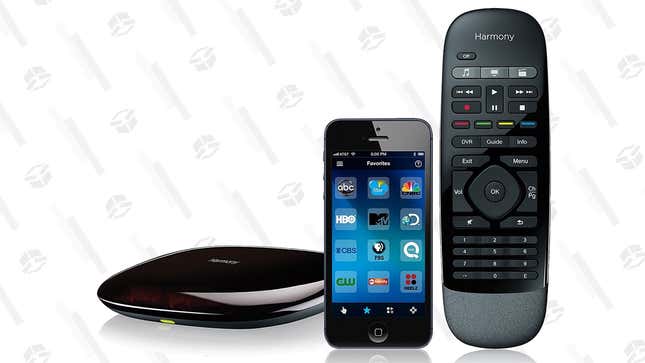 $54 for a Logitech Harmony remote is a great deal on its face, but the real reason to buy this model is the included Harmony Home Hub.

The Hub allows you to use your iPhone, Android device, or even an Amazon Echo to control everything a Harmony remote can (which is basically any piece of home theater gear you can think of). So even when you inevitably lose the included remote behind the couch cushions, you'll still have multiple ways to take control of all of your home theater gear.
Considering the hub alone sells for $70 right now, getting the hub plus a remote for $54 is a pretty terrific deal, even if it was as cheap as $45 back around the holidays.
---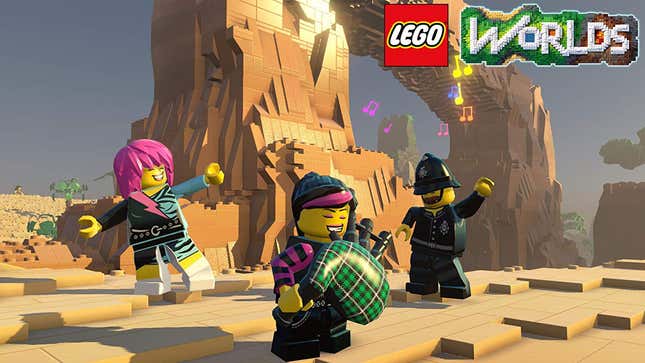 Ever wish Minecraft was more... LEGO-based? Well, good news LEGO Worlds for the Nintendo Switch is down to just $14 right now. Clip the coupon on the page to get the discount.

For what it's worth, Kotaku had a lot of fun with it and it seems to get updated pretty regularly. At the very least, it's a cheap way to keep a kid entertained for hours, right?
---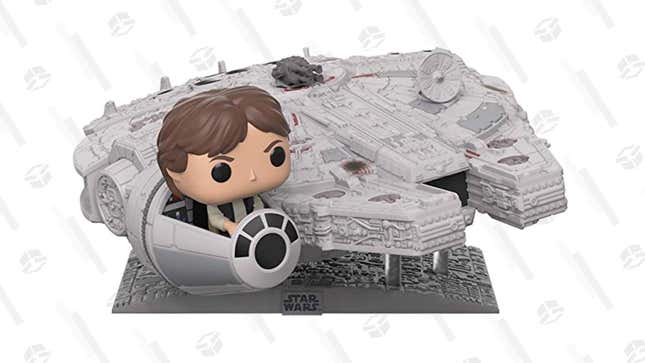 Don't everybody thank me at once. Now is your chance to pre-order the Funko Pop! Deluxe Star Wars: Millenium Falcon with Han Solo. The Pop! figure is currently available for pre-order exclusively to Amazon Prime members. So, if you love Star Wars and don't have Prime yet, you know what to do. With Prime Day coming up, you'd be smart to start your free trial now.

From a long time ago, in a galaxy far far away... The Millennium Falcon with Han Solo as a Pop! Deluxe from Funko! This Pop! Deluxe captures all the amazing little details of the iconic spaceship and is among the largest figures Funko has ever produced! Don't miss out on your chance to own the ship that made the Kessel Run in under 12 parsecs as only Funko can deliver! The figure measures 5.5" tall, is 10.5" wide and 13.25" long and come in a window box display. This item will surely become the center piece of your Funko Pop! Star Wars collection!
You can order the Funko Pop! Deluxe Star Wars: Millenium Falcon with Han Solo now for $65, but won't be charged until it ships. This Pop! is set to release on October 21, 2019. Would you say "I know" if we told you that October 21st is also the late Carrie Fisher's birthday?
---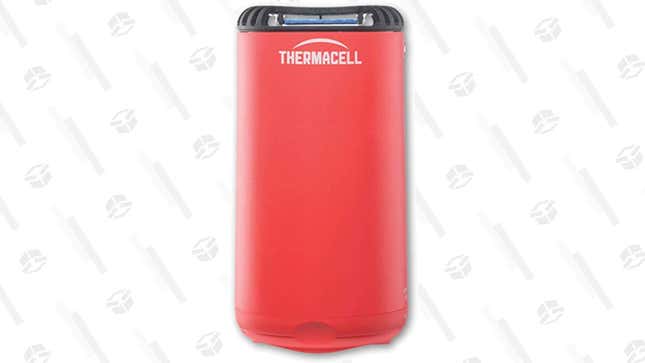 It is that dreaded time of year. Mosquitos are out to ruin your summer. If you've got that sweet blood that they seem to love so much, you're going to want to grab a Thermacell Patio Shield Mosquito Repeller while it is on sale. You can keep it outside on your deck or patio for 15 feet of protection, or bring it with you on a camping trip. The fiesta red model is about $8 off when you clip the coupon.

---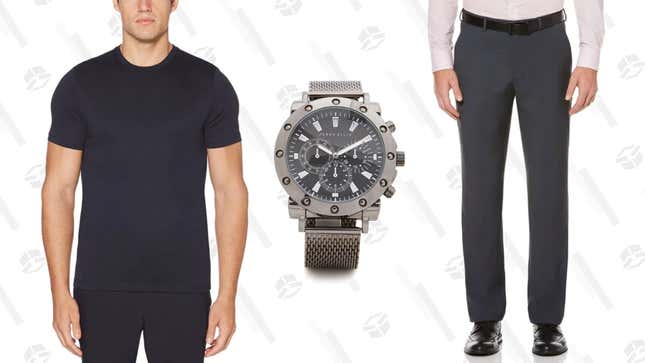 Guys, it's time to stock up on new styles for summer from Perry Ellis' 4th of July Sale. Right now, everything on their site—from suits to casuals tees and pants—are 40% off, and you can snag an extra 50% off sale styles as well. No code is necessary to snag these prices, the discount will automatically apply in your cart. You look more stylish already.

---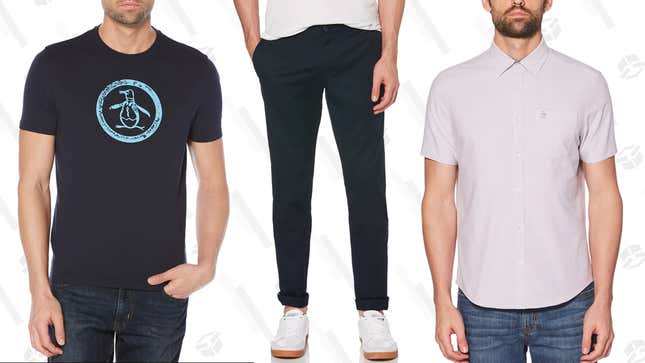 Looking for a new outfit to wear to all of the 4th of July parties you're attending next week? You can stock up on t-shirts, polos, and Chinos at Original Penguin. Right now through July 11, you can shop Original Penguin's 4th of July End of Season Sale to save up to 50% on your favorite styles. You can get an extra 10% off your order using the promo code EXTRA10.
---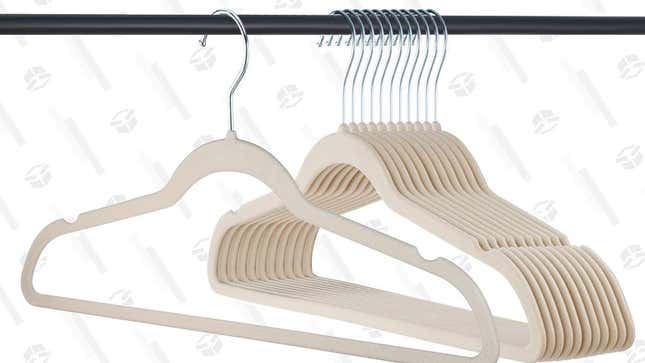 The most obvious feature of these hangers is that they're covered in velvet, which keeps your clothes from slipping off of them. But an underappreciated benefit is that they're slim!

Here's Jolie Kerr talking about them on The Inventory.
If closet space is at a premium — and honestly for whomst is it not??? — slim hangers are a great choice. They're designed so that both the hook and the, um, hanger part? Is there a word for that? There has to be …

… there is! It's called the shoulder.

Where was I? Oh right, the hook and the shoulders on slim hangers are designed to be, well, slimmer than standard hangers, which will maximize space in your closet. Also, most slim hangers are velvet-covered, which gives them a non-slip quality that their plastic counterparts don't provide.
This 50-pack normally costs $20, but today, it's down to $18 with Prime shipping.
---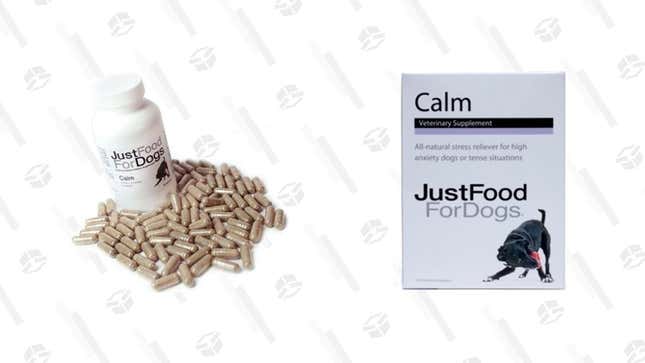 4th of July is a great day for people to host barbeques and watch some fireworks. While it is always a fun time for humans, it isn't always fun for animals. More pets run away around July 4th than any other time of year, often due to the fireworks being intensified by their heightened sense of sound. Right now, you can save on supplements that can help ease your dog's 4th of July anxiety.

JustFoodForDogs now sells a Calm supplement, which is an all-natural blend of Valerian Root and Passion Flower to calm the nervous system by reducing stress. The supplements were designed by JustFoodForDogs's team of veterinarians and can be used in common stressful situations for dogs, like separation anxiety. Until June 30, you can get 10% off the 12-count and 90-count of JustFoodForDog's Calm Supplements using the promo code calmjuly4th.
In a press release, Dr. Oscar E. Chavez, Chief Medical Officer of JustFoodForDogs said:
"If there was ever a day for preventative care when it comes to our beloved dogs, Fourth of July is it. Our Calm supplement is a balanced fusion of valerian root and passion flower that works to naturally enhance and increase the function of GABA receptors in the brain; this helps calm the nervous system by reducing stress in situations that commonly cause tension."
---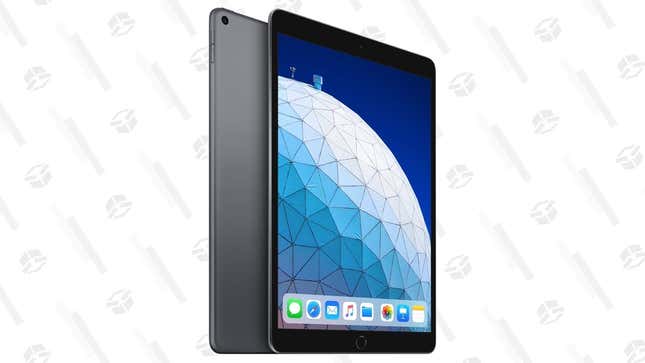 The old 10.5" iPad Pro didn't die; it was reborn as the reincarnation of the iPad Air. Offering iPad Pro-like performance in a form factor that some may prefer (if you're loathe to give up TouchID, anyway), it's Apple's new Goldilocks iPad.

Amazon's offering modest, but still best-ever, discounts on both the 64GB and 256GB capacities today, in both Wi-Fi and Cellular flavors.
And if you missed it last week, Apple's official smart keyboard for this tablet is also half off.
---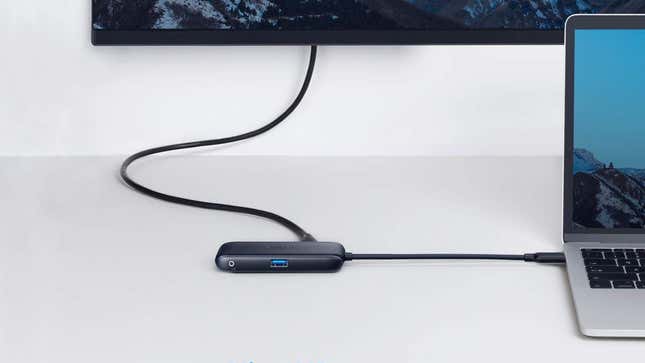 In the hopefully not-too-distant future, everything will just plug straight into USB-C, and all will be good with the world. Until then, if you own a laptop or tablet that only has USB-C ports, you're probably going to need a hub to plug in old flash drives, hard drives, monitors, and other legacy peripherals.

This week on Amazon, you can save on your choice of four different Anker USB-C hubs for $21 or less. They all offer their own recipe of ports, but they features some combination of HDMI, USB 3.0, USB-C power passthrough, and SD card readers.
---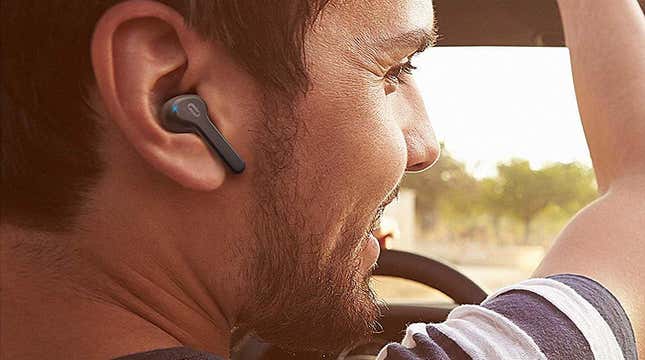 It didn't take long for true wireless earbuds to go from high-priced status symbols to affordable Amazon commodities, but here we are. TaoTronics' SoundLiberty 53 headphones feature IPX7 waterproofing, five hours of battery life (and 40 if you include the charging case), and perhaps most impressively of all, Bluetooth 5.0 for a stable connection.

They're a solid package for the usual $45, but for $33 (with promo code KINJASWM), it really might be time to cut the cord for good.
---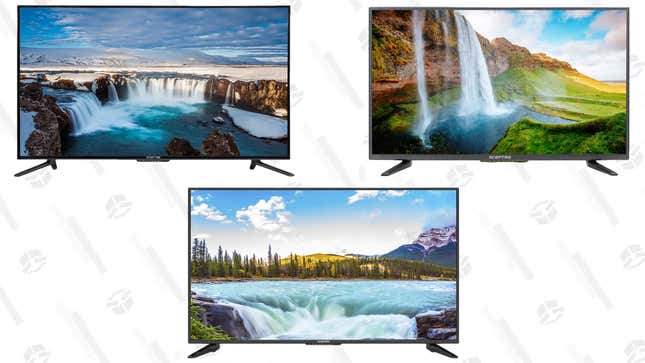 I'll level with you...there's nothing particularly special about these Sceptre TVs. They don't have HDR, there's no smart functionality to speak of, and they don't have anything I'd describe as a memorable industrial design.

But for all the things that they aren't, what they are are cheap screens that you can use to watch shows. Like, very cheap. Cheaper than Black Friday cheap (we actually posted them at the time, and they're all $10-$20 less expensive now).

Just note that the 55" model is 4K, the 50" is 1080p, and the 32" is 720p.
---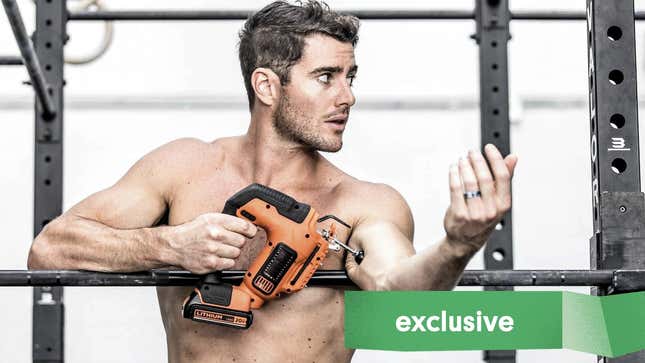 Jigsaw Massage is the exception to the expensive trend of at home massage therapy. By attaching to almost all T and U shank jigsaws, they avoideded creating a single use item, and instead made a clever attachment for a common tool, opening the door for at-home recovery to more athletes and those in chronic pain. Take an exclusive 30% off all bundles with code KINJABUNDLE.

The discount brings the starter kit with a jigsaw and one massage head down to $70, and the complete cordless Pro kit with all three heads down to $140. There are also a few option in between to choose from.
I use mine plenty after long runs and speed work, and I like it both as an addition to, or in place of, foam rolling. But the most pleasant surprise came when I decided to start blasting my back and neck after hours of poor posture in front of the computer. Code should auto-apply at checkout.
---
In the ever-escalating arms race to create the thinnest wallet that's actually useful, a new combatant has emerged.

The Stealth Wallet, available in either leather or a nylon-like "ballistic" material, is one of the thinnest wallets I've ever seen, and certainly the thinnest bifold, but is still incredibly strong. Most impressively though, it can hold eight cards (I actually squeezed in ten) and cash, so you don't have to sacrifice your points collecting habit to enjoy a minimal wallet.
As you'd expect, with material this thin, the wallet doesn't have much structure to it, but once you put some cards in either side, you'd never know it. The use of a thin elastic cord to hold your cash was also a clever touch that avoided the bulk of a true extra pocket.
They sent me both versions to check out, and though it costs a bit extra, I'd definitely recommend springing for the leather model. A nylon-ish wallet is supposed to be thin. But a razor-thin leather wallet is a sheer delight to behold.
Preorders are live now at a 15% discount, with shipments expected next month.
---