No contemporary smart home is complete without smart lighting. And while smart light switches might be a better choice for your situation than smart bulbs, Philips Hue smart bulbs are well established, and thus are easy to incorporate with other smart products in unique and interesting ways.
If you thought you could only use the Philips Hue bridge to turn on/off the lights through your phone or adjust different colors, you're not even scratching the surface yet.

---
Save energy with a Nest Cam
G/O Media may get a commission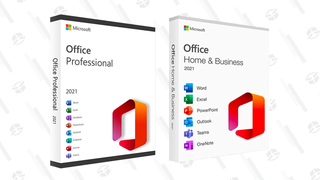 89% off
Microsoft Office Professional 2021 Lifetime License
Considering the huge electric bills we have to deal with, there's nothing like saving energy, time, and money by combining your Philips Hue system with the Nest Cam. The security camera can be configured to turn off the lights automatically when you leave a room. That way you won't have to worry about grabbing your phone to have your favorite voice assistant do all the "heavy-lifting" for you. You'll realize your camera can do so much more now. You can learn more about the integration here.
Use your Hue lights as a notification system
If receiving simultaneous notifications on your laptop, phone and smartwatch haven't already driven you mad, maybe you like the idea of your lights blinking when you get an important text from someone special. Just use IFTTT to set up your "recipe" to alert you to important texts, emails from your VIPs, or even sports scores.
IIFTTT, also known as "if this then that," serves as a connective tissue between various smart services and online platforms, and you could easily spend a day playing around with the app and exploring new recipes to add to your smart home.

Integrate your lights with your smoke detector
Unfortunately, smoke and carbon monoxide detectors tend to be downright ugly, but the Nest Protect is a smart and elegant solution to this very necessary security feature. Not only is the device aesthetically pleasing, you can even program the lights for an emergency so that the brightness and colors adjust in smoke, helping you see better so you can find your way out of danger.
Simulate your presence while you're away 
If it seems like people are home, burglars will be much less likely to target your home. If your Nest Cam detects movement, it can trigger your Hue lights (both inside and outside) and will turn them back off once it doesn't notice any motion for a while. It even incorporates a short delay once it notices activity to make it seem like a real person is turning on the lights, rather than an AI. Your Neighborhood Watch Program will be happy to hear about this trick.
Don't have a Nest cam? The Hue app on its own can also randomly turn your lights on and off during the evening while you're on vacation, which should hopefully fool any ne'er-do-wells.
Match your lights with the weather
Here's another adorable option brought to you by IFTTT recipes. You can set your Philips Lights to adjust your home environment according to the weather conditions. If it's raining outside, the lights will be triggered to adjust their tint, either to a more cheerful daylight, or a gloomy blue if you really want to lean into the rain. Let me tell you, this is a fantastic way of impressing your friends and dates.

Immerse yourself in video games
This is a nice trick for the gamers out there. The best part of playing video games is feeling like you are part of the action, and Razer's Chroma-enabled devices will definitely boost your adrenaline levels. Chroma products from Razer can be incorporated with your Hue lights to mirror in-game environments in your room, and can even be configured to reflect your character's health status.
Here's the full list of games that are compatible with Chroma + Philips Hue. FYI, Philips announced that we'll be able to do something similar with movies and TV shows, which sounds like a great home-theater entertainment option, but there aren't any specific official products available just yet.

The most annoying thing about having to go to the bathroom in the middle of the night? Having to interrupt your sweet dreams. Second most annoying thing? Bumping into objects when you can't see. The Hue Motion Sensor will illuminate your path to the bathroom and can also help you save a few bucks by turning off the lights when there isn't any activity in a room. This is a good investment that adds a lot of everyday convenience to your smart home collection.

---