It's nearly Kentucky Derby time, so don't let your Derby party go to hell in a hand basket. Iron out your finest Vineyard Vines ties and seersucker pants, pretend like you know how Stomps McGlagen ran in Santa Anita, and make sure you've got everything you need to make the perfect mint julep.
A Cup
Mint juleps are traditionally served in, wait for it, silver or pewter julep glasses. A highball or old fashioned glass will do in a pinch, but a big part of the appeal of this drink is the frost that forms on the outside of the cup on a hot day, whether you're at Churchill Downs or just on your covered, wraparound porch on a sticky, early summer afternoon.
Julep glasses aren't the cheapest type drinkware out there, but they look great (especially this hammered one), and you have our permission to use them for other drinks year-round.
G/O Media may get a commission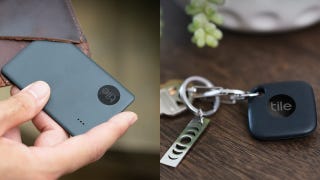 Up to 35% off
Tile Item Trackers
Traditionalists are going to get mad at me (I encourage you not to leave your comments!), but copper Moscow Mule mugs look just as fancy, and are more or less just julep glasses in a slightly different shape. They also have the advantage of being more readily available (seriously, they have them behind the bar at the Holiday Inn Express these days) and, by extension, cheaper. Wealthy southern ladies in their fascinators and sun dresses might turn up their nose at a julep glass with a handle, but come on, it's just practical.
8-10 Mint Leaves
You're going to need a lot of mint here—8 to 10 leaves per glass! You can certainly buy your mint from the store, but that'll get pricey if you're preparing drinks for a large group. So if you've got the time and wherewithal, try growing your own. Drinks taste better when they incorporate home-grown ingredients, anyway.
You could do it the old-fashioned way with seeds and dirt, or you could get a MiracleGro AeroGarden with and some DIY pods (inexplicably, they only seem to sell mint pods as part of a larger herb variety pack), which takes the guesswork out of the equation and also encourages faster growth.
1/2-1 oz. Simple Syrup
Don't worry, I'm not going to tell you to buy simple syrup online. I'll simply say that when I make mine, I like using Sugar In The Raw, purely for the color. But seriously: 1 part sugar, 1 part water, heat over the stove and stir until dissolved. Congrats, you're done!
Crushed Ice
You're aiming for the midpoint between snow cone dust and the gravel your refrigerator's crushed ice setting spits out. You can get pretty close with a very light touch on the blender, but I've found that the best technique is to put whole ice cubes in a lewis bag, and just smash at it with the blunt end of a muddler (more on that in a second) until you reach the desired consistency. Plus, it's fun!
A Muddler
If you're going to be using it to smash ice, skip the metal muddlers and just buy the equivalent of a slightly fancy wooden dowel rod. Actually, just buy a wooden one regardless.
3-4 ounces of Bourbon
I'll leave the choice up to you, just make sure it's something that you'd enjoy drinking straight (this drink is mostly just bourbon and ice, after all), and make sure it's from Kentucky, dammit!
Congrats, you've got everything you need! We're into the final furlong here, so let's make these drinks, and start sipping.
Pour your simple syrup into the bottom of your cup (I'd start closer to a half ounce, you can stir in more later if you prefer), and then drop in the mint leaves.
Lightly (LIGHTLY!!) muddle the leaves, and drag them around the sides of the glass to coat it with mint oil.
Pack the glass nearly to the brim with crushed ice.
Pour in your bourbon, and stir stir stir stir stir until the outside of the glass gets frosty.
Garnish with one more mint sprig.
I do declare, you've done it. You shouldn't use a straw—you want to really get your nose into the glass here, to appreciate the mint—but if you must (bless your heart) make it a metal one. Enjoy the race!
---