Maybe I binged too many episodes of the new season of Queer Eye this weekend, but it seems like a lot of men out there are confused about their beards. Namely that a beard is a free pass to "No Maintenance Land." In fact, facial hair really needs more attention than the hair on top of your head! Every centimeter of growth is obvious, and the texture can make it totally unruly.

Luckily, you don't need The Fab Five when you've got me! (Though let's be honest, that one time I met Tan France means SG is basically an honorary member.) Growing a truly handsome beard isn't hard, but it does involve some serious TLC: Tender Loving Cultivation. You've gotta wash it, condition it, trim it, and even run a comb through it from time to time.
From professional-grade clippers to specially formulated products, I've rounded up everything you need to get the most luxurious-looking and good-smelling beard of your life.
---
If you're growing a longer beard, say, anything more aggressive than an inch or so long, running your fingers through it can create static, and undo the good work of your oil and balm (don't worry, we'll get to that later).
Opt for a dual-sided sandalwood comb instead—use the fine teeth to detangle and the wide teeth to style.
G/O Media may get a commission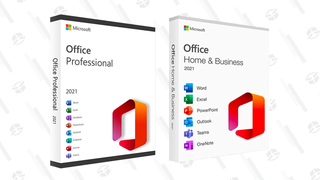 89% off
Microsoft Office Professional 2021 Lifetime License
Yes, your beard needs its own shampoo. You can use this product on the hair on top of your head, too, though it doesn't work the other way around. (Regular shampoo usually contains chemicals that are too harsh for facial hair, and facial hair is often thicker and curlier than the hair on your head...the more you know, right?). This gentle 2-in-1 that contains aloe vera and camelina oil will clean and hydrate your facial hair without drying the skin under it.

"Depending on how long or unruly your beard is, it may be a good idea to pair [a beard oil] with a beard balm as well," says Eric Holmes of Blind Barber in Culver City. "You want to keep everything moisturized while also keeping those strays and flyaways in check."

A balm offers a lot of the same benefits as an beard oil, but with a bit more styling control. This one from Rocky Mountain Barber Company comes in at a great price point (less than $15) while also using natural good-for-your-skin ingredients like coconut oil and argan oil which are both ultra-hydrating and soothing. Plus, it has a refreshing herbal scent thanks to an infusion of rosemary and lavender, which is a nice little bonus for anyone who gets in close.
Monthly Beard Trim From Your Barber, $25 (or so)
Just like the hair on top of your head, your beard will benefit from some professional attention, too. Plus, a l'il one-on-one pampering from your barber is as good for your skin and hair as it is relaxing. Think of it like your lady friend's regular pedicures: It's a treat, sure, but also necessary to keep things in check. The maintenance will pay off, especially if you're a beard newbie and still trying to get into a routine with your facial hair.

"The biggest tip I can give on keeping your beard maintained is to talk to your barber," says Holmes. "Just like a haircut, it's not a one-size-fits-all sort of thing." He recommends that his clients come in every three weeks or so for a clean-up.
To keep your beard looking Jon Hamm-level sexy instead of Andrew Garfield-level scraggly—it's all about keeping your trimming game strong. If you're working with more than stubble, Holmes recommends skipping the generic options and going straight for barber-grade clippers and trimmers from brands like Wahl and Acris. And when most of the tools the pros use are under $50, why wouldn't you? This one from comes with a variety of combs for different beard lengths and my favorite bonus—a nose hair trimmer.

Once you're out of the shower, give your beard a little boost with a hit of specially formulated oil. This one from Kiehl's is meant to hydrate your skin and hair, which makes it good for any length of beard or a clean-shaven face. To apply, place a few drops in your hands, rub palms together, and then massage it into your beard—and all over your face if you feel like it! It's 2019, there are no rules. And besides, your skin could probably use the extra hydration, so...

---