There's a surprising amount of "stuff" that's needed to keep the contents of your wardrobe presentable. Things like lint rollers and sweater combs that freshen up your clothes like a well-equipped pit crew in between washings.

Personally, I keep all my clothing accoutrements in my underwear drawer. Maybe people with larger homes have, like, a separate drawer or closet for this kind of thing (or a whole room?! I don't know your life), but for me, I know that nearly any style snag—literal or otherwise—can be fixed with what's stashed beside my socks.
Here's the wardrobe stuff you need in your underwear drawer (or room!), all available on Amazon:
---
There's something extremely satisfying and even calming about using an electric fabric shaver to freshen up sweaters and more. I'm talking ASMR-levels of soothing.

G/O Media may get a commission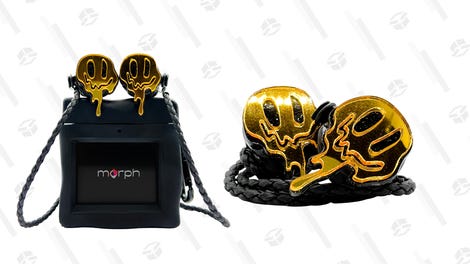 morph audio
Morph Earphones
Remove threads, pills, and general fuzz from knitwear with this handy, handheld device. (They're also great for fabric couch cushions that are looking a bit pill-y.)
Want to go more lo-fi? This bad boy oh-so-delicately collects pills and effectively handles edges. Use it on clothes made of fine-gauge wool, cashmere, merino, and even synthetic materials.

After years of taking shirts to the tailor to have buttons replaced (or gulp, packing them in my suitcase when visiting Wisconsin so my mom could do it for me), I finally learned to sew a button. You should learn, too.

Now, how is all of this so cheap? Who knows! But this small and mighty sewing kit is a total must-have.
A sweater stone renews the finish of heavy knit and woolen items. This one's made of natural volcanic pumice and collects pills from underarms and sides, aka the "high-friction" areas of a garment.

Coco Chanel once said that you should take a look in the mirror and remove one accessory from an outfit before leaving the house. One thing I'd add to the legendary French designer's advice is that while you're looking in that mirror, take the time to also do a quick once-over with a lint brush. You never know what kind of pet hair, wife or girlfriend hair, and other life gunk may be clinging to your clothing.

When a lint brush just won't cut it, it's time to call in reinforcements. Good for an aggressive wardrobe situation, a lint roller grabs fur, fuzz, lint, hair, whatever with just a few quick swipes. It does leave behind adhesive residue on your clothes, so don't overuse it. And know that even the most vigorous lint rolling can't help when what's really needed is a dry clean or good washing.

It's annoying to pull on a fresh shirt only to find it streaked with (similarly fresh) deodorant. This pink foam square removes the unsightly residue, preventing you from having to change out of an otherwise clean shirt. Just rub the dry spronge briskly over the deodorant mark spot and you'll be in the clear.

I'm not trying to be obnoxious, but guys, you really need a steamer if you don't have one already. It's such an effective way to get wrinkles out of clothes between washes or dry cleaning. It's also way less work than an iron, which, score.

Steaming also kills odor-causing bacteria, which means your clothes will not only look fresher they'll feel fresher, too.
---