I knew that motherhood would throw all manner of unexpected difficulties my way, but one struggle that I really didn't expect was the struggle we went through trying to teach our son how to drink from a straw.
Now, if you're currently childless, or have very young babies, you might wonder what the big deal is. Let me break it down for you: Eventually, kids need to stop drinking from bottles and transition to cups, and it turns out that this skill isn't passed down genetically: they have to learn it. 

Our pediatrician recommended starting to wean our sons off bottles at 12 months of age, and that sounded pretty simple until we actually started trying. We bought every single sippy cup you can imagine. Cups with straws. Cups with handles. Cups with super bright colors to spark his interest. Nope, nothing was working.
Our friend—who is a speech therapist for children—recommended the "Honey Bear" sippy . A quick search landed us on Amazon and there it was. An actual, bear-shaped honey bottle turned into a sippy cup. Desperately, I hit "purchase," and 24 hours later, the bear was with us.

The bear's instructions are simple: You start off by squeezing the bear a little, so some water comes out of the straw, and your child gets the hint that there is stuff inside. Then, they can learn how to suck on the straw, which is weighted so they don't accidentally pull it out. We followed the instructions closely, and within two days our kid was a pro at drinking from straws.
G/O Media may get a commission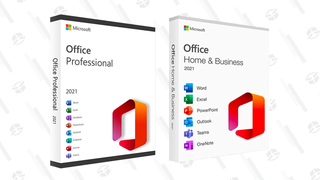 89% off
Microsoft Office Professional 2021 Lifetime License
We then moved into regular sippy cups without any issues, and have been loving these Avent ones that are great for travel.

---
I'm a very proud to say that now we can go out for food anywhere, and our son can master any straw or cup handed to him because of the skills the honey bear taught him. I know it sounds like a small conquest in the sea of things we need to teach our kids, but right now it feels like a huge one to us.

Yay honey bear!
---