Last month shockwaves rippled through Washington and beyond when we learned that Robert Mueller... loves a Starbucks pumpkin spice latte. There was also some other stuff, but I'm here to defend the basic bitch in Mueller, and all of us!, that likes stuff that is good but for whatever reason "society" has decided we're supposed to be embarrassed about. Ugh, we're so exhausting.

Another "basic" move? Getting excited to work out when you have new clothes to hit the gym wearing. But that's stupid because no matter where you're headed, feeling good about your appearance is a big key to your confidence, so like, back off Skyler! I know you're just acting out because your parents got divorced and your mom's living with the guy who cleans your pool!
Where were we? Oh right. Working out in great clothes totally boosts your burned calorie potential.

So today we're talking stylish workout shirts for guys. If you're still crushing those last few reps in a ratty cotton t-shirt or tank you got at soccer camp senior year, well, it might be time to upgrade.

Because it's okay to want to look cool, even at the gym! You're bothering to work out, so why not look badass while you're at it? You may not be building towards The Rock's bod, but you certainly could be closing in on Jason Statham territory. A good workout wardrobe could be the #fitspo motivation you need.

Below, the best workout shirts for every guy:
G/O Media may get a commission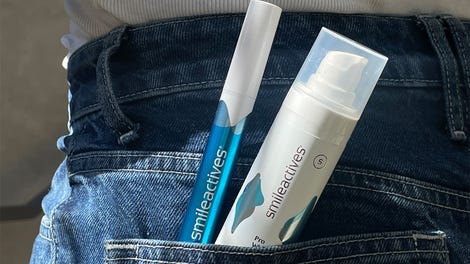 58% off
Whitening Powerhouse Pen & Gel Duo
Rhone makes the swiss army knife of athleisure clothes for guys. Their Reign shirt looks simple enough, but there's actually smart details everywhere hiding in plain sight. Like raglan sleeves that won't ride up on your arms, and a stitching technique that creates chafe-free seams. Oh, and it fits and feels like your favorite vintage tee the first time you put it on.

Maybe you just need to get some light stretching in. Maybe you just really like the way the folks at the Juice Press inside your Equinox make your morning smoothie. Either way, this technical tee from Olivers checks all the workout boxes (like its merino material that's naturally odor resistant and wicks sweat really well), so by all means, get your sweat on in it. All I'm saying is, its simple silhouette and absence of hi-vis details or obnoxious logos mean you could absolutely get away with wearing it right to work in a casual office, too.

Fourlaps is one of the latest entrants to the ever-growing assembly of direct to consumer men's athleisure companies, and good news, it's way more than just a pretty lookbook! The brand's "37.5" technology, which uses active particles to vent heat in warm conditions and retain heat in the cold, is - and this is in scientific terms, so I'm sorry in advance if it goes over your head - "super legit" according to my brother-in-law, who swears by the brand's Level tee.

Do (clap emoji) not (clap emoji) sleep (clap emoji) on (clap emoji) Old (clap emoji) Navy's (clap emoji) workout (clap emoji) wear (clap emoji).

Did I do that right? Am I a Tik-Tok influencer yet?
The point is: Old Navy's exercise gear washes up surprisingly well and is hella cheap. Try the tanks, which have a nice fit through the torso without too much underarm / side man boob exposure.
Last week I ran into Brogan Graham, founder of outdoor fitness movement November Project (and a friend from high school in Wisconsin!) at midnight outside the baggage claim at JFK. Super random. So when I started pulling together this workout wear roundup, I slid into his DM's because as the leader of a worldwide fitness community, I figured he'd have an opinion. And he did! BG swears by these lightweight long-sleeve running tops, especially good for early morning outdoor workouts. "It's my favorite. Light AF, dries fast when traveling, packs small, and takes NP paint well."

Bet you didn't expect Nike to be the budget pick, huh?? The brand's Dri-Fit technology was one of the first on the scene to get smart about workout wear, and it's only gotten better over time. If you like your fitness 'fit to have some heritage, turn to the swoosh.

Whether you're going for a run on a hot day, or just sweating a lot (like, a lot a lot) in a particularly intense spin class, this breathable t-shirt will put in the hard work right along with you. The Climacool tech keeps you cool and dry during super-sweaty workouts, while shifted-forward seams reduce chafing during your training session.

While Under Armour might not be the hippest athletic wear maker in this list, the Baltimore-based brand certainly has put in the work to create products that, as the kids say, "do the most." Is their Vanish seamless tee basic? Maybe. But it also does everything your workout tee needs to do, and won't break the bank when buying in bulk. Call it the Pumpkin Spice Latte of workout shirts.

---