Featured Deal: Apple Airpods 3 | $150 | Amazon
Apple has just announced a new line of their flagship products with the iPhone 13, the Apple Watch Series 7, and the new iPad Mini 6. While pre-orders are open, they still aren't in our hands yet.
Thankfully, there are already plenty of accessories available on Amazon that you can get now to use when your pre-orders arrive. Be it phone cases or watch bands, deck out your new Apple toys with some of these accessories.
Apple recently released its latest set of Bluetooth wireless earbuds in its AirPods 3. With an original price point of $179, you would expect it to fall somewhere between their old AirPods 2 and the $249 AirPods Pro. Well, you'd be exactly right. The AirPods 3 are a step up from the 2, adding some of the features we saw come with the Pro like spatial audio support and water resistance. They also have a redesign aesthetically. The most notable absent feature from the Pro is the lack of active noise canceling. Right now Amazon has them for $29 off.
G/O Media may get a commission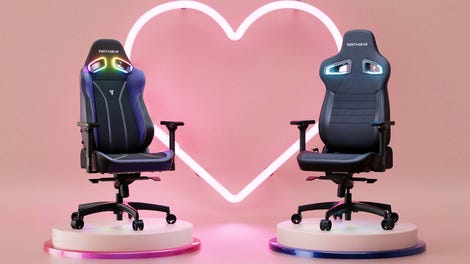 Up to $150 off
Vertagear Gaming Chairs
With the Apple MagSafe Battery Pack, charging on the go is made easy. It has a compact design and will adhere via super satisfying magnets directly to the back of any phone across the iPhone 12 line. The MagSafe Battery Pack can charge even faster when coupled with a 27W or higher charger, those that ship with MacBooks. You will never be stuck with a dead piece of tech again with this wireless charger. Get it from Verizon for $74 or from Amazon for $80.
If you want the best of the best audio Apple can deliver, it's going to come in the form of the over-the-ear Bluetooth wireless headphones—the Apple AirPods Max. With some of the fun colors like pink and green for $70 off, you'll look just as loud as the music playing in your ears. For the crowd that doesn't want to stand out, you'll be happy to know the same discount is available for the white and black options. Or I guess they're technically called "space gray" and "silver" but oh you know.
Always losing your car keys? Well, that's just what the AirTag is for. But what if you're always losing the AirTag from the keys? Suddenly they're not so helpful. You can get yourself a stylish leather key ring to house your Apple AirTag so it's always where it needs to be and it looks cool doing it. Amazon has it for 9% off. Note that this is just the leather saddle and does not include the Apple AirTag itself.
Treat yourself to a shiny new stainless steel band for your Apple Watch to give it a high-quality luxurious look. Wearing it is breathable, comfortable, and makes your wrist looks fabulous. Get the 38/40/41mm size for $11 or the 42/44/45mm size for $13.
Don't be the dummy who drops their new phone and cracks it on their first day. We all like the sleek look of a caseless phone, so why not compromise and get this low-profile case from TORRAS. It only frames the outer edge, keeping the back of the iPhone visible and available for a MagSafe charger while still giving you the shock-absorbing protection of a phone case. Save $4 when you clip the coupon on the product page.
Send yourself backward in time to grade school when you needed to use a marble notebook for everything. This case for the new iPad Mini is styled just like your old composition journal from English, Math, and Social Studies. It even has a space for you to store and charge your 2nd Gen Apple Pencil.
Charge your phone and make it snappy. The Apple MagSafe charger just snaps onto the back of your phone with magnets to restore power to your device. Note while the charger will charge an iPhone that supports wireless charging, only the iPhone 13, iPhone 13 Pro, iPhone 12, and iPhone 12 Pro models support the magnetic alignment.
MagSafe is the name of the game when it comes to this generation of Apple accessories. Save yourself the room in your pocket with a MagSafe wallet to snap on the back of your phone. Store your license, your credit cards, and maybe a bit of cash in your iPhone 12 or iPhone 13 line of phones.
The last thing you'll want to do after you get your new iPhone 13 loses it. Catalyst has a glow-in-the-dark case so you can see it when the sun goes down. Also, it is MagSafe compatible so we can still charge your phone with the latest tech.
One of the great design elements of the Apple Watch is the easy to swap out bands. Only problem is you need extra bands. Though Apple sells theirs in the realm of $50 to $100. Luckily, third-party sellers like SNBLK have much better deals like 6 of them just $14. And it will work with the new Apple Watch Series 7.
Don't scratch your iPhone 13 screen all up on the first day you get it. Come on, you're better than that. Just get yourself a tempered glass screen protector so you don't have to worry about it. This one is half off now, but you can save another $1 if you are a Prime member and an extra 10% when you clip the coupon on the product page.
You don't just need to avoid scratching your screen. You also gotta avoid scratching one of the camera lenses. The iPhone 13 has three lenses so by my calculation, your odds of scratching a camera lens will go up 3x when you upgrade. Get ahead of the situation and get a lens protector. Clip the coupon to get the three-pack for $7.