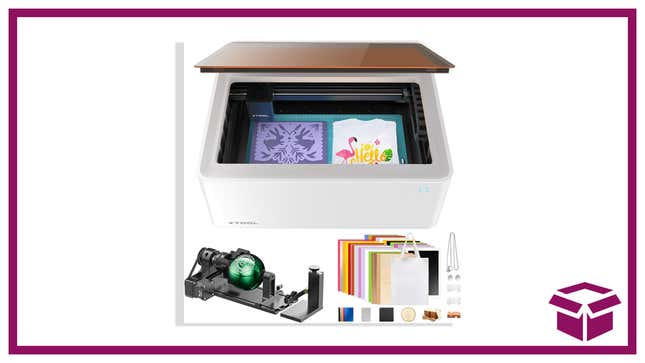 If you're even a *little* bit crafty, you know that laser engravers are pretty cool. These devices leave permanent designs on whatever material you're working with — meaning they etch, cut, and mark everything from fabric to metal. And this one also includes a vinyl/blade cutter, eliminating the need for a separate tool. (According to the manufacturer, it's the world's first combined laser engraver and vinyl cutter.) Judging by the Amazon reviews, the user results are awesome. And right now, it's 20% off at Amazon — $1,199 down from $1,499.
xTool 2-in-1 Laser Engraver with Integrated Enclosure | 20% off | Amazon
One reviewer called it a "game changer," and another said it was a "perfect hybrid for crafters." "When it comes to affordability this product is the perfect hybrid cutter/laser that has enabled me to expand my creativity even farther," they wrote, adding that the machine is "easy to use, comes with everything needed to begin creating," and includes great customer service. Check out the deal now and save $300 now.