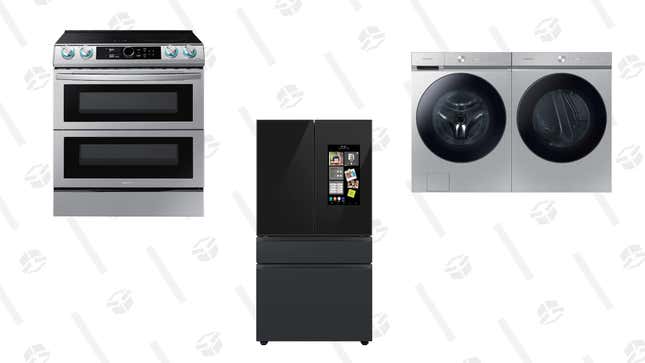 Presidents Day is just about here, and that means sales, sales, everywhere. From robot vacuums to mini projectors and everything in between, you can find discounts that'll make you feel good about whipping out your wallet. Samsung is no different, as the brand has several great deals on offer just in time for the February holiday. The Samsung Presidents Day Sale event features price cuts and promotions on refrigerators, washers and dryers, vacuums, and much more. Unsure which pieces are worth your time? We've got a great selection here to choose from so you can pick up what best speaks to you before the sale ends on March 1.

Snacktaku Drinks Pepsi's Time-Jumping 1893 Cola Flavors
Plus, as part of the Presidents Day sale event, you can choose one of the picks below, or take advantage of an Appliance Bundle. Purchase 3 or more Samsung appliances from eligible categories (refrigerators, freezers, washers, dryers, etc.) and get an additional 10% off the pre-tax purchase price either at the register or in a MasterCard gift card. You can save up to $200 this way, which nets you additional savings on goodies already on sale.
Otherwise, read on for our picks for some of the best deals to save on during the Samsung Presidents Day sale.
Refrigerators
Tired of listening to the hum of that decrepit old fridge you've had since you moved into your home ten years ago? Maybe you just need more space. Either way, Samsung has you covered, as you can get up to $1,200 off select refrigerators and a free set of additional panels as part of its Presidents Day promos.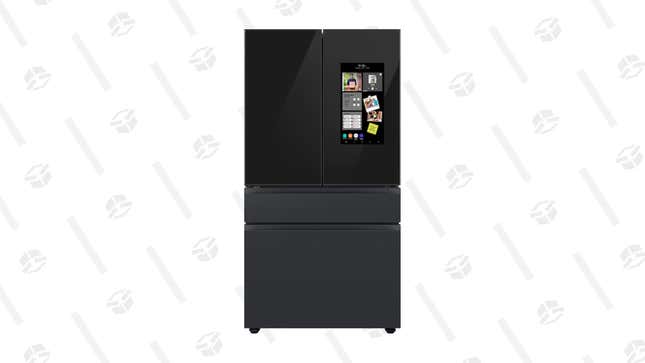 Bespoke 4-Door French Door Refrigerator | $3,199 | Samsung

This 4-door French door refrigerator has enough space for just about anything you could ever need to store. It also comes with customizable and changeable door panels that come in a variety of different colors and finishes. Perhaps most impressively, it comes with Samsung's Family Hub screen, so you can see what's inside your fridge, check your connected security camera, listen to music, and more. All that, plus it comes with the Beverage Center (including a water dispenser and AutoFill water pitcher) and Dual Ice Maker with cubed ice and Ice Bites.
G/O Media may get a commission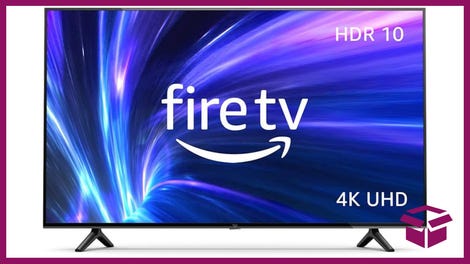 42% Off
Amazon Fire TV 50" 4K Smart TV
Laundry
Need a new washer and dryer? Samsung is offering up to $1,100 off its new Bespoke Ultra Capacity Washer and Dryer sets. And if you'd prefer a quick and easy way to refresh and sanitize your wardrobe, you can get $800 off the Bespoke AirDresser Clothing Care System, too. It's time for spring cleaning, so that means sparing no expense on our fits. These appliances can help you make sure you're ready to face the day, no matter what it brings.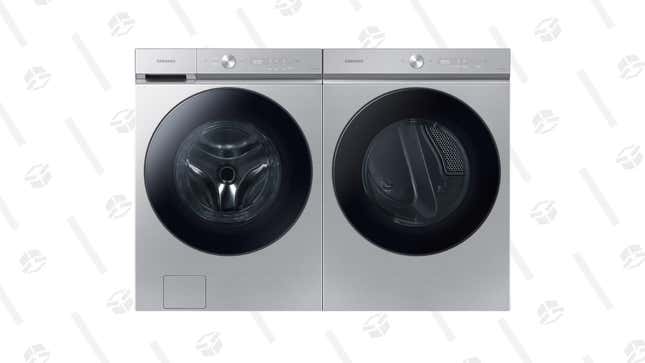 Bespoke Ultra Capacity Front Load Washer and Electric Dryer | $2,057 | Samsung

This washer and dryer set makes fresh laundry a breeze. Not only are they stylish, but they get the job done quickly. They feature a 5.3 cu. ft capacity and can do a full wash and dry in just under an hour. Plus, their smaller footprint makes them ideal for shallower spaces. They also feature an AI smart dial that helps to learn your favorite cycles as well as Wi-Fi connectivity so you can control your appliances anytime, anywhere.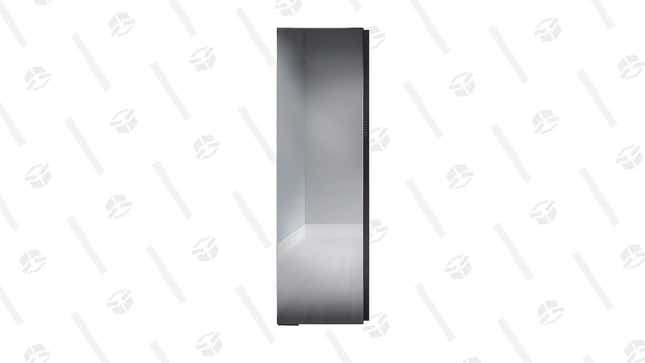 Bespoke AirDresser Grand Clothing Care System | $1,099 | Samsung
Steam, refresh, and sanitize your wardrobe quickly with this 5-hanger wardrobe. The Bespoke AirDresser Grand Clothing Care System is a must-have for anyone who likes to wear things that have been given the utmost scrunity. It can do far more than clean your clothes. It uses high-temperature steam to remove bacteria and scents, and it comes with a built-in filter to deodorize 99% of common odors in your home. What's more, there's no need to have a separate water line, just plug it up and go. Then hang up your garments and reduce odor, static cling, and get them germ-free before you wear them again.
Vacuums
A new vacuum can change the way you approach cleaning your home. It can help you reach into every nook and cranny to get your living space as tidy as possible. Samsung will let you take up to $350 off the new Bespoke Jet Cordless Stick Vacuum. It comes equipped to make even the most monumental floor-centric task a breeze.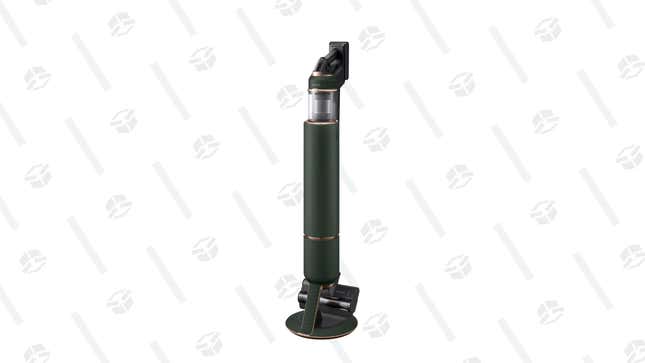 Bespoke Jet Cordless Stick Vacuum | $550 | Samsung

This cordless vacuum is the lightest Samsung has in its lineup, and includes a powerful HexaJet Motor to imbue it with impossibly strong suction. With up to 210AW of power, it can handle picking up dirt and debris on just about any surface. You can empty it with the push of a button thanks to its Clean Station as well, which ensures that 99.99 of dust and debris is retained so your floor remains incredibly clean. You can store all its accessories on its accessory cradle, which charges the included battery to keep you cleaning as long as you need to.
Ranges
Cook in style with a brand new range to complete your kitchen. Samsung is offering a way to save time and cook more consistently with induction ranges up to $495 off during its Presidents Day sale. We could always do with a little extra time when it comes to making meals.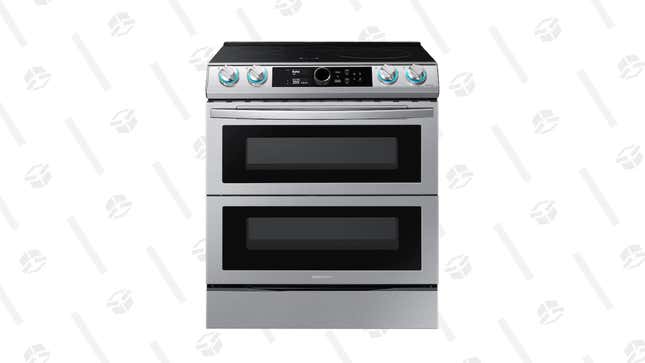 Smart Slide-In Induction Range with Flex Duo | $2,999 | Samsung

This slide-in induction range is the perfect option for expanding your cooking capabilities. Its Flex Duo option gives you a double oven range to make any meal a breeze. Plus, the oven comes with Smart Dial, Wi-Fi connectivity, and voice control to give you flexibility over how and when you prepare your food. This model also utilizes Samsung's Smart Rapid Heat and Virtual Flame technology that gives you the illusion that you're cooking with gas in case you need that little extra visual while you're using the range fro induction cooking. Plus, Smart Dial will intuitively learn how you like to cook.
Microwaves
Ah, the microwave, also known as the "toss something in there and nuke it" machine. Unfortunately, it's not always the healthiest option. But it is almost certainly always the fastest. Luckily, there are ways to make eating mostly microwaved food a little healthier and more palatable.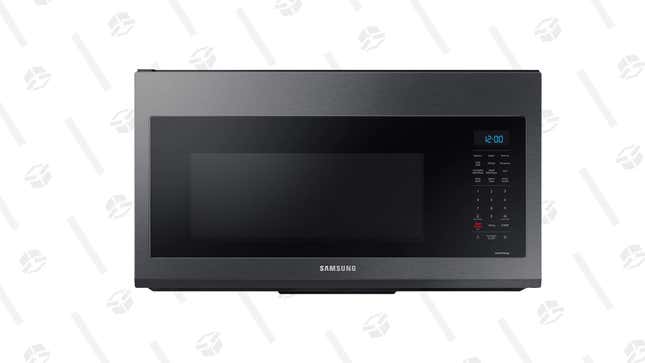 Smart Over-the-Range Microwave with Convection & Slim Fry | $499 | Samsung
Samsung's Slim Fry technology uses warm air circulation so food is cooked inside and out using a minimal amount of oil, so you can eat fried foods with less fat.Samsung is offering a Presidents Day deal where you can get select microwaves with the SlimFry capability for up to $117 off. Eligible options include the Smart Over-the-Range Microwave with Convection & Slim Fry and PowerGrill Duo Countertop Microwave.