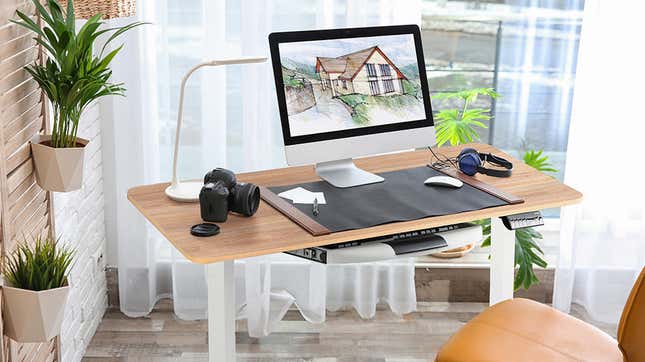 Featured Product: Flexispot EC9 Standing Desk | $250 | Amazon | Clip coupon
Look, a lot of us have had to make do with sub-par home offices recently. Whether you've ended up setting up in your bedroom, the kitchen, or just the most convenient closet in your home, it could be that you need to upgrade your equipment. One of the best ways to refresh any home office, no matter how improvised it may well have been, is to get a nice new desk.
However, there are a lot of different desks out there, and even picking one can be a huge undertaking. One of the trickiest things about the whole process is trying to figure out what size you actually need. If you're just working then maybe you just need the best small computer desk, but if you're looking for something that can also support a second monitor for gaming, then you need a bit more. That's literally just the size, that's not even taking into account how comfortable or ergonomic it's going to be.
Our preferred answer to that specific worry is to go with a standing desk. A standing desk allows you to properly stretch out as you work or game, and because they're easy to adjust, you can also accommodate an exercise ball, or whatever strange yoga pose you want to be in as you're typing away. So, we've gone ahead and listed the best desks around here, so you can pick the one you want.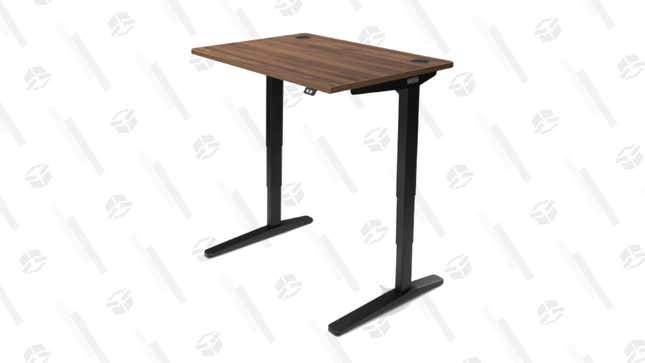 After spending my first six months of quarantine back in my childhood home, my wrists and lower back were in pretty awful shape. Holding my phone hurt after a long day of typing, and I found myself slouching a little too often in my family's stiff dining room chairs. Once I got back home to California, I jumped on grabbing an Uplift V2 Standing Desk—and haven't looked back since.
It's one of the most customizable options you can get, with a slew of different finishes, sizes, frame configurations, and accessories to tack on. The base model starts at $600, and can easily reach over $1,000 depending on how you customize it. Its surface is sturdy and looks nice in my office, the adjustable-height mechanism is smooth and stable, and the setup is pretty quick even if you have to do it solo.
If you're looking for more than just a desk, you can upgrade to have a couple of outlets right on top of your setup for easy access, get some upgraded cable management gear to keep things tidy, or even grab a slide-out keyboard tray for improved ergonomics and a little extra surface room. I'd recommend getting the C-Frame model for increased stability, even if it's an $80 add-on. It's also worth it to get the advanced keypad if you're planning on switching between sitting and standing a lot, or if it's going to be used by more than one person.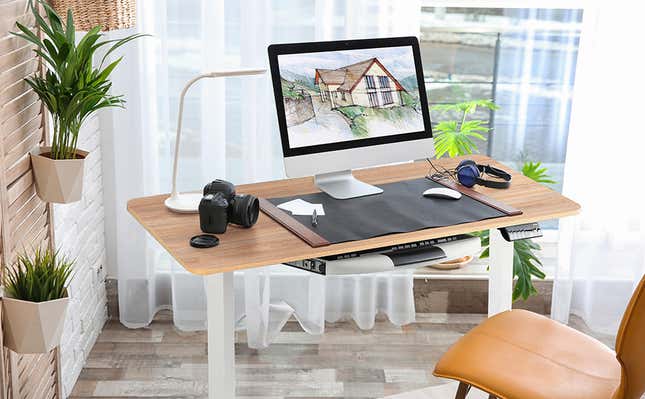 Nice as it is, the UpLift is on the more expensive end, and that's a reasonable dealbreaker. Standing desks don't have to raid your savings, though. The Monomi electric height-adjustable standing desk is one of the best available on Amazon right now, according to reviewers, and a 48" model costs just $221 right now at Amazon.
Like the Uplift, the Monomi has a keypad that lets you quickly adjust the height of the desk, extendable up to 46". Unlike the Uplift, though, its keypad and keyboard tray are included, so you won't have to sweat the upgrade prices. It's not as elegant-looking as pricier options, not to mention it lacks the C-frame to improve stability, but at half the price, it's not something you'll fret too much—the basics are more than plenty.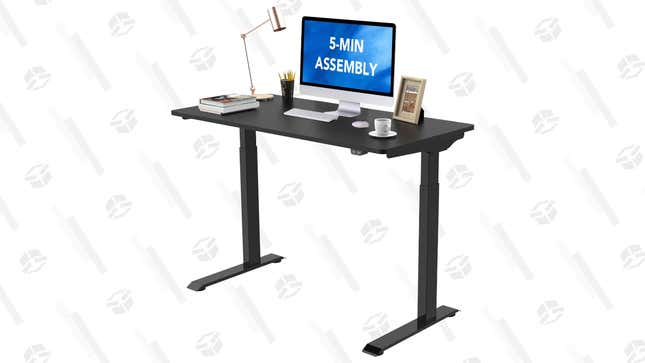 Here's another great option for an affordable, straightforward standing desk. Flexispot's EC9 electric standing desk ranges between 28.7" to 48.4", providing a slightly taller standing level than the Monomi model above. It's also incredibly easy to set up, with only a handful of simple steps needed to connect the legs and plug in the wiring for the hydraulic motor.

In use, Flexispot's desk smoothly converts thanks to the little up/down control switch on the right side. There's just a smidge of wobbliness at the absolute top level, but not enough to be concerning or distracting, and it lessens the lower you go.
Flexispot's desk doesn't have extra frills like a keyboard drawer, but it's a great pick for a minimal, affordable, and solidly sturdy desk that you can get up and running in a hurry. Clip the coupon on the page right now to save $50, dropping the price to $250.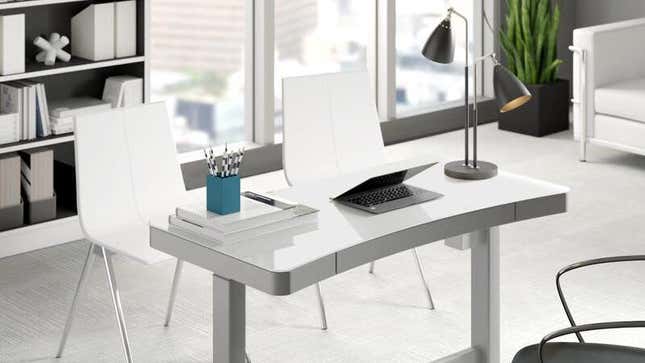 For those looking for a minimalist desk, or anyone who likes to use their surface for scribbling as much as they do hunting and pecking, the Upper Square Babin is highly rated on Wayfair. Unlike the Uplift or Monomi, this desk has a groove in the front to get you a little closer to the monitor. Additional features include a glass surface that doubles as a dry erase board you can use for brainstorming, a slide-out drawer, and a built-in USB port.

As with the other options, its height is adjustable and comes with three pre-programmed heights, reaching up to 47". It typically sells for about $550. While that's not too far off from the Uplift, without any upgradeable options, you won't have to worry about a shocking price tag at checkout. Currently sitting at 4.7 stars on Wayfair, based on over 700 reviews, customers like it for its easy setup, handy whiteboard surface, and the quality of its height adjustment mechanism.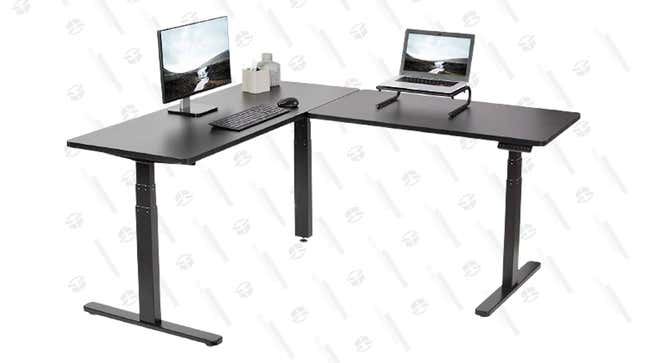 Maybe you love the idea of a standing desk but you also know you like a lot of room. It turns out you don't actually have to give up on anything, or even compromise really, as long as you know where to go. The VIVO L-Shaped Adjustable Desk measures 60" deep, 67" w, and 24.7" high at its lowest, and can go all the way up to 50.3" high thanks to the electric motors that allow it to become a proper standing desk.

Along with the size of the desk itself, you'll be happy to know that it can support up to 208lbs, which is great news if you're planning on keeping everything about your PC up on the desk itself. That's all thanks to an entirely steel frame, which allows it to carry that load. Not only that, but the simple design means it'll fit in no matter where you put it.
Having an L-shaped desk isn't essential for everyone, but if you're the kind of person that always feels like they could do with a bit more room, then you should pick this up. It's amazing having space for your monitors, your PC, and even a laptop too, and it's ideal for people who take a lot of written notes as they work, or just like space for all of their PC accessories.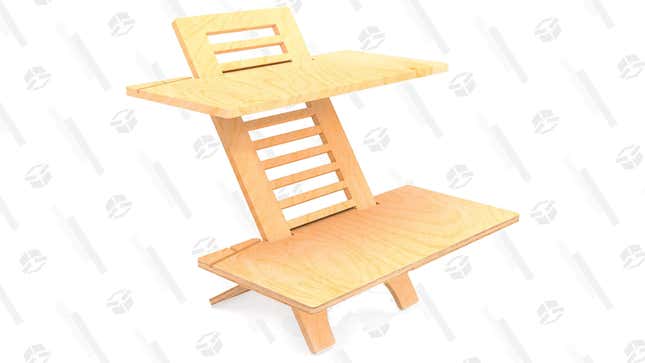 A lot of standing desk converters are big, heavy things that are designed to stay put in your chosen position, but the Jumbo DeskStand is different. This converter is also easily convertible, letting you rearrange the shelves as needed and then take it down and hide it out of sight when you're done. It's a bit chunky and it's not cheap, but you might appreciate the perks—especially if you're tight on space.

Gizmodo's Catie Keck is a fan of the Jumbo DeskStand:
"Ultimately, I really liked the way this standing desk solution performed and the way it looked even when it wasn't in use. It wasn't an eyesore, it was easy to break down in a pinch, and it was sturdy enough to balance a heavy monitor and laptop without me having to worry too much about weight distribution. If your desk isn't actually going anywhere and you have space and money for it, a more traditional standing desk might be a better option. But for someone in a smaller space, the DeskStand's an option I'd definitely recommend."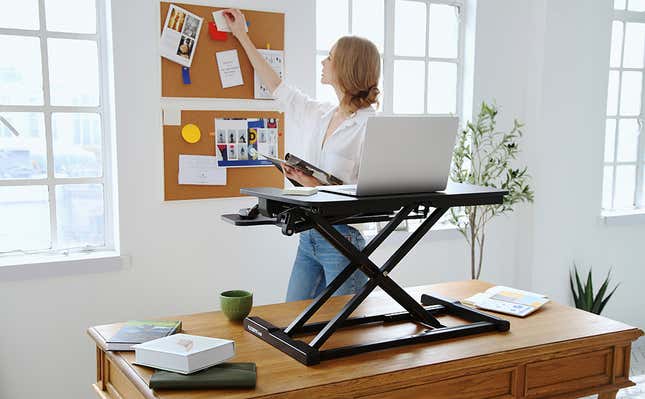 On the other hand, if you don't want to abandon your current desk and but you want the flexibility of a standing setup, why not use an add-on convertor? Quality ones aren't cheap, but are still a fraction of the cost of most true standing desks, plus they have the benefit of mobility.
If you want the cheapest option with the most positive reception, grab the FlexiSpot standing desk converter. Only $100 on Amazon right now, it doesn't look as elegant in your office as an elevating desk, but it gets the job done. It can reach up to 28" high and measures about 28" wide, so it won't occupy a ton of room in your house or apartment, plus there's an electric motor for easy adjustments. Oh, and it's even got a keyboard tray, so you won't be giving up too much of that limited surface space. It's currently sitting at about five stars based on 127 reviews, and customers seem to have few issues with it. As long as you're okay with a slightly clunky aesthetic, you shouldn't be disappointed.
This story was originally published by Jordan McMahon on 10/19/2020 and updated by Jason Coles with new information on 01/24/2022.