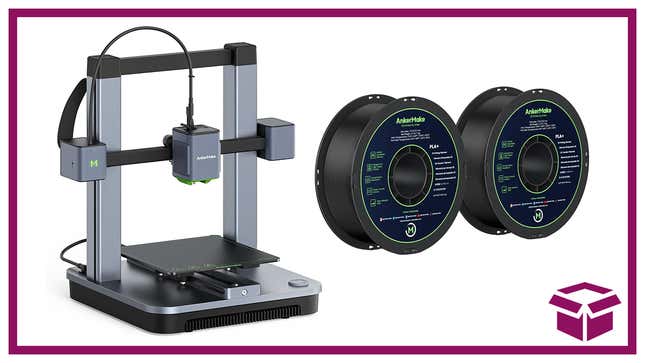 If you're a 3D printing enthusiast, the AnkerMake M5C printer needs no introduction — it's this summer's hottest new release in the world of 3D printing. Only a month after its debut, it's selling like crazy thanks to its lower price point and the rave reviews it has earned. It's on sale for just $359 on Amazon — a $40 markdown — and that's just one of three great AnkerMake 3D printing deals available right now.
AnkerMake M5C 3D printer | $359 | Amazon

Amazon is offering two other amazing AnkerMake deals with exclusive codes: The M5 3D printer is just $559 — a huge $200 markdown — with the code 3DM5KINJA. And no matter which AnkerMake 3D printer you buy, you're going to need filament made specially for high-speed printing, and a 2-pack of AnkerMake's PLA+ official filament is on Amazon now for $45 per roll — down from $58 — with the code AnkerPLADate.
AnkerMake M5 3D printer | $559 | Amazon | Code: 3DM5KINJA
AnkerMake PLA+ filament 2-pack | $45 | Amazon | Code: AnkerPLADate
The AnkerMake M5C is a simpler, more affordable version of the M5. It prints at up to 500 m/s, has an all-metal hotend to help prevent filament clogs, and supports 300℃ printing. The resolution goes all the way down to 0.1mm, and the one-piece design makes for faster and simpler assembly and setup. Multi-device control and a print volume of 220 x 220 x 250mm make this an amazing buy for 3D print enthusiasts and newcomers alike.
The M5, released just last year, adds a 4.3-inch touchscreen, double cooling system, 7x7 auto-leveling feature, an error-detecting AI camera, and the ability to pick up a print where it left off after a power outage. Use the code 3DM5KINJA to take a whopping $200 off this awesome hobby machine. And don't forget to stock up on AnkerMake PLA+ filament at just $45 per 2-pack with the code AnkerPLADate.