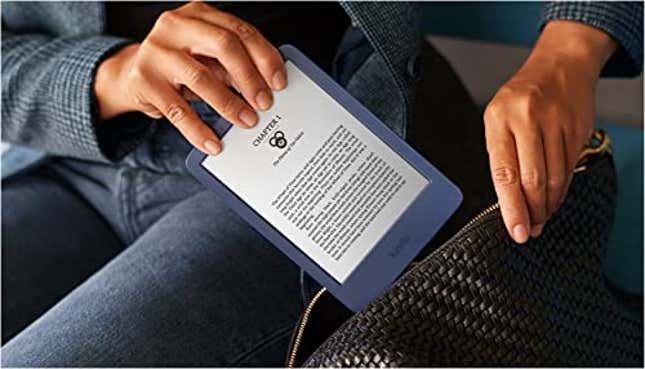 If you're a fervid reader, there's no better place to turn than the new 2022 Kindle on Amazon! Crafted with incredible features, this Kindle provides a first-rate reading experience. The 2022-release Kindle is now on **Amazon** and currently holds the title as the lightest and most compact Kindle, making it a must-have for any reader on the go.
Kindle (2022 release) does not merely aim to give users a lighter and smaller design. It also provides a reading experience like no other. This isn't simply a claim; it is backed up by the Kindle's impressive credentials. With a 6" 300 ppi high-resolution display, you are sure to enjoy crystal clear text and images, making reading a true pleasure. The glare-free, paper-like display allows you to read comfortably, even under direct sunlight. Plus, it has an adjustable front light and a dark mode feature suited for any reading environment.
Keeping you more engrossed in your stories is paramount for the Kindle. This device, specifically designed for reading, offers a refreshing escape from distractions like messages, emails, or social media. One can immerse in books without any interruptions. Plus, you'll never have to worry about battery life. A single charge via USB-C can last you up to six weeks!
Storage is another selling point for the latest release. It now has a whopping 16 GB, double the storage capacity of its predecessor. This means you can store thousands of books on your device and have your library with you wherever you go. Furthermore, with Kindle Unlimited, you gain unlimited access to over 2 million titles, thousands of audiobooks, and more, ensuring you never run out of new stories to discover.
Environment-conscious consumers will definitely appreciate the Kindle's eco-friendly design. The Kindle utilizes 30-75% recycled plastics, 90% recycled magnesium, and comes with 100% recyclable device packaging. The design emphasizes Kindle's sustainability efforts, bringing pleasure to your reading habit while also reducing environmental impact. Convenient, environmentally friendly, and outstanding in performance, the latest Kindle has indeed advanced by leaps and bounds. Make your reading experience nothing less than luxurious with Amazon's newest Kindle. Claim yours today before they run out!