Our son was two months old, the days were getting warmer and as freshly new parents who were just barely surviving the newborn days, we were ready to get out of the house. But where would put the baby? If we wanted to go out to the park and have a picnic, it'd be weird to leave him in the stroller. But also, we can't put him in a blanket because what if he gets sunburned? Yes, we were very paranoid first time parents, I know.

Don't ask me how I found the Fisher Price On-The-Go Baby Dome, but what I can tell you is that it was love at first sight. As soon as I opened the box I knew it was everything that we needed at that stage in life.

The Baby Dome is a perfect outdoor home for your baby that doesn't yet sit or stand up. Its sides are made of mesh, which allows the breeze to go through and keep your baby nice and comfortable. The shade offers 50 SPF sun protection, which will keep your baby safe from the sun, and you have the option to fully close the shade if the baby is napping for them not to be distracted or woken up. Ah yes, the bottom is a flat surface which is perfect for safe sleeping. And if that wasn't enough, it comes with two adorable hanging toys for your little one to play with while they are inside the dome. Oh and there's more, the structure folds in two, so it's easy to store and carry around. Now you understand why I'm so in love with this thing?


Sure, the dome was designed to be used outdoors, but if you're a new parent with curious pets, the dome is amazing at keeping your little one safe from their furry siblings. We have two dogs that are obsessed with our son, so when he was tiny I would set up the dome in the living room, put him in the dome so the dogs wouldn't sniff and lick him nonstop, allowing me to catch my breath and make myself a cup of coffee hands free.

When he was older—around four months old—we took a trip to Maine, and of course brought the dome with us. It was the talk of the beach when we brought it out, set it up with a little fan and a noise machine, and enjoyed some quiet time on the sand while our baby took a nap.
The only thing I wished is that when folded, the Baby Dome would fit in the basket of our stroller, because that would make going to the park solo with the kid so easy. But it's just me asking for a little much, since to be honest, the dome is pretty perfect as is. So thank you for existing, and for making our first summer as parents so much more enjoyable.
G/O Media may get a commission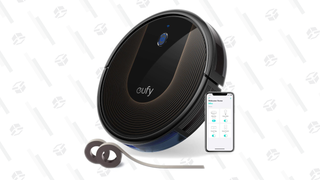 48% Off
Eufy BoostIQ RoboVac
---