"Sustainability" has become such a buzzword in fashion that it's been rendered nearly useless to the consumer, like that scene in the finale of Succession where Tom forlornly asks Shiv, "What is love? I love this rock."
But sustainability is actually a very real thing, and there are a solid handful of men's-focused fashion brands for which it serves as a foundational business model.
So, what is sustainable fashion? Well, there's no formal designator (though being certified as a B Corp is generally a good sign), but generally, it refers to garments made from environmentally-friendly textiles, like sustainably-grown fiber crops or recycled materials. Sustainably-focused brands also often work to minimize waste throughout the supply chain.
The tl;dr? Sustainable fashion brands produce eco-friendly clothes.
Which is great! And in 2019, it feels more and more like a "must have" from brands than a "nice to have."
Of course, if you're anything like me, you want to be a more conscious consumer without it involving 1) b=Breaking the bank to do it, or 2) Buying all your clothes at a street fair booth that smells like patchouli.
G/O Media may get a commission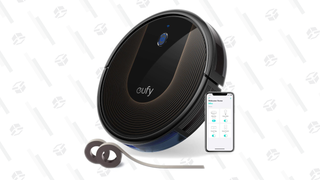 48% Off
Eufy BoostIQ RoboVac
So below, we've rounded up 9 of the most stylish and affordable sustainable brands for guys.
San Francisco-based Taylor Stitch feels a bit like if Patagonia was launched in Y-Combinator. Strategically crunchy. Which is a good business model right now! As co-founder and CEO Michael Maher rightly points out, "The modern consumer is prioritizing responsibility. As customers become more aware of the clothing industry's impact on the planet, they seek out brands like ours who give a damn and share our mentality that we don't need more product – we need better items that last longer."
I had no idea Nudie Jeans (one of Team SG's favorites to recommend to our followers) was so eco-friendly until I started researching for this very piece. I did know about their jeans-recycling program. I didn't know that they source only 100% organic cotton for their products, or that they have a whole program in place to lessen its environmental footprint.
For every product purchased, United by Blue removes one pound of trash from the world's oceans and waterways. As founder and CEO Brian Linton puts it, "It's almost like a self environmental tax. In fact, before we sold our first t-shirt we hosted our first waterway cleanup." Ten years in, the company has removed over 2 million pounds of trash.
As for the clothes? They're great for a modern guy who wants to look outdoorsy without going full lumberjack.
The OG. Patagonia was pushing sustainability since before metal straws were even a glimmer in Greta Thornberg's eye (she invented them, right? Honestly this whole world is still kind of new to me).
The iconic outdoor brand's products come with a "Footprint Chronicle" so you can follow the production process, from the textile mill to sewing factory.
Buck Mason got its start in 2013 in Venice, California, in a 350-square foot garage off Abbot Kinney Boulevard. They're like Apple, but for really great t-shirts.
All the styles are cool without trying too hard, and slightly rugged. Wearing Buck Mason suggests you could have a motorcycle at home despite showing up for a date driving a Prius.
Would you expect anything less than an eco-conscious business model and elevated surfer vibes from a brand co-founded by Kelly Slater? Outerknown makes its clothes "consciously," paying close attention to how it can transform previously harmful practices and craft more impactful relationships with its manufacturing partners, from Lima, Peru to Mount Airy, NC, all of whom abide by strict fair labor guidelines.
Launched by Gap Inc. in 2018, Hill City fuses a clean aesthetic with technical innovation for the guy whose work and play wardrobes are slowly melding into one. The brand has been designated a B Corp certified brand by integrating sustainability throughout many of its products, using high-quality, recycled fibers in the creation of its performance fabrics.
The way that Alex and Mike Faherty, the twin brother founders behind surfer chic fashion line Faherty put it, sustainability isn't some abstract concept. As they say on their website: "We're not a brand 'trying to be sustainable' as much as we're a family freaked out about what's happening in the world and trying to make the best decisions we can with the constraints we have."
Launched with a quest to make the perfect board short, they've since moved onto apres-swim essentials like cozy workshirts, laid-back drawstring pants, and surprisingly stylish baja hoodies.
"Ethical factories and Radical Transparency" is to Everlane what "Big, structural change" is to Elizabeth Warren. The DTC brand hammers this sustainable message home in all of their brand messaging, and the company's rapid rise to popularity can be credited in large part for the shift towards sustainability as a prereq for brands launching today.
---