We see a lot of deals around the web over on Kinja Deals, but these were our ten favorites today.

Head over to our main post for more deals, and follow us on Twitter and Facebook to never miss a chance to save. You can also join our Kinja Deals Community Facebook group to connect with your fellow deal hunters.
#1: SanDisk Flash Storage
There's no such thing as too much flash storage, so stock up during Amazon's one-day SanDisk sale.

I imagine the most popular items here will be the 256GB, 200GB, and 128GB microSD cards, all marked down to all-time low prices. These are ideal for GoPros, the Nintendo Switch, or anything else that needs a lot of extra storage space.
G/O Media may get a commission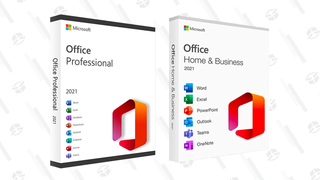 89% off
Microsoft Office Professional 2021 Lifetime License
As far as desktop storage goes, there's no shortage of flash drives available, including several that can work with your phone as well.
But if only the highest capacity and fastest transfer speeds will suffice, the 1TB portable SSD is the deal for you.
This is just scratching the surface of the deal though, so head over to Amazon to see all of the included products. Just remember that like all Gold Box deals, these prices are only available today, or until sold out.
#2: Anker's Tiny New Projector [Exclusive]
Hot of the heels of their successful Nebula Mars mobile projector, Anker's getting set to release an even smaller portable cinema, and our readers can save a bunch by preordering, and get some free accessories too.

The Nebula Capsule is about the size of a soda can, but can turn any wall into a 100" display while outputting 360 degree audio. And you won't be hurting for content, since you can plug in any HDMI video source, mirror your iOS or Android's screen wirelessly, or use the built-in Android 7.0 OS to pull up your favorite streaming apps.
It'll run for an industry-best 2.5 hours on a single charge (or 40 hours if you're just using it as a Bluetooth speaker), but since it charges over USB, you can just bring a power bank with you for essentially unlimited playtime.
Of course, it's not going to be as bright as a full-sized projector, or the larger Nebula Mars, but its 100 lumens are basically unmatched in the pico projector space. Similarly, its 800x480 resolution is pretty standard at this size and price point, but the picture won't be as crisp as you'd get from a larger projector, especially at larger sizes.
But for just $269 (with our exclusive discount), it's a perfectly capable portable theater that you can fit in your bag. That's kind of amazing! Plus, when you order through our link, you'll get a free mini tripod to help aim the picture, and a free carrying case too.
#3: Fitness Accessories
Whether it's a knee brace, compression shorts, or a ventilated duffel bag, this Amazon Gold Box is a god send for those of us that work out. Get the no-show socks you need, or that ankle brace you've been needing, even moisture-wicking boxers briefs. Though, if you need to stock up, you'd better do it fast, because this deal runs out at the end of the day.
#4: Anker's Brand New Robovac
Update: Sold out
The bestselling, top-rated, and audience-favorite robotic vacuum just came out with a new and improved model, and you can suck up yours today for just $200 with code 2GEROB11.
It has the features you guys loved about the first one - remote control, a slim body to reach under furniture, and large dust box, but boasts upgraded suction power, so the vacuum will sense when it needs to use a little extra juice to take care of a mess. It also has slightly larger wheels to easier navigate over door jams and higher-pile carpets, plus a larger HEPA-style filter to better trap allergens and pet hair. How convenient!
#5: Affordable Drinking Vessels
No matter how you prefer to carry your liquids on the go, you can probably find a bottle you'll like in this one-day Amazon sale.

Amazon will occasionally run a bottle sale with deals from a single manufacturer, but this deal brings together a bunch of the best names in the industry. You'll find stuff from Zojirushi, Blender Bottle, Takeya, Lifefactory, Tiger, and more in here, all marked down to great low prices.
Just remember that this is a Gold Box deal, so place your order before the prices run dry.
#6: ThinkGeek's Halloween Sale
ThinkGeek has got your Halloween costumes and decorations figured out, and it's all on sale. Grab up to 75% off over 180 Halloween items, including party decor, costumes, and accessories for whatever geeky guy you're going as.
#7: The Onion's New Trump Book
The Onion "obtained" 700 pages of internal documents from the Trump White House, and they're being compiled into a book that you can preorder on Amazon for an all-time low price.

Today's $24 price tag is the lowest preorder price Amazon's offered so far, and if it drops any lower prior to release next week, you'll automatically get the best price once it ships. Needless to say, this could make a great gift for your aunt in Antifa.
Full disclosure, we're part of a larger Univision-owned family of websites that includes The Onion, but this is a legitimately good deal, and nobody told me to write about it.
#8: The Most Popuar Food Storage System
If you've ever spent more than 5 seconds sorting through your mismatched food containers to find the right lid, it's time to throw them all out and upgrade to the uber-popular Rubbermaid Easy Find Lid system.

These containers come in six different sizes, and yet you only have to deal with three different lids, making it much easier to find the right one. The 42 piece set is on sale for $17 today on Amazon, which is the best price we've seen in months.
#9: A Smaller 4K TV
TCL's 4K TVs are having a moment right now, and while we've seen a few deals on the 55" and 65" models, the smaller 49" just got its biggest price drop ever. $342 is an all-time low, and it's actually a few bucks cheaper than the current price for the 43" model. It's also just a ridiculously small amount of money to spend for a 4K panel, Roku smart apps, and even HDR support (albeit not Dolby Vision).

The 55" remains available for $400 as well, if you're willing to wait out a backorder.
#10: The Perfect Trimmer For Self-Haircuts
If you're enough of a daredevil to give yourself a haircut, Remington's Shortcut Pro makes the process as simple as possible.

For $41 (after a 20% clippable coupon on the page), the Shortcut Pro can run for 40 minutes on its built-in lithium-ion battery, and includes nine different length combs to customize your look. And unlike most electric trimmers, it's shaped like a puck, rather than a wand, which makes it much easier to maneuver around the back of your own head. Just note that you won't see the 20% discount until checkout.
---
Head over to our main post for the rest of Monday's best deals from around the web.
---