What does $5 get you these days? A small latte, or a cold brew after tip. It will still buy 20 gumballs because gumball machines haven't been affected by inflation in a few decades. The Maybelline Great Lash mascara all women have been told is a "cult classic" despite it doing nothing but clumping your lashes. Around a bottle and a half of three buck chuck if you don't mind cheap wine hangovers. In other words: not much terribly inspiring outside of grocery staples and candy.

But even as inflation dwindles the supply of things under $5, some sleeper hits remain. Here are 14 useful household essentials for less than a Lincoln.
While the "wing-style" corkscrew may appear to be easier to use, I've always found waiters corkscrews to be the most goof-proof. It requires far less precision getting it set up, can (mostly) be done one-handed, and stores a lot neater. Plus it comes with a foil cutter and can open bottles easily as well.

G/O Media may get a commission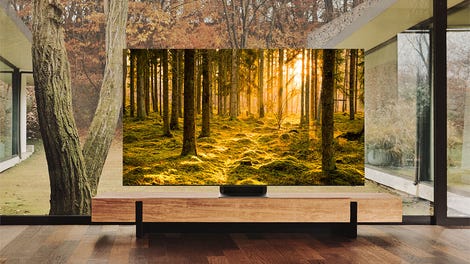 Up to 40% off
Samsung Smart TVs
Nite Ize's gear ties are an inexpensive Amazon cult favorite, with nearly 2,000 five-star reviews. They can be easily wound and unwound around cords you use every day, like charging cables and earbuds or put to more permanent use keeping cables detangled behind a stereo or TV.

This is one of those cleaning tasks to put on your to-do list for days you want to feel productive but also do nothing. Toss one tablet in the bottom of your dishwasher while you run a regular load, and it will help remove built-up gunk and grease from your machine, and can even help with smell.

If you are like me, you have probably been forced to buy sub-par packing tape at a post office or UPS. I've since made a point to keep good packing tape ready at all times, mostly to make it easier for me to package up and return things I've bought online. But beyond making post office trips quicker, I also use clear heavy-duty tape to make labels on the fly: write the contents of a box on whatever size paper you need and tape it up to make storage a bit more organized.

These are marketed as lids for pet food, but even if you don't have a dog, you'll find plenty of uses for them. If you're not making a recipe that calls for an entire can, for example or want to snack on something over a few days, these lids will keep your food fresh in the fridge.

Salux's nylon bath towel is like a loofah, washcloth, and exfoliating mitt all in one. Lather it up and use it to scrub your body, gently exfoliating as you go. Because it's the size of a hand towel, you can even hold on to two ends to scrub your back. Way softer than a bath brush with hard bristles, it also rinses clean and won't harbor bacteria like a bath pouf. If you do want to clean it more, you can even run it through the washer (just not the dryer). You simply suds up and scrub down for baby-soft skin.

Leave this on top of your coffee filters and use the grippy base of the tongs to grab just one coffee filter at a time in the morning. This works best with basket filters, and you use the tongs on the flat base, not the sides. Life changing? Maybe not. But does it take a lot of aggrevation out of your life pre-coffee? Yup.

If you've watched a beauty tutorial in the past few years, you've almost certainly seen a makeup artist use a sponge (or five) to do everything from applying foundation and powder to blending contour or highlighters. If you don't have a beauty guru-style makeup set-up, you've also probably wondered how in the world a normal person can store a beauty sponge (which are used wet) between uses. Enter this spiral holder, which will work with almost any beauty sponge brand or size and will allow it to dry between uses.

When I started college, 3M poster strips were a dorm room staple for everyone's Bob Marley and Audrey Hepburn posters. But even if you don't need to hang up a John Belushi photo anymore, these are a great way to create mini gallery walls. Mine is mostly made up of postcards, photo strips, and small prints these days. In my more frugal years, my roommate and I would actually cut them in half to hang up postcards in our hallway.

Rather than handwash my bras, um, less frequently than I would like to, I gave up this year and keep a delicates bag in my laundry hamper. Every time I do the laundry, I toss one in and remove it to air dry it. I may be shortening the lifespan of my bras, but they haven't screamed out in complaint yet, and they're a whole lot cleaner, too. This is also good for delicate underwear and tights as well, too.

If those hard-to-reach in-between tile spots are the bane of your existance, this tool really lets you get down and dirty. The top even removes to reveal a second brush for even more detailed cleaning. Neat freaks, rejoice.

These tabbed sticky notes can turn just about any cheap notebook into an organized dream. Students can use them to go back and annotate and organize notes while studying, while the rest of us can create more room for to-do lists in planners and journals. Bullet journal devotees in particular like them, but you also don't have to be limited by notebooks. You can use it to mark up regular books and textbooks as well without having to actually write in the book itself.

Please don't leave your sponge in the sink. It's gross down there and it will never dry. This holder gives it a spot to rest between dishes duties without having it gunk up the counters, too.

Don't go rock climbing with this. Or rather, only go rocking climbing with this if it's holding your keys to your belt. Outdoors uses aside, a carabiner is the best organizer I've ever found for hair ties. Use it as a key ring where you can easily separate out your essential and non-essential keys, or use it to hold handles of reusable shopping bags. There are so many weird, useful uses just waiting to be discovered.

---