Whether you're camping, going to the beach, drying off after yoga, or stepping out of the shower, the Nomadix All-Purpose Towel is a great tool for the job.
Made primarily from recycled plastic bottles (there are about eight of them in every towel), the Nomadix towel is thin, but in my experience, extremely absorbent. That thinness comes in handy when you're packing it for a trip—it only weighs a pound when dry—but it can still hold enough water to serve as an every day bath towel as well. And since it's devoid of any waffle weaves or high-pile fibers, sand and other debris come off with a shake.
So it's environmentally friendly and practical, but my favorite aspect of the Nomadix towel may be its array of designs. There are plenty of geometric patterns to choose from—I would describe most of them as "southwestern," if I had to put a word on it—but you can also opt for a Hawaiian print, watercolor tulips, or a pop art postcard look from your favorite national park. The one thing you won't find: solid colors. You've got enough boring towels; live a little.
G/O Media may get a commission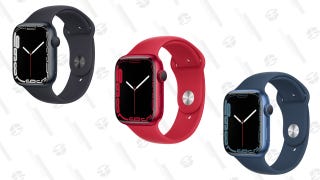 Up To $45 Off
Apple Watch Series 7
---