Hello, it's me, Tyrone's mom. Sick of us yet? I need your help once more. If you're new to Buyrone, I've already requested help looking for Tyrone's Halloween costume and a hat for him to wear when it is cold. It suddenly got too hot outside again, so the search for a hat has been postponed, but I will share what he looks like in his Halloween costume during the next Buyrone.
This week, I need your help deciding what rain gear to buy for Tyrone. For a little bit of history, Ty has a raincoat already, but it came with him when he moved in with me (he previously lived with my sister in California). It has always been too big on him, but he is a trooper and has toughed it out.
Tyrone loves to go for walks in the rain, so long as he's wearing a coat. Since he's been forcing me on walks in the rain for a while now, and he always comes back soaking wet because his current coat sucks, I need assistance picking out a new one.
---
G/O Media may get a commission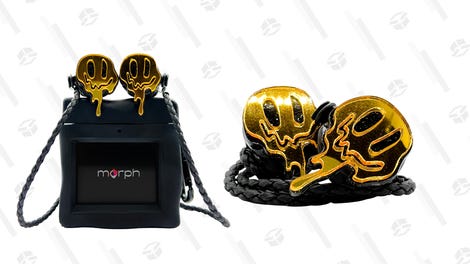 morph audio
Morph Earphones
It is pretty obvious to me when putting Tyrone's current coat on that it's a size too big, but the design itself is similar to this PetRageous coat. The strap on the PetRageous coat looks bigger and sturdier, but it's basically the same idea. Do I just get a coat similar to what he has now, but in the right size?
This coat has over 3,000 reviews on Amazon and only costs $12. Do we trust it? It has little ducks.
Rather than using a velcro strap, like the current coat Tyrone has, this Pro Plums raincoat has a harness-style design with adjustable straps. It looks like it would be more secure than velcro (obviously) but also might be a hassle getting his head in and out of the opening.
An issue with the way Tyrone's current coat is structured is that the fastening underneath his body is too long and awkward. I like that this Ellie Dog coat has sleeves, and is more fitted to his entire upper body, rather than using a broad belt that doesn't Tyrone's small body very well. Do I spend the extra money on something that looks like it'll fit more properly? This has a zipper and feels more like a real raincoat to me.
Bonus question: Do I get boots so his paws don't get wet? Do you think rain boots are over-the-top or necessary for tiny paws?
And since you made it all the way down here, you deserve a treat. Here is Tyrone posing in front of our door with a personalized doormat with his face on it. It was a gift, but I'd 100% buy this for myself.
Feel free to tell me in the comments if I've gone overboard, or if I clearly missed the best raincoat for dogs on the market. Tercius, Chelsea, and I are all too invested in Tyrone and have lost any objectivity here.
---