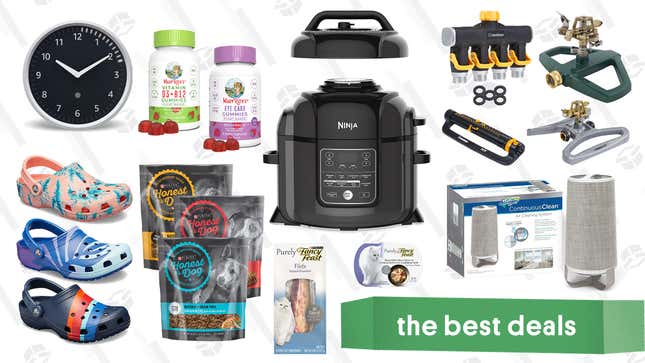 An Everlane sale, Crocs, Anker Qi charger, and a vitamin Gold Box lead off Wednesday's best deals.

Bookmark Kinja Deals and follow us on Twitter to never miss a deal. Be sure to check out our Guide to the Best Memorial Day Sales and bookmark our Prime Day deals hub to be ready for the big day.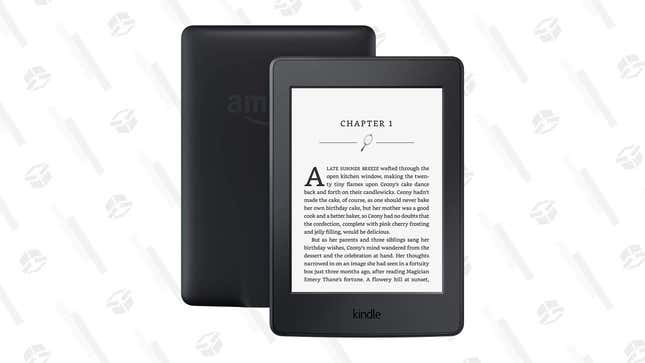 The previous generation Kindle Paperwhite is the best e-reader for almost everyone, and at $80, it's a no-brainer for bookworms traveling during the summer vacation.

It's missing the waterproofing found in the latest version, but the $50 savings isn't something papyrophobiacs should skim over. Especially when you consider this version still holds thousands of books and can last weeks on a single charge.
(Heads up, Woot says these "started life as "International 3G" versions. Unfortunately, the 3G connectivity does not work in North America." So they're calling them WiFi-only models.)
---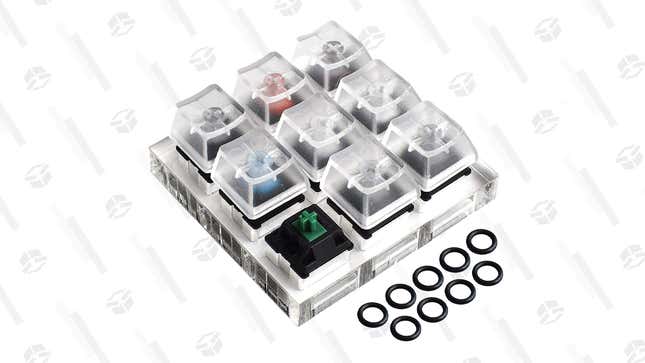 Shopping for a mechanical keyboard is tough. It's difficult to grasp exactly what "clickiness" you're into when all you have is a description on a website. That's where the Griarrac Cherry MX Switch Tester comes in handy.

This nifty $15 tool gives you a tactile understanding of what it feels like to press on each Cherry MX switch. This purchase would ultimately remove the guess work from shopping for a keyboard, but when some mechanical models cost upwards of $150 it's a worthy investment. (Hell, it might even help you decide which of our reader's picks you should buy.)
It doubles as a weird fidget toy, too, if that's your thing. But you'll find plenty of use for this, if you're the type to evangelize mechanical keyboards—I know I am.
---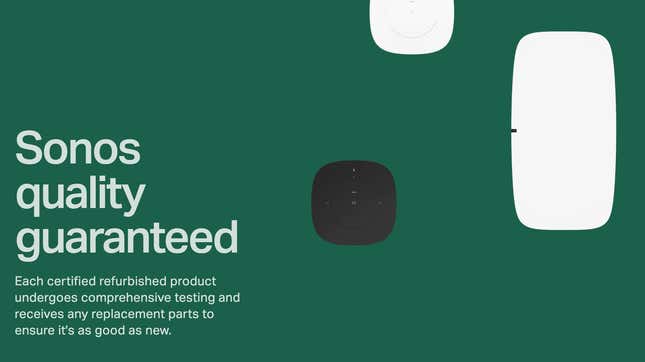 We occasionally see deals on individual Sonos refurbished products, but we've never seen a refurb sale like this.

For a limited time, you can grab a Sonos Play:1 for $119, a Sonos One with Alexa and Google Assistant for $139, a Play:5 for $399, a Playbar for $549, and a Sonos Sub for $549.
Note: If one color is showing up as out of stock, try the other.
The $119 Play:1 is the refurb deal we're most used to seeing (though it's been quite some time), but the others are extremely rare. Savings compared to buying them new range from $30 to $150, and you get the same one year warranty, free shipping, and free returns that you'd get with brand new speakers. So whether you're starting your Sonos setup, or adding to the family, you'll want to grab these before they're gone.
---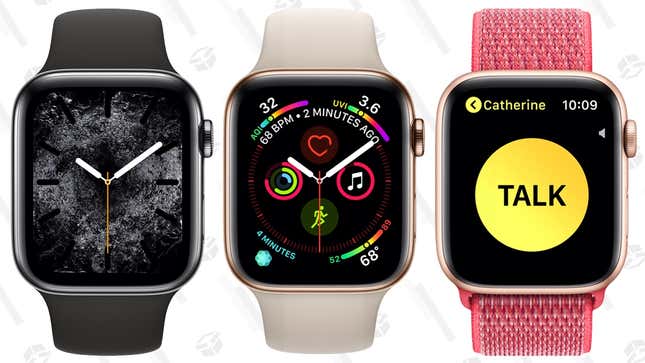 The Apple Watch as a product line may have had a rocky launch, but its latest iteration, the Series 4, is a seriously impressive leap forward. So whether you're finally upgrading your original model, or even getting your very first wearable, it's the one you should buy, especially on sale.

For a limited time, Amazon's got both the 40mm and 44mm GPS versions marked down by $50, with your choice, in a few different color/band combos. The rubbery sports band looks surprisingly nice in person, while the Sport Loop is like a very high quality velcro. These discounts are taken at checkout, and you should see the coupon that will be applied on the product page. You should be looking for models that will cost $350 (40mm) or $380 (44mm) to get the best deal.
If you want to go high end, you can also save $70 on a few stainless steel models with GPS and cellular connectivity. Look for the $629 (40mm) and $679 options (44mm).
---
Micromobility is the buzzword of the moment, and it's true that in certain areas, single-person, electric-assisted transportation makes a ton of sense. But you don't have to line the pockets of yet another Silicon Valley oligarch every time you want to rent an electric scooter or bike; you can just buy one upfront, and ride it wherever and whenever you'd like.
Today at Walmart, Hyper's E-Ride city and mountain bikes are both on sale for $598. Aside from the different shape and tires, they can both scoot along at up to 20 mph for up to 20 miles on a charge, and of course, there are always pedals you can use as well.
---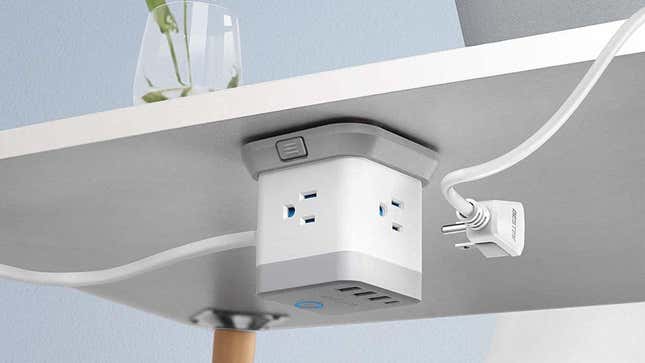 This isn't the only charging cube on the market, but it might just be the most clever.

Bestek's Power Cube includes a dock that you can attach to any surface with screws or a an included 3M sticky pad. The cube then clicks into the dock, and release as necessary if you want to move it around or get easier access to it to plug something in. Other cubes are designed to mount under your desk in this way, but once they're attached, they're attached. This seems like a much smarter solution.
On the cube itself, you get three AC outlets, three USB ports, and even a USB-C port, though it's limited to 15W of output, so it won't be very useful for things like laptops. But hey, that's what the AC outlets are for.
Get it for $20 with promo code BYVSYTTU.
---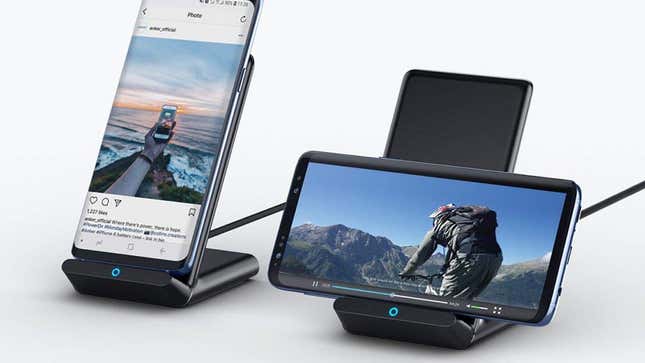 Once you own a phone with wireless charging, you quickly realize that you can never have enough Qi charging pads.

This 10W wireless stand from Anker can charge your phone while propping it up in either portrait or landscape mode, and while the obvious use case here is to put it on your desk at work, I have another suggestion: use it to hold up your phone in the kitchen while you have your recipe app open!
It's priced at $17 right now, but promo code KJANKER1 will bring it down to under $14.
---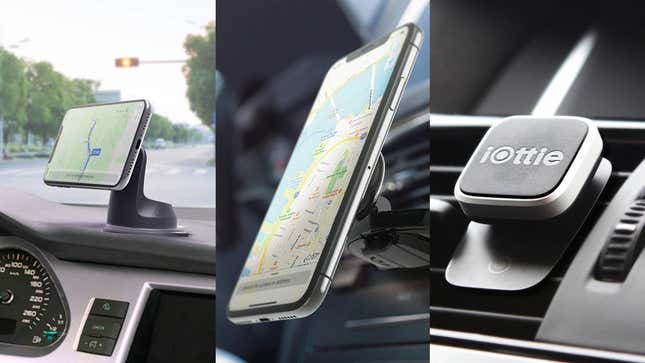 iOttie is best known for its smartphone car cradles, but they also make some of the best magnetic phone mounts on the road, and you can save on three different options today.

Whether you want to mount your phone on your dash, in front of your long-dormant CD slot, or in front of a vent, all you have to do is tap it into place. Just note that the dashboard and CD slot mounts are from iOttie's iTap 2 line, with sturdier magnets, whereas the vent mount is one of iOttie's original iTaps.
---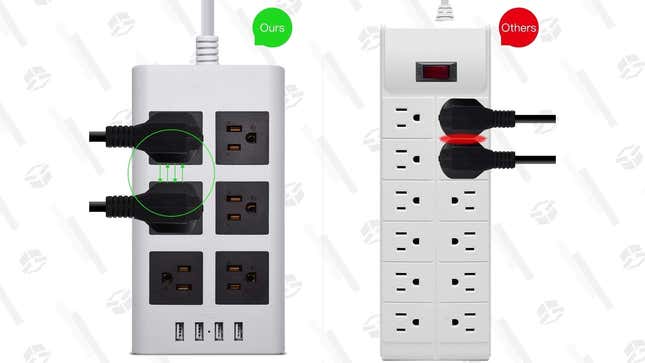 People who design giant power plugs that block multiple outlets should be jailed. But until that happens, this power strip is kind enough to space out its six outlets to accommodate those oversized plugs, and it's only $16 today with promo code RJWW2VZ8. It even has four USB ports for your mobile devices, making it particularly great for a desk.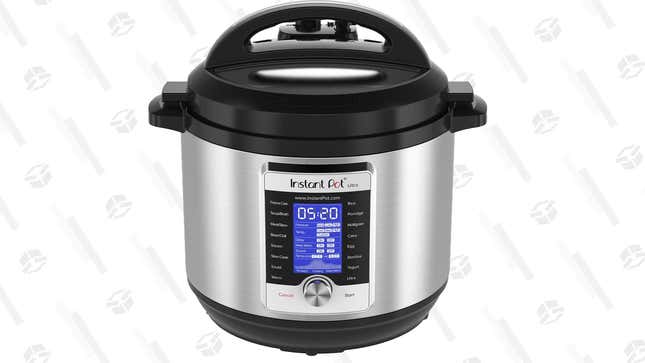 The six quart Instant Pot Ultra is down to $100 right now, within $1 of an all-time low. You should buy one.
The Instant Pot Ultra features a completely revamped, dial-based UI that makes fine-tuned adjustments faster and easier than the older models. A new processor allows it to compensate for altitude and carry out completely custom programs, and it also has a few modes you won't find on the standard Instant Pots, like cake, eggs, and sterilize.
If you're worried that you won't get a ton of use out of this thing, note that in addition to speedy pressure cooking, this is also our readers' favorite slow cooker, and one of their favorite rice cookers too. It's one of the most versatile kitchen gadgets you can own, and I use mine (this exact model) several times per week.

---
Amazon's Echo Wall Clock is a revelation for the specific (but I think quite large!) subset of people who:

1) Use Alexa timers in the kitchen with some regularity.
and
2) Don't have an Echo Show with a screen built in.
Just pop in some batteries, hang the clock, and a ring of LEDs will automatically count down the minutes and final 60 seconds of any timer you set with your voice. It's elegant, seamless, and I can't stand how much I love the thing.
It came out late last year for $30, but it just got its first discount ever, down to $25. The clock is ticking on this deal though, so don't waste any time.
---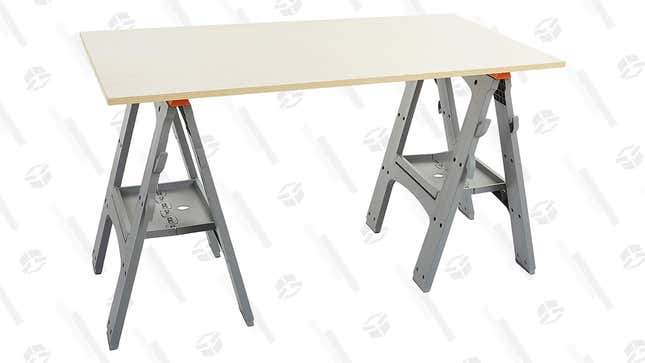 I bet you didn't wake up today thinking that you were going to buy a sawhorse, but sometimes, life comes at you fast.

This two-pack of AmazonBasics sawhorses (yes, Amazon makes sawhorses, what of it?) can hold 900 pounds between them, and at $25, they're cheaper than the model that can only hold 500 pounds. Even if you don't do much sawing, you can use them to build your own desk or work table.
---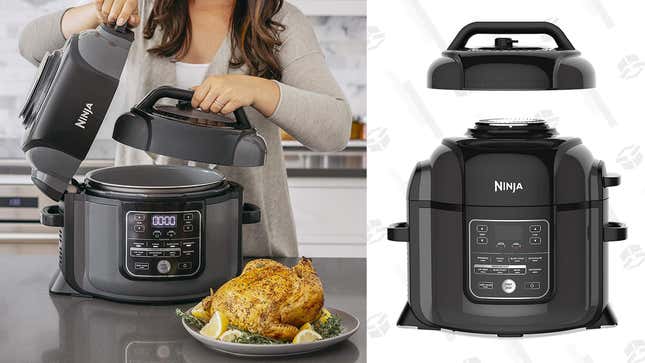 Whether you need to steam rice, fry up a chicken, or whip up an Instant Pot recipe, this Ninja Foodi XL Multi-Cooker can get the job done.

This pressure cooker, steamer and air fryer stand-in is an absolute unit, but deservedly so, considering it's doing the work of three different appliances. And for those with a large kitchen space and a bunch of people to feed, this one's 8qt. capacity makes making large batches of food easily.
Better still, it packs a dehydrate setting which can help you make your own jerky or dried fruit.
Right now, this XL model is at it's lowest price ever, or about $70 less than usual. Of course, this is a Gold Box deal, so the discount will only stick around until the end of the day, or when until it's sold out.
---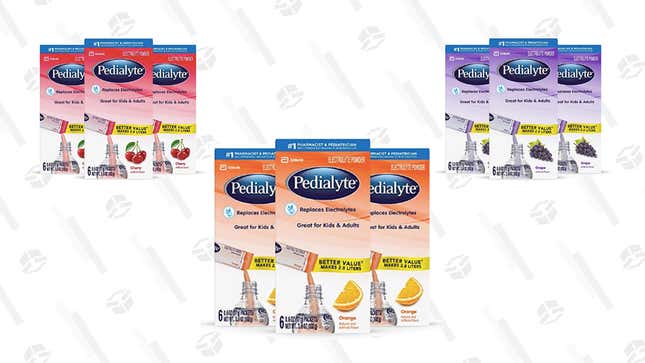 Look, we all have our ways to handle a hangover. In our youth, it used to be greasy food and Gatorade. Now, the only way to survive a hangover is Pedialyte. If you're a veteran Pedialyte drinker or new to the game, you're going to want to get in on this deal. You can get $3 off if you clip the coupon on Pedialyte Electrolyte Powder, 18 pack, in cherry, orange, and grape.
---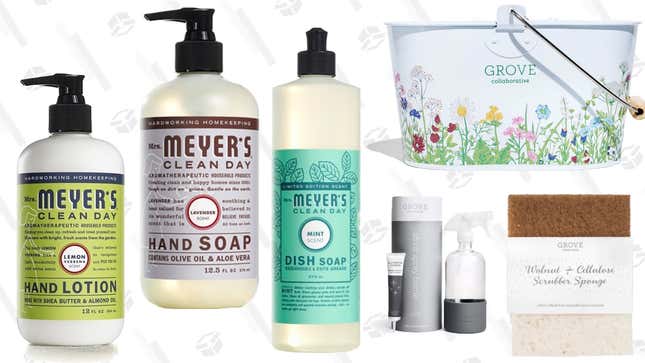 Here's your no-brainer deal of the day. If you visit this page and enter your email, Grove Collaborative will give you $30 worth of Grove and Mrs. Meyer's products for free when you spend $20 on anything else on the site. I was also given a free glass spray bottle and concentrated cleaner, for seemingly no reason at all.

After you enter your email, you'll automatically be taken to a cart with more than $20 worth of popular items already added, but you can delete those and replace them with anything you'd like. Grove's well stocked with laundry supplies, cleaning gear, pet products, personal care, and even baby items...you know, stuff that you have to buy anyway. So you might as well get a bunch of Mrs. Meyer's stuff for free.
Note: The offer will also give you 60 days of Grove's VIP free shipping membership for free, which will auto-renew at a rate of $20 per year, but you can cancel the auto-renew immediately after ordering.
---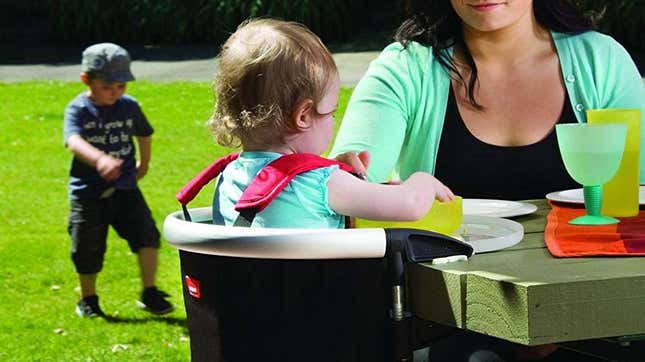 You have a high chair for your kid at home. But what about random restaurants? Friends' houses? Your parents' house during the holidays? That's where phil&teds Lobster chair shines. The Lobster doesn't need any legs, because it just clips onto the side of any table, like a giant chip clip. That means it's small enough to keep in the trunk of your car, or even fly with.

It also has great reviews (which I guess is important since you're putting your baby in it), and a product reviewer uploaded this photo, which is worth some bonus points too. Normally $80-$90, you can get it for $67 today, which means you'll have more money to spend on Cheerios to get flung across the room.
---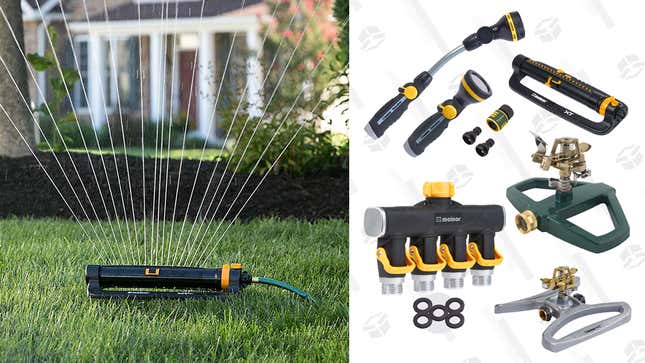 Today only, Amazon is marking down everything you'll need to keep your lawn nice and hydrated. Choose from a bunch of different sprinklers and accessories like control valves and hoses, from Melnor Just note that this is a Gold Box, so these prices will only stick around for a day. Prices start at about $6. So check out the main post and pick up what you need before these markdowns dry up.

---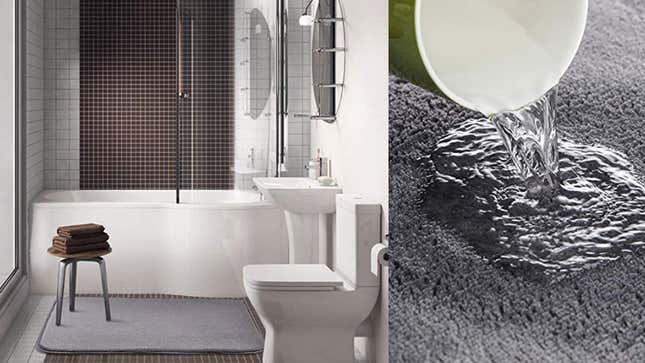 After a relaxing shower, the last thing you want is to step onto a gross bath mat. If your mat has seen better days, it is time to swap it out for a luxurious memory foam mat for peak comfort. Right now, the LOCHAS Extra Thick Memory Foam Absorbent Bath Mat is 30% off your first order when you clip the coupon. It is water absorbent, so no matter how much water you dredge out of the shower with you, it will always dry fast.
---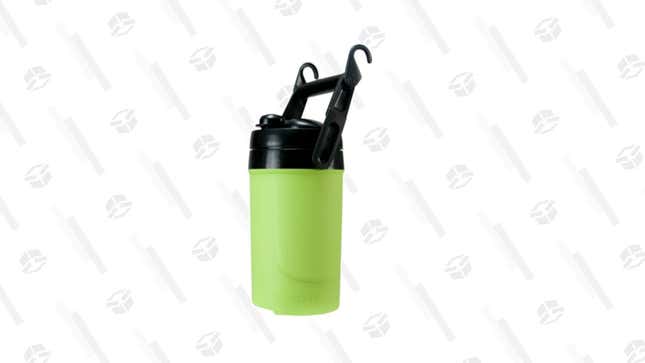 As the temperatures get warmer, that means you'll be spending more time outside. Whether you're spending the day at the beach, pool, or watching your kids play sports, you're going to want to stay hydrated. The Igloo Sports Beverage Cooler with Chain Links is $8 and hooks onto anything from chairs, fences, and little wagons. The 64 oz. cooler is fully insulated, so you don't have to worry about drinking warm water after watching six hours of soccer on a Saturday.
---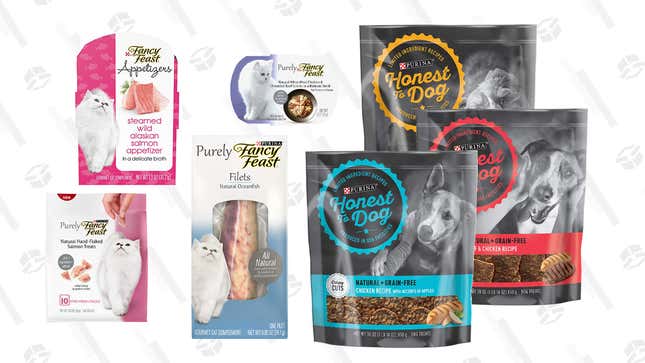 Here's a deal to get your tail wagging: If you have a pupper (or kitty) and she eats, there's a pretty good chance you'll find food she'll like in today's Gold Box.

There's a lot of Purina treats here for cats, and just a handful for dogs. But ignoring that disservice to the best pets around, there are a lot of great deals here on things that you were probably going to buy anyway.
Amazon also offers "50% off first dog or cat food Subscribe & Save order," so keep a look out for a coupon to get the best prices.
Just note that this is a Gold Box, so these prices will only stick around for a day. So show your dog (or cat) you love them, visit the main page, and treat them to a fancy feast.
---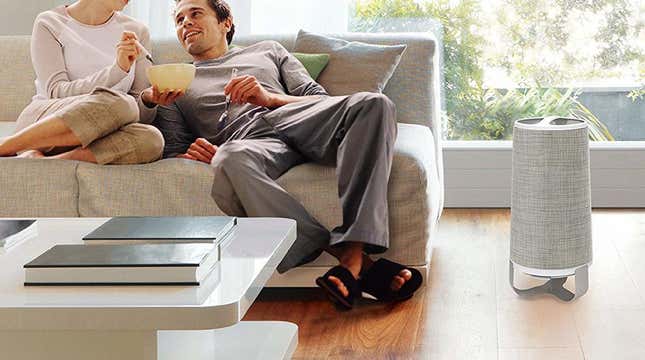 Swiffer makes an air purifier to keep dust off your furniture, which is a brilliant bit of marketing on their part, but it actually has solid reviews, and looks way nicer than just about every other air purifier out there.

At only $71 (the best price ever outside of a one-day Gold Box deal), it's no surprise that it doesn't have true HEPA filtration for allergens, but it'll still get the job done with dust and pet hair. Just note that this price is only available today, or until sold out. Sneeze, and you might miss it.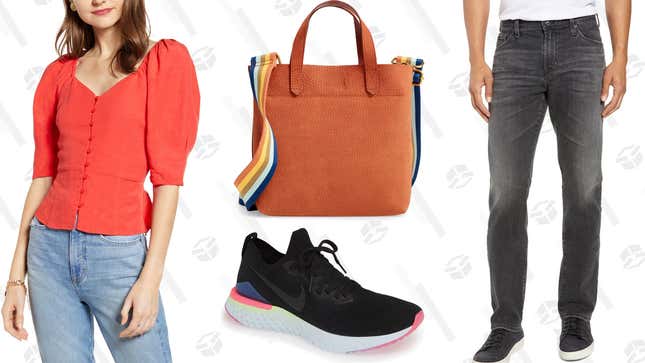 Nordstrom has three large sales each year: The Anniversary Sale, and two Half-Yearly Sales. And since we're sort of, almost halfway through the year, Nordstrom is taking up to 50% off a boatload of styles for men, women, and kids.

Brands as disparate as Cole Haan, Gucci, J.Crew, and Nike are all included in the sale, so it'll take time to look through all the stuff. Good thing we've got a nice long weekend coming up.
---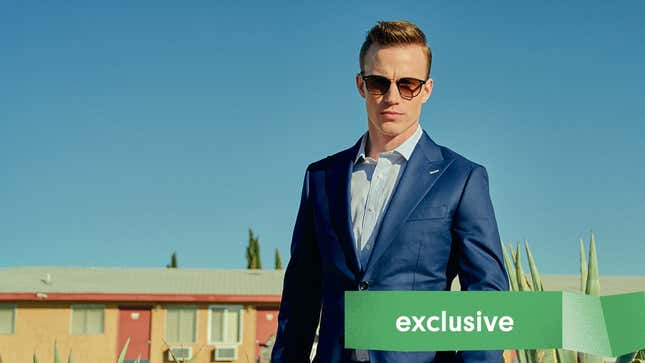 Update: The $349 premium suit deal is still available with promo code KINJA19, but now, you can also choose from these seasonal suits for just $299 with the same promo code. The premium suits feature more durable fabrics, but they'll all look great.
Custom tailored suits aren't just for Very Important Business People with Super Platinum Medallion status and briefcases that cost more than your rent. At Indochino's prices, custom suiting is attainable for all, and that's especially true with our exclusive sale. 

You can grab any of the premium suits from this page for just $349, or any of these seasonal suits for just $299, with promo code KINJA19. The premium suits typically cost $389-$399, and feature more durable fabrics than Indochino's seasonal offerings, but whatever suit you buy, all of your customizations, alterations, and shipping are included in the price. Options range from simple, versatile navy and gray options to brighter blues and even a burgundy suit, so you can definitely find something that will fill a niche in your closet.
For more details on how the tailoring and customization process works, head over to this post.
---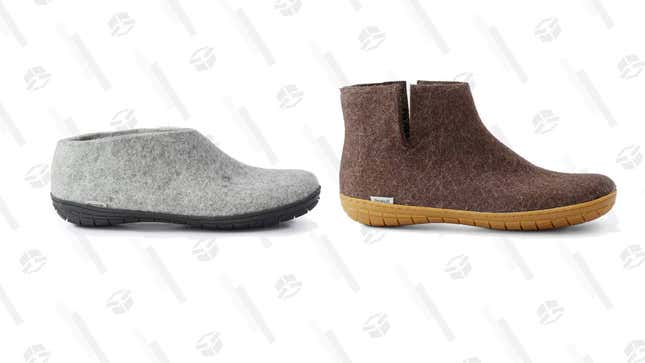 Ranging in price from $95 to upwards of $150, Glerups are certainly a splurge, but that didn't stop them from being swiftly selected as our readers' favorite slipper a while back. If you've been considering picking up a pair for yourself since that fateful Co-op, the wait has been worth it. Right now at Huckberry, both the closed-back shoe and boot styles are on sale for $49 and $93, respectively, for a camp sole, and $57 or $75, respectively, for a calfskin sole. (The discount is shown in cart.) Those are some crazy good prices.
The rubber camp soles on these wooly slippers mean you won't have to change shoes if you want to run outside to pick up the paper or grab the mail, or heck, just wear 'em out. No one would blame you; Glerups are just that comfortable. Meanwhile, the super soft calfskin sole makes for some top-notch lounging. Be sure to pick up your pair ASAP; sizes are already selling out.
---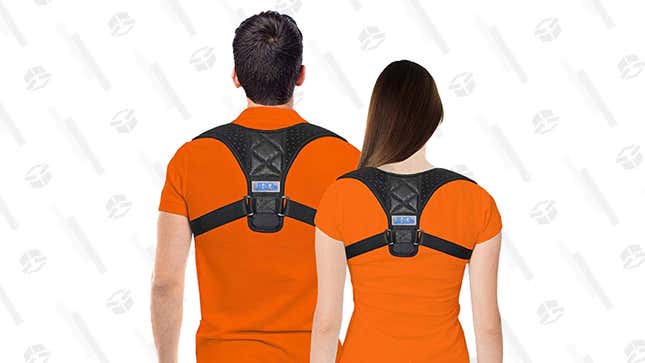 Remember all those times your mom told you to sit up straight? Turns out, she was right (duh). If you're now a hunched-over adult, straighten out your spine with a JINRQ Posture Corrector from Amazon, on sale for $11 if you clip the 40% off coupon. The brace works by promoting long term muscle memory, and it's made of thin, breathable, washable material, so you can wear it under anything. Your mom would be so proud.

---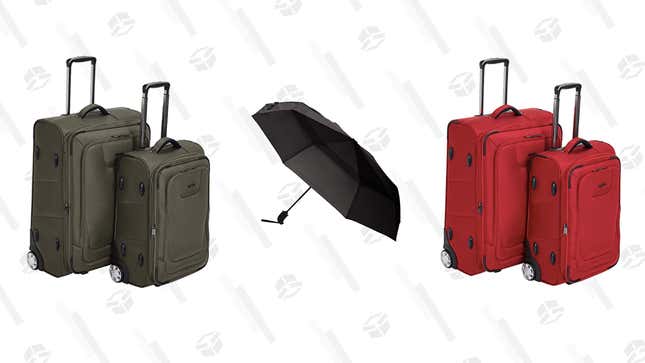 If you're getting ready for a trip this summer, don't wait until the last minute to make sure your luggage is up to par. If you've been lugging the same suitcase on every trip for the last 10 years, it is probably time to say goodbye. Right now, you can get up to 55% off AmazonBasics Luggage and Travel. So, not only can get you two a two-piece softside luggage set for only $63, but you can also choose from a variety of different umbrella colors between $12 and $14.
---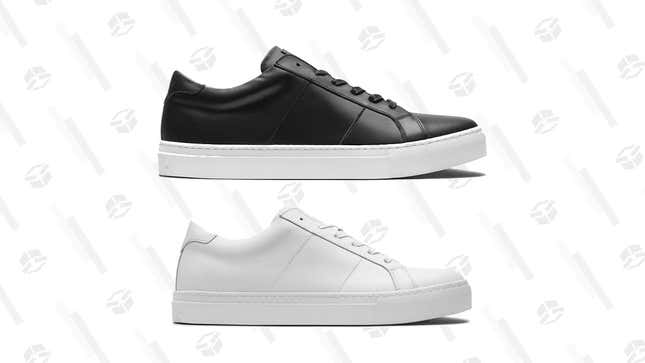 I know it's obvious, but it needs to be said: Greats are great casual sneakers, and now, you can get a pair for a great deal. The relatively new, Brooklyn-based brand with the Italian-based leather is taking 20% off their whole site for Memorial Day with promo code SUNNY20, which is really good considering most of their sneaks aren't cheap. They are, however, worth their price.
Their classic-looking, leather-swathed Royale is made in Italy; we previously dubbed the style one of our favorite white sneakers. And, speaking from experience, they look great in not-white, too.
---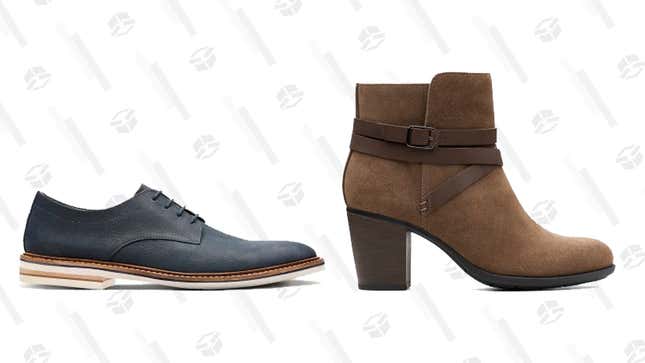 At the intersection of "cute" and "comfortable," you will find Clarks. And right now, the footwear brand is kicking off their Memorial Day Sale with an extra 25% off all sale items with promo code EXTRA25. Treat your feet to new sandals, loafers, slip-ons, and more from this shoo-in of a deal before it's out for the summer.
---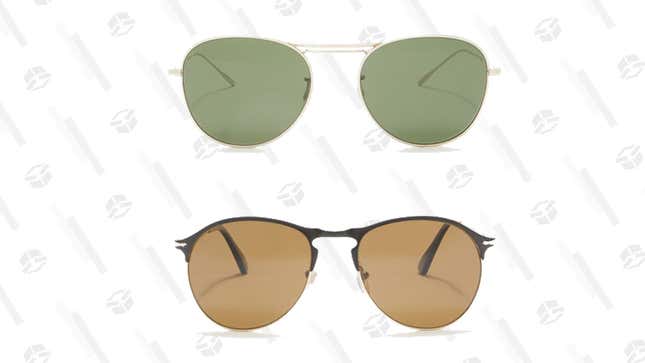 Is the sun's glare getting in your eyes, or are those really Oliver Peoples sunglasses for less than $100? We recently named the brand as our top summer sunglasses splurge, and now, you can get a pair of your own for much, much less money than usual at HauteLook. Also included in this promotion is another of our favorites: Persol. Shop either of these designer brands now, and look cool as the sun starts to heat things up.

---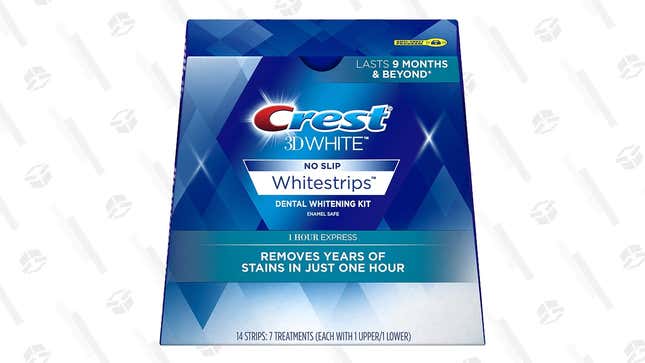 Even if you diligently brush twice a day and floss every night, your teeth might not be as white as you'd like. Crest's 3D Whitestrips really do get the job done though, and you can grab a box with seven 1-hour express treatments for $26 today, the best price Amazon's ever listed (though we have seen better overall deals with coupons).

---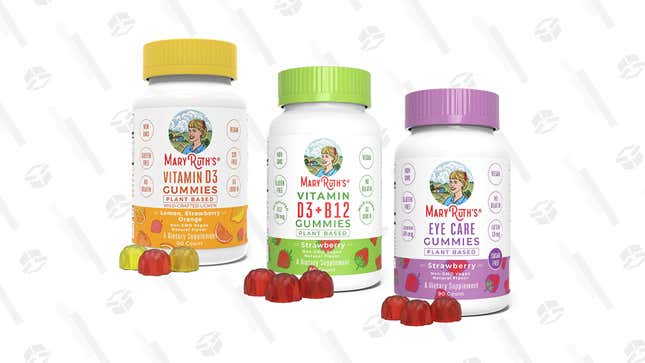 Hey y'all, just because you're an adult doesn't mean chewable vitamins are in your past. (They're not.) If anything they can be a sweet reminder to live your life with joy. Better yet, you can get them for a lot less today.

Amazon's offering solid discounts on several MaryRuth supplement gummies and liquid vitamins. These prices are only available today, so make sure to visit the main page for all of your options.
---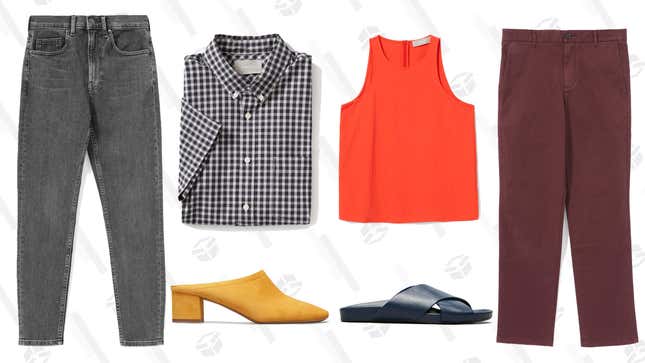 Everlane's Choose What You Pay section (which, for the unindoctrinated, allows shoppers to choose from three different, discounted price points for an item) is always a good source of savings on some of the brand's coveted, stylish basics, but it's usually pretty limited. That is, until now.

Everlane has flooded their Choose What You Pay sections for both men and women with a ton of new overstocked inventory, including a selection of coveted Everlane denim and shoes for the ladies and a range of chinos for guys. This is likely the last you'll see of these styles, so take your pick before they sell out, as many of Everlane's offerings are wont to do.
---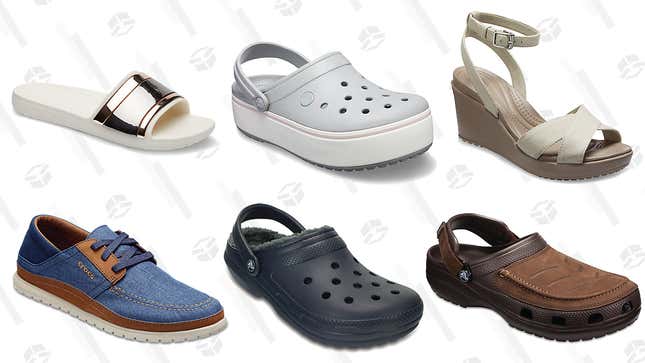 We all love to hate Crocs, but guess what! Those lightweight, hole-y, rubber-y slides are cool now, thanks to the always groundbreaking runway scene and one Post Malone. And you too can be hip to the trend thanks to Crocs' Memorial Day Sale. All the shoes on site are 30% off, and in case you haven't noticed, Crocs also makes other shoes that barely even look like Crocs. So go ahead and stock up on Crocs, because fashun.

---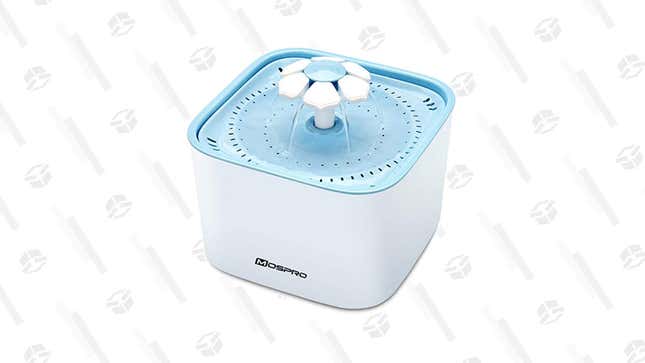 Does your pet seem to empty their water dish multiple times a day? Sometimes pets can get a little too excited when drinking water and they get more of it on the floor than in their mouth. If you have a hard time keeping up with your pet's water habits, you can get the MOSPRO Pet Fountain Water Dispenser for a couple of bucks off. The fountain has its own filtration system, so if your pet gets their food and fur into their dish, you won't have to worry about them drinking dirty water. The fountain has a 2L capacity and can be left for 30 days, though MOSPRO suggests changing the water every four to five days for your pet's health.

---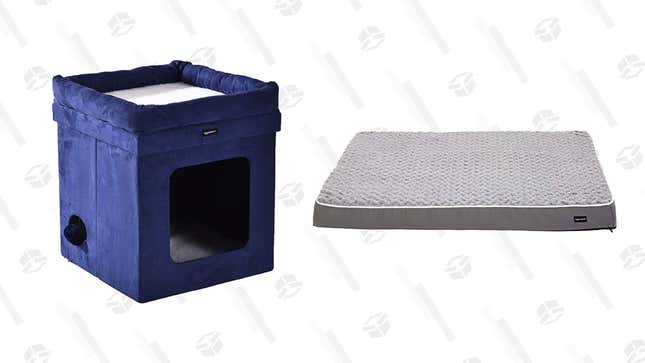 If you're on the market for pet beds, you're in luck because Amazon is having a big sale on beds, mats, and houses. Right now, you can shop the AmazonBasics Pet Products sale to get a cat house for under $15, mats for only $7, and foam pet beds for just over $30.

---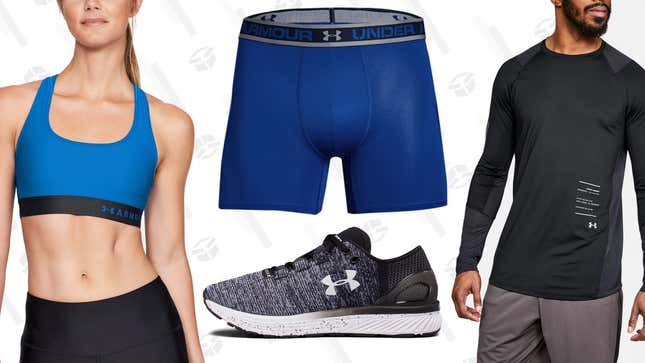 What better way to get ready for exercise-friendly summer weather than an extra 30% off Under Armour's already affordable sale section? Pick up at least $100 worth of workout shirts, sweats, leggings, shoes, and more, and use promo code MAY30 at checkout to stack on the savings. If you do nothing else with this sale, at least replace your old underwear with Boxerjocks.
---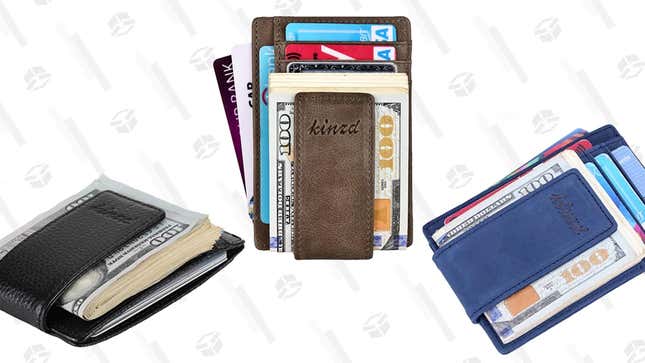 If you want to make a long-overdue transition to a front pocket wallet, this leather money clip can hold a ton of bills and cards for under $10. Prices will vary based on the color and material you choose (there are a ton of options), but promo code KINOFF30 should take 30% off at checkout.
---
---
---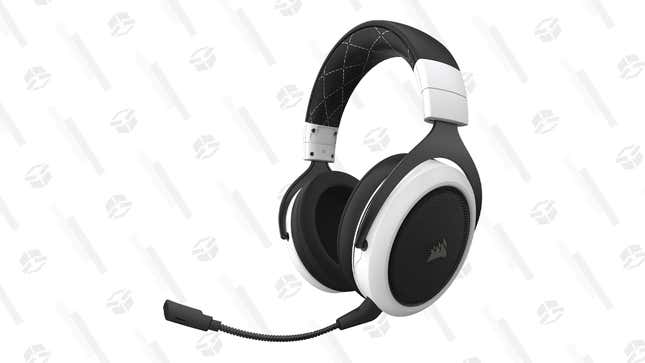 It's rare to see a quality wireless headset be so cheap, but this Corsair HS70 is just that. At $60, this is the lowest price we've seen for this particular model.

And while it lacks the RGB lighting, it sounds good, 7.1 surround ready, features easy setup, and pretty darn comfortable. On the downside, it's not compatible with the Xbox One.
---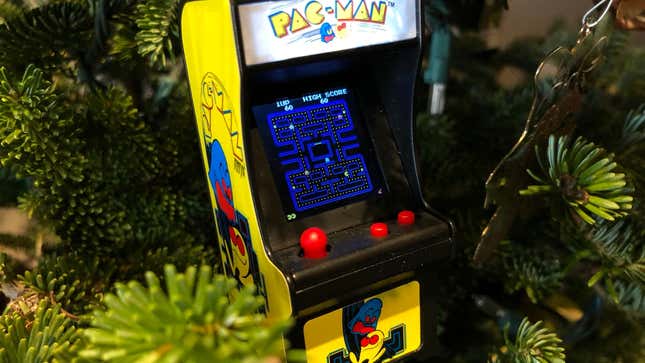 This Tiny Arcade arcade Ms. Pac-Man game is no less cute than when it came out a couple of years ago, but it is a fair bit cheaper at just $10. I got a few of these Tiny Arcades as a gift awhile back, and how when they aren't out on my desk, they're the coolest ornaments on my Christmas tree.

The Ms. Pac-Man "cabinet" has the full, playable version of of the original arcade game, with real (tiny) buttons and joy sticks, and even authentic audio.
Tech
Home
Lifestyle
Media
Gaming
Deals You May Have Missed
When Peak Design launches a new product, we take notice, and their latest Kickstarter campaign goes back to the company's photographic roots.

The Peak Design Travel Tripod purports to be one of the most compact full-sized travel tripods on the market, thanks to a unique design that eliminates wasted, empty space with form-fitted legs and pieces that fit together perfectly. Packed down, its maximum diameter is only 3.25" across, compared to well over 4" for most tripods in this class. But it still boasts a 60" maximum height, and can hold 20 pounds of gear, so it's not sacrificing flexibility or strength to achieve that svelte design.
A single, "precision engineered" adjustment ring on the ball head makes it easy to articulate your camera or lock it in place at any angle, and you can even convert the tripod into a "Low Mode" with the included hex wrench, which hangs the camera under the legs rather than balancing it above them.
My favorite little feature, though, has to be the included universal phone mount, which stows away inside the center column when not in use, so you'll never lose it or leave it at home. That means that even if you don't want to take all of your heavy camera gear out on a hike, you could still bring along the tripod to get some stunning shots and long exposures with your phone.
Peak Design has already raised nearly $2,000,000 on Kickstarter for this campaign, and if you know Peak, you know that this is a rare opportunity to save money on their gear. The aluminum version of the Travel Tripod will set you back $289 (compared to $350 once it releases), and the lighter carbon fiber version is priced at $479 (compared to $600). That's a lot of money, but Peak is undefeated in delivering class-leading, ultra high-quality products, so it'll likely be money well spent if you take photography seriously.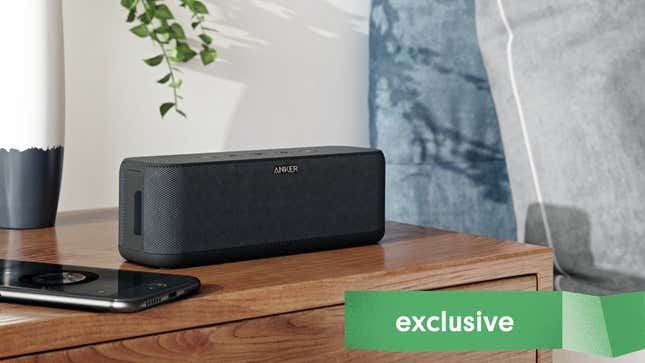 Anker's original SoundCore has long been one of our readers' favorite affordable Bluetooth speakers, and today you can save on the bigger, louder SoundCore Boost.

While the original sounds great with dual 6W drivers, the Boost upgrades you to dual 10W drivers, so it should be loud enough to fill a large room, even during a party. The biggest difference though will be on the low end, with dual subwoofers and a "Boost" button that instantly boosts your bass. A speaker this small probably isn't going to rattle your floor, but the sound will be a lot fuller than you'd expect from a portable speaker.
Unfortunately, this does come at the expense of battery life; the Boost gets 12 hours on a charge compared to the SoundCore's 24. That's still pretty impressive though, especially since it's barely any larger than the original. It's also IPX5 water resistant, so it can take a splash.
Today's $56 list price is already $24 less than the usual $80, and promo code KINJAA3145 will save you an extra $6 on top of that. Needless to say, that's the best deal we've ever seen.
---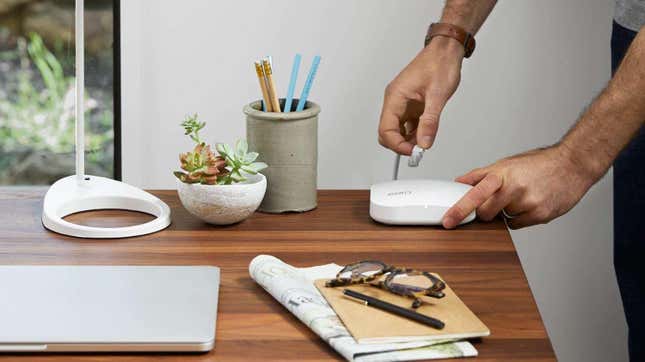 If Amazon's recent acquisition of eero didn't scare you off the pioneer in mesh networking, the retailer is celebrating its new networking play-thing with big discounts across the board, for a limited time.

Get a an eero and an eero Beacon (which plugs straight into the wall and doubles as a night light) for $239 (a $60 discount), an eero and two beacons for $319 (an $80 discount), or for the largest and most densely constructed houses, three full eero routers for $399 (a $100 discount). To be clear, If you live in a one bedroom apartment, you don't need any of these, but if you find that a single router doesn't get you a reliable Wi-Fi signal in every part of your house, mesh systems like these are a godsend.
---
Anker's Nebula Capsule II addressed just about every shortcoming from the original soda can-sized Capsule projector, and now you can save $50 on it for the first time (if you don't count the Kickstarter preorder discounts) with promo code CAPSULE2.

Featuring a 720p sensor, double the brightness of its predecessor, Android TV built in, a great sounding speaker, and enough battery life to get through an entire movie, it's basically a portable movie theater that you can take with you anywhere.
In my use, I found it to be a great portable TV that I could set up in rooms where I didn't have (and didn't want to have) an actual TV. Cleaning the bathroom? Set up the Capsule and binge The Office. Working on dinner? Project the NBA playoffs onto my backsplash. It's definitely a big investment, but I think you'll get more use out of it than the occasional, novelty outdoor film screening.
Don't forget, if you follow us on Instagram, you can still enter to win one of these for free. If you win, you could always return the one you bought to Amazon.
---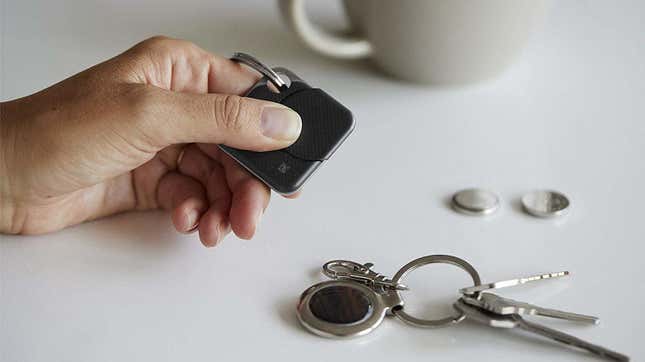 Tile recently released new gadget finders with user-replaceable batteries, addressing a longstanding concern, and in my opinion, eliminating any reasonable justification for not buying at least one.
---
Now, you can pick up four Tile Pros for just $75, which is within $1 of an all-time low, and basically like buying three and getting one for free.
The Pro is water resistant, has a 300' range (twice as far as the Tile Mate), and an extra loud speaker. I have a Tile on my keychain, which I've used just as often to find my phone as I have to find my keys, and even if you can't think of four things you want to keep track of, maybe you could go in on this purchase with a friend or two.
---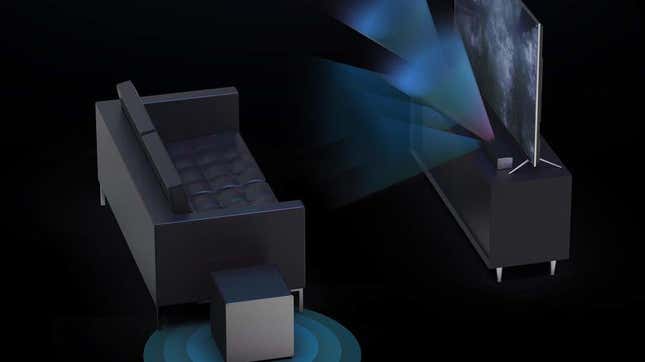 Dolby Atmos is the future of home theater audio, and you don't even have to pay thousands of dollars to install ceiling-mounted speakers to enjoy it. This 3.1.2 channel Vizio sound bar includes three front channels, a subwoofer, and two speakers that fire upwards at an angle to bounce sound off your ceiling.

Normally priced at $800, today's $700 price is the best we've seen in several months, so you can raise the roof for less.
---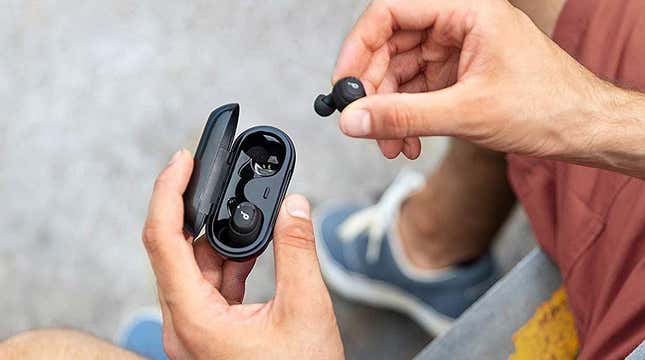 Anker just keeps on iterating on its true wireless earbuds, and now, you can get the new Soundcore Liberty Neos for an all-time low $45, down from the usual $60-$65.

As Anker's new budget true wireless buds, there aren't too many bells and whistles here, save for the ability for both earbuds to operate independently (many true wireless earbuds have one bud pair to the other, rather than both pairing to your phone), and Bluetooth 5.0, which ensures a rock solid connection from a longer distance.
The earbuds claim to last for 3.5 hours on a charge, and the charging case includes 12 hours worth of battery life too for longer sessions. That's not as much as some of Anker's more expensive models, but honestly, it's enough for most situations.
---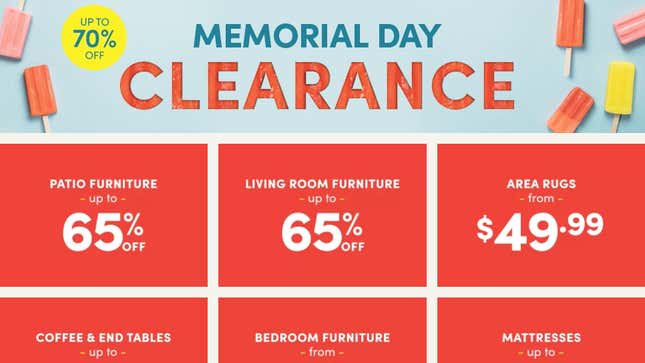 If your house needs some sprucing up before summer, look no further than Wayfair's Memorial Day Clearance sale. Right now, you can save up to 70% on tons of home items, including patio furniture, mattresses, major appliances, backyard play sets, and more. Order now, and your home is officially barbecue-ready before the long weekend hits.
---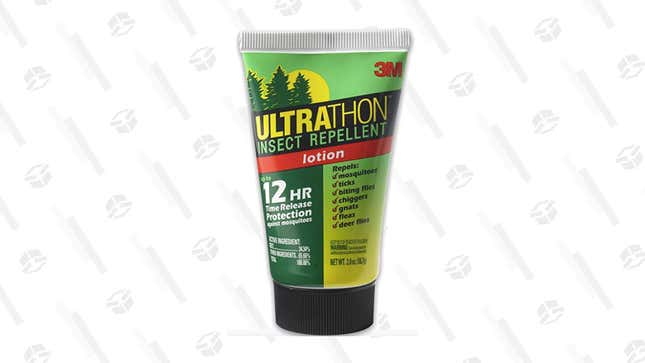 Summer is right around the corner. While we're excited about warm weather, we're not ready to be eaten alive by mosquitos for three months straight. They aren't the only bugs that crawl out of their hell holes to feast upon our blood during the summer.

If you're constantly finding bug bites all over your body after spending five minutes outside, grab a bottle of 3M Ultrathon Insect Repellant Lotion while it is on sale for a few bucks off. It not only repels mosquitos but also ticks, biting flies, chiggers, gnats, fleas, and deer flies.
---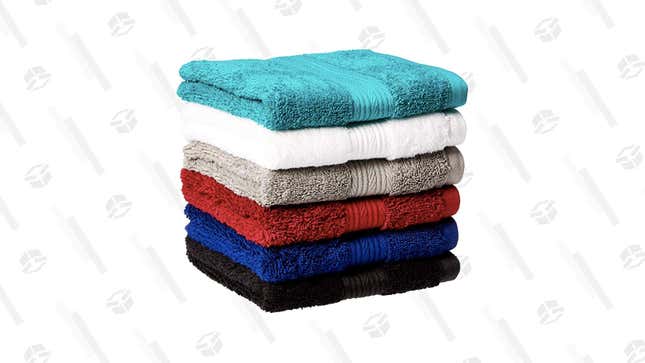 Did that Twitter thread about how many towels you need in your house totally blow your mind? The general consensus was you can never own too many towels. If you're in desperate need of restocking your linen closet, you'll want to shop the AmazonBasics Bath Products Sale, while some items are up to 67% off.

When it comes to hand towels, you truly can go overboard when buying them. Hand towels in your bathroom and kitchen are often teeming with bacteria, so honestly, you should toss out any towels you've had for years and years. You can get a 6-pack of gray towels for only $8.
---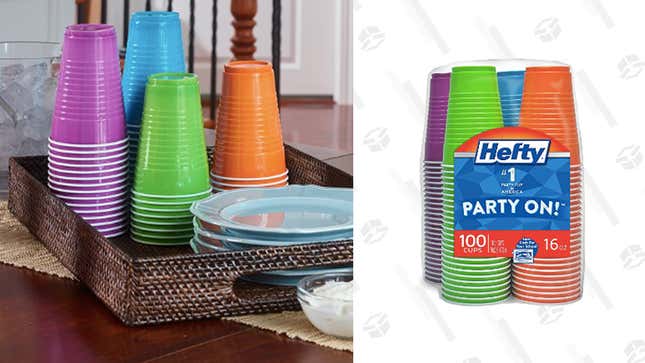 Are you hosting a Memorial Day party this year? One thing that you'll run out of fast is cups. People are savages and don't ever seem to reuse their cups and just keep getting new ones with every drink. Blame it on the alcohol.

Right now, you can get a 100 pack of Hefty Disposable Plastic Cups for only $7, when you clip the 25% off coupon on your first order. You can even save a little extra if you Subscribe & Save on Amazon. You might as well, summer is here and that means BBQ season is officially in session.
---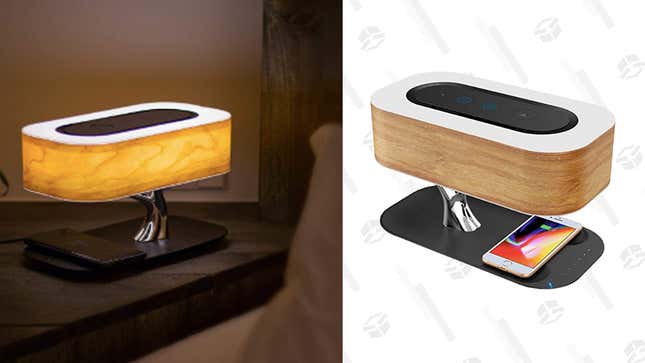 If you like to spend your nights reading in bed and enjoy waking up to music in the mornings, we've got the product for you. This Ampulla Beside Lamp has a dimming option, which is great for both AM and PM. It has a wireless charging station, so you can pop your smartphone on it while you sleep. The Bluetooth speaker can fill the entire room, depending on how loud you want your music to play. Right now, you can get it for $20 off if you clip the coupon on the page.

---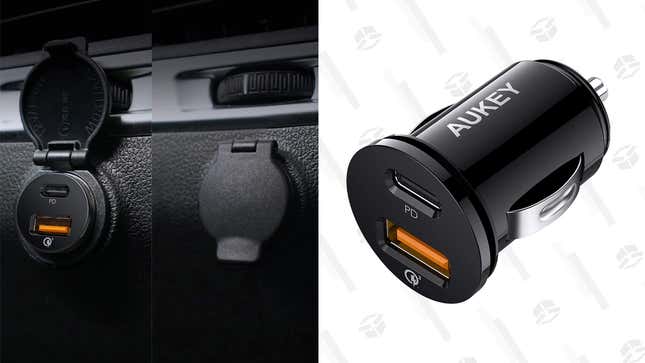 Let the past die, or at least plug in this $16 Aukey dual-port charger to bring your car's lighter socket to 2019. Use the code U6AJHIUX to bring the price down to just $16. This particular plug offers a Quick Charge USB 3.0 port plus USB-C PD to charge all of your gear.

---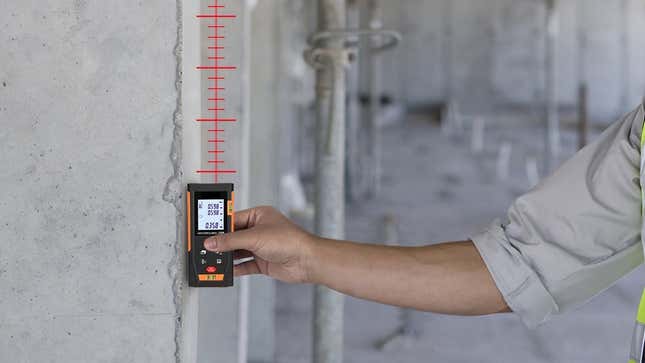 Only luddites use tape measures anymore. This laser distance measurer takes instant distance readings of up to 196', and includes several built-in area calculation functions, in case you're a little rusty on your middle school geometry. Get it for just $26 with promo code ORE2WOFO.

---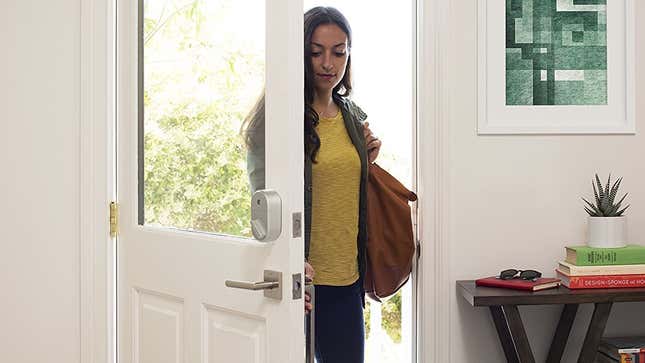 August's third generation Smart Lock lets you lock and unlock your door from using your phone, and you can get the silver model for just $99 today, the same price we saw on Black Friday,

Assuming you have your phone with you whenever you leave the house, an August Smart Lock-installed door will auto lock behind you and unlock as you approach. It's especially useful because you don't have to necessarily be home to grant or restrict access to people like dog walkers, maintenance workers, or other people who need to come into your house; just send them a guest key with the August app. And since it integrates with your existing deadbolt, you can continue using a physical key as well, if your phone ever dies.
Unlike previous August locks, this one doesn't have Wi-Fi built in—it uses Bluetooth to talk to your phone—but you can add a Wi-Fi hub to your router to control it over the internet from anywhere. You can send guest keys without the bridge, but you can't use Alexa or remotely lock or unlock the door.
---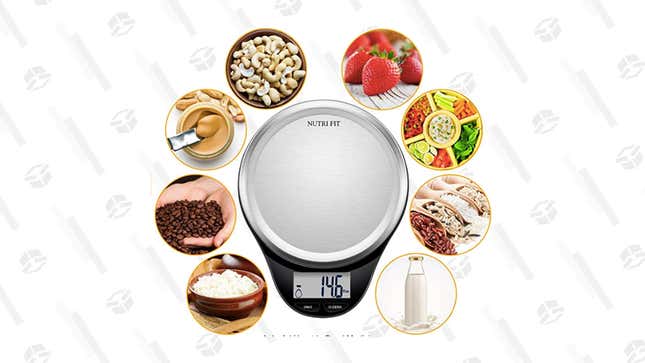 If you're trying to eat healthily, it often starts with accurate portion sizes. You can easily keep track of that when cooking at home with a digital scale. Right now, you can do your best to get that summer body on track with a NUTRI FIT Digital Kitchen Scale, which is $8 with the promo code 4UFDS4CO. The scale has "anti-fingerprint" stainless steel, making it easy to clean and maintain while food prepping.

---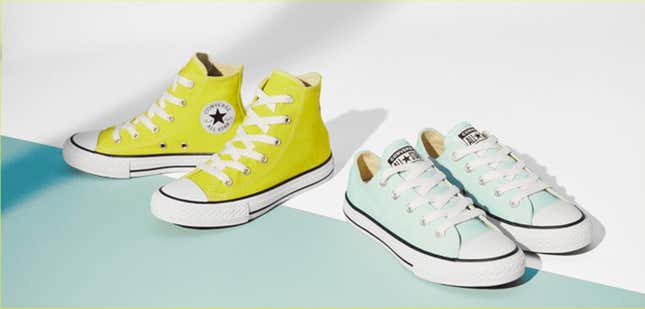 Update: Couldn't find your perfect fit? Hit up Nordstrom Rack, which happens to be having a trio of flash sales on Converse for men, women, and kids right now. Converse for all!

There's never been a better time to upgrade that old pair of Chucks. Converse is taking 30% off sitewide with promo code THIRTY, so get brand new pair of classic sneakers and then proceed to wear them out until they're literally falling apart at the seams, as one does. This sale will only last through tomorrow, so be sure to tie up the deal before it walks out for good.
---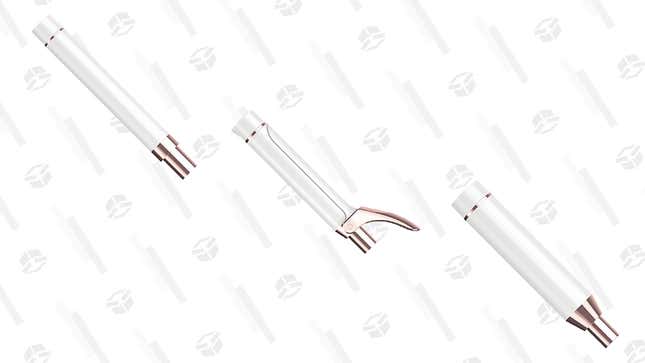 Looking to perfect the "effortless curl" hairstyle? How your curls turn out has a lot to do with your technique, but it also comes down to the size of the barrel you're using. Right now, you can get 50% off T3's Interchangeable Barrels at Ulta during the Gorgeous Hair Event.

You can choose from 1" to 1.5" barrels, all meant for different styles like loose waves or defined curls. This T3 offer is online only. Don't worry, the sale isn't just on the barrels. You can get the convertible base for $50.
---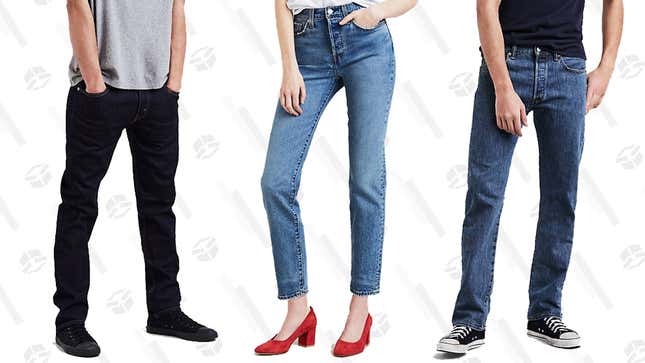 Everyone needs a good pair of jeans, and if you need more than one pair—or a man, woman, or child in your life needs a pair, too—this deal is for you. Right now at Levi's, you can take 30% off sitewide with code FUNSUN, hence why it's a good time to stock up. The promo applies to regular-priced and sale styles for men, women, and kids, so truly everyone can dive into some new, discounted denim.

---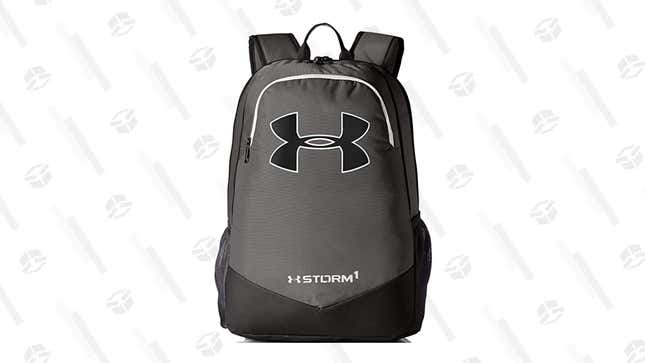 Looking for a backpack that could work for either you or your kids? Under Armour has a versatile bag that won't break after a few months of use. The Under Armour Boy's Storm Scrimmage Backpack is almost $20 off on Amazon right now. The One Sizes Fits All sizing means that it is a functional backpack for kids, but because of the adjustable straps, it can also work as a smaller backpack for adults. It has a soft-lined sleeve that can fit a 15" laptop.

---