Thanksgiving is less than a week away, and if you're hosting, that means it's time to dust off your turkey roasting pan that's probably deep in storage on account of it only being used once a year. I am not quite an Adult, so I still attend Thanksgiving at my parents' house. My dad usually handles the bird, which works out beautifully because I have never cooked a 20-pound turkey myself and the prospect of doing so makes me break out in a cold sweat.
Before upgrading to this All-Clad roaster last year, my parents had been using a nonstick model that had probably been around since Y2K. Nonstick is fine and all, but not when it's starting to rust. On Thanksgiving Eve, my mom dragged the pan up from our basement, where all nonessential cooking equipment lives (what a luxury), and declared it time to part with Old Faithful.
Never one to pay full price for anything, my dad sorted through the coupon folder for the pervasive Bed, Bath and Beyond 20% off coupon, and off we went. I felt a little bad nudging him towards the All-Clad model over something a little cheaper. It's a bit of a splurge as far as seasonal cookware goes, but I know it's something I'll eventually inherit. If, that is, I ever learn how to cook a turkey.
The All-Clad roaster can fit up to a 20-pound bird (which will feed up to 20 people). It can be used on the stovetop (but not, as some reviewers have lamented, an induction cooktop), which is an excellent way to transform pan drippings into homemade gravy. It's also dishwasher safe; welcome news for any Thanksgiving cook who prefers to decompress with a stiff drink after surviving an evening of immersive dinner theater.
Is it absolutely necessary to own a dedicated turkey roasting pan? Probably not. Cooking experts aren't so sure either — but for those who love the nostalgic taste of a humble, no-frills roasted holiday fowl and the look of a big roasting pan on the stovetop, a quality pan is a worthy investment. The Cuisinart model, an Amazon bestseller, is an excellent budget-friendly alternative.
G/O Media may get a commission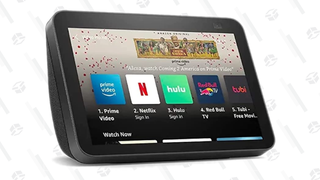 If you're not into one-trick ponies (I don't blame you), this pan is actually pretty versatile. Place the V-rack on top of a jelly roll pan to roast chicken or smaller turkeys during the year. The deep pan can be used to roast vegetables or make a lasagna big enough to feed your kid's high school cross country team. Happy cooking, turkeys!
---