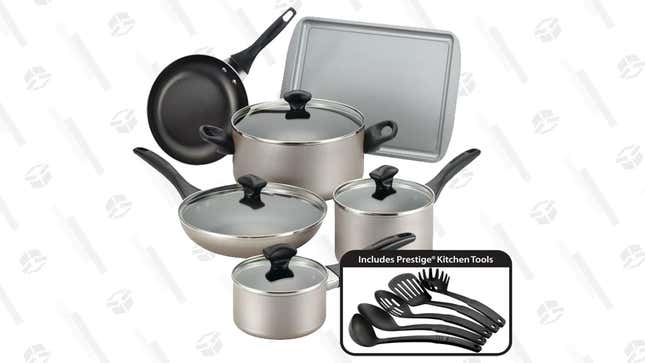 You're a grown adult. You're meal prepping. You're cooking for a family—or a lover, perhaps. Or maybe, you're just cooking for your damn self. If you're serious about cooking, random pots and pans your roommate left when they moved out are not going to cut it. You need finesse. You need certainty.
Farberware Dishwasher Safe Aluminum Nonstick Cookware Set, 15-Piece | $80 | 50% Off | Wayfair
Anyway, this Farberware nonstick set is a shocking 50% off—just $80 right now—at Wayfair. It's dishwasher safe, and the glass lids let you peep inside while your stew is a'brewin'. That $80 goes a long way: two pots and two pans, a baking sheet, a dutch oven, and utensils to go with. No more searching in vain for a matching lid. You can buy your own Farberware set now.