A soda can-sized projector, a Dewalt drill combo pack, boating and fishing gear, and more are all part of today's best deals.

Bookmark Kinja Deals and follow us on Twitter to never miss a deal.

Anker, as you probably know by now, makes a lot of products. But I don't think any of them are as ambitious as the Nebula Capsule, a surprisingly good portable projector shrunk down to the size of a soda can.

At this size, the Capsule is obviously not as bright as a projector you'd permanently mount to your ceiling, and its standard definition resolution won't dazzle, but it can run for hours on a charge, and has great audio built in, making it ideal for an impromptu outdoor movie night, or even as a replacement for your bedroom TV. I've played around with it, and you can see all of my thoughts here.
For a limited time, the Capsule is marked down to $280 on Amazon with promo code KJNEBULA, which is about $70 less than usual, and within $2 of the best price we've seen since it was up for preorder on Indiegogo.
---
The recent release of Qi-compatible iPhones means that wireless charging pads are flying off the shelves, and you can score Anker's 10W model for $6 off today when you clip the on-page coupon.
While it'll only charge iPhones at 5W (which is fine for overnight charging), this 10W pad can fast-charge compatible Android phones as well. I bought it for myself late last year, and use it with my iPhone X every night. I appreciate that the edges of the pad light up temporarily when you set your phone down, so I can be sure I placed it correctly even when I'm groggy and not wearing my glasses.
---
Tile is the ultimate device for anyone who can't stop losing their things, and you can get four Tiles (in two different designs) for $46 today, an all-time low.

You'll get two Tile Slims, which are designed to slide into a wallet or stick to objects, and two Tile Mates, which you can attach to keychains or keep in bags. Once you have your Tiles in place, the Tile app on your phone can ping them over Bluetooth and cause them to beep until you find what you're looking for. And if your lost item is outside of your phone's Bluetooth range, it'll show up on a map automatically any time another Tile user comes into range.
Buying these Tiles a la carte would set you back about $110, so if you can think of four things you want to track, this is a fantastic bargain.
---
You aren't getting the most out of your computer monitor until you put it on a fully articulating and rotating arm. This one from North Bayou can hold monitors up to 27", and even includes cable routing and a USB hub on the base that can be easier to reach than the USB ports on the back of your display. At $20, it's an absolute steal.
---
Remember the little calculator you had in school that powered itself via a tiny solar panel? Logitech makes an entire wireless keyboard based on the same concept, and it's on sale for $38 today, within a few bucks of an all-time low. Assuming you don't live in a cave, you'll never have to charge it.
---
The vast majority of USB-C Power Delivery-capable battery packs top out at 30W of output, which is great for a 12" MacBook or a Nintendo Switch, but is a little underpowered for, say, a MacBook Pro.

But this 19,200mAh pack from Jackery though boosts the USB-C port to 45W, which should keep your high-draw devices humming even if you're working on processor-intensive tasks. That USB-C port works both ways, too, so it can recharge at a speedy 45W if you have a powerful-enough wall charger. At $60, it's very well priced for this space, and even includes an LCD screen that shows you the actual percentage of battery remaining, rather than, like, a series of dots or whatever other batteries use.
Today's price is $20 less than usual, and an all-time low, no promo code required.
---
Amazon's Echo Buttons can turn your Echo device into a competitive trivia machine, and you can buy four today for just $10. Normally priced at $20 for a 2-pack, just add two 2-packs to your cart, and you'll see a $10 discount automatically at checkout.

Once you pair the buttons to your Alexa account, you can use them to buzz in on apps like Trivial Pursuit and Don't Cut That Wire. The buttons are open to third party developers, meaning more games and use cases are sure to come as well.
---
This gadget stand is made of aluminum, can hold your device at any angle, and is only $9 with promo code Gizmodo8. It'll work with phones, tablets, and even the Nintendo Switch, so what are you still doing here?

---
The Grenco G Pen Elite was already one of the best ground material vaporizers for the money at its usual $150, but now, you can get it for just $89 this week during the company's 4/20 sale with promo code CHILL15.
Or, for just $64 (with the same CHILL15 code), you can also opt for the smaller G Pen Pro, which should perform similarly, but with a smaller chamber capacity and less precise temperature adjustment. Either way, these deals aren't available for long, so get in before they go up in a puff of smoke.
From Gizmodo's review:
"Pleasant" has come to define much of my time with the Grenco G Pen Elite. It charges quickly via USB and has battery life that last for days of regular use. It also feels great in my tiny hands and fits easily in a coat pocket or a purse. The thing that takes it from "perfectly pleasant" to near outstanding is the price. It's just $170. That's damn cheap compared to it's competitors. The Firefly 2 costs $329.95 and the Crafty retails for $339. Sure those products heat via convection instead of roasting a ceramic chamber, they're much easier to pull on, and the clouds they produce are enough to fishbowl someone sitting with you, but for nearly half the price the Grenco G Pen Elite is a fantastic deal.
---
The GoPro Hero5 Black is no longer the latest and greatest—the Hero6 can shoot 4K/60 rather than just 4K/30, for example—but it's still a terrific action camera with enough features to please nearly every adrenaline junkie. And at $250 plus a $35 Target gift card (compared to $400 for the Hero6), it's an absolute steal.

---
With its 24 hour battery life, impressive bass, and crystal clear sound quality, the Anker SoundCore has long been our readers' favorite affordable Bluetooth speaker, and its water-resistant successor is down to $30 today, or $10 less than usual.

The SoundCore 2 still includes dual drivers and that amazing 24 hour battery; the only real differences are a slightly tweaked design and the aforementioned water resistance. That means you can take it to the pool, the beach, or even the shower without fear.
---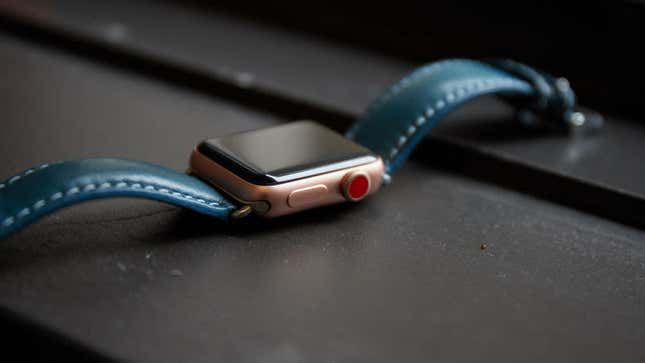 While deals on older Apple Watch models aren't uncommon, we don't see too many discounts on the new Series 3. Today though, (checks notes...) Nike? Is offering some of the best savings we've seen.

Choose from a bunch of different sizes, finishes and band styles, and be sure to check if you're buying an LTE model or not, as both are included in the sale.

The Series 3 is where the Apple Watch really came into its own as a product, and is probably the best wearable you can buy if you're really into fitness. It's very waterproof, includes built-in GPS, and the LTE models can stream music, or receive calls and texts while you're out on a run.

---
Amazon aficionados know that the company sells lightly used products at significant discounts under its Amazon Warehouse brand, and to celebrate Earth Week, you can save an extra 20% at checkout. Because it's sort of like recycling, I guess?

Tons of categories are included in the sale, including video games, TVs, kitchen appliances, and cameras. Just find an Amazon Warehouse listing of an eligible item, add it to your cart, and you should see an extra 20% discount at checkout, on top of the already-discounted price you got for buying used. Most products tend to only have a handful of Warehouse listings though, so go cross a few things off your wish list before the good stuff is all gone.
---
$14 (with promo code TTTTZZZZ) is a pretty good price for a 10,000mAh battery pack. It's absolutely insane for one with a solar panel and 12-LED flashlight array. Obviously, that little solar panel won't recharge the battery very quickly, but it can trickle charge it while you're outdoors, so it's nice to have.

---
DirecTV Now is one of the better over-the-top cable replacements out there, and with this deal, there's very little reason not to give it a try.

For a limited time, if you prepay for three months of the service at $35 per month, you'll get a 4K Apple TV included for free. That Apple TV costs $179 normally, so you're basically getting a $74 discount on the box, plus three months of live TV. No brainer.
---
VPNs have been in the news, and whether you want to get around video geoblocks, circumvent proxy filters, or just keep prying eyes out of your browsing data while using sketchy public Wi-Fi, reader-favorite Private Internet Access has a deal to fit your needs.
Last month, they offered our readers $10 off two year memberships, but this time around, you get a few more choices, ranging from a quick taste of the service to an extended commitment with additional savings:
These deals are only for our readers, but we aren't sure how long they'll be available, so go ahead and sign up while you can.
If you do any serious DIY work around your house, a good drill and impact driver are table stakes. Today on Amazon, you can get a highly rated combo kit with both from DEWALT for the best price ever, plus a free bit set.

You'll pay $165 for both products in today's Gold Box, which is $14 less than the previous all-time low price on the combo kit by itself, without the bit set. Just remember that like all Gold Box deals, this one's only available today, so don't get screwed.
---
Japan can feel like half a world away...because it is. But a trip across the Pacific is surprisingly obtainable with the latest vacation package deal from Gate 1 Travel.

Starting at about $2100 per person (after promo code TZWCLJP, which saves you $460), you'll get roundtrip flights, three hotel nights in Tokyo, and two nights each in Kyoto and Osaka, plus all of your transfers, including a bullet train between Tokyo and Osaka, which is a sight all on its own. And in each city, you'll have the benefit of an English-speaking tour guide, plus your entrance fees are covered to all of the various sights your tour visits.
Dates are available from July through the end of the year, and trips are priced from LAX by default, but you can customize your departure city for an added fee. Just don't forget to use code TZWCLJP at checkout to save.
Note: If the link isn't working, try pausing your ad blocker.
---
Before you do any electrical work around the house, you might want to pick up this outlet tester for $5 with code QBK2WKE9. A series of three lights corresponds to a chart printed right on the device, telling you if the outlet is properly grounded, has reversed polarity, and more. It's not fancy, but it's cheap, and could save you from a nasty surprise.
---
This glass leftover container set didn't win our recent poll of your favorite food storage containers, but these might be even better. These are glass, oven, freezer, microwave-safe, and leakproof containers and are cheaper than ever today when you enter promo code JUB45HT2 and clip the 8% off coupon.
---
We see deals all the time on copper string lights, but if you prefer the look of globe-style incandescents, you can get a 25' strand with 25 bulbs for $9 today with code 3QV7EIWN.
---
If you can never remember to turn off your lamp at night, or just want to make your home appear occupied while you're away on vacation, this programmable digital timer outlet from Etekcity makes it easy. It's not as smart as a Wi-Fi smart plug, but at $9 (with promo code DEALET01), it's a whole lot cheaper.
---
If you're lucky enough to have a garage or some work space, this 32" x 16" pegboard will really expand your storage space. You can hang it up for $28, a good $6 less than usual.
If you have some smaller gadgets to organize, throw in these discounted wire baskets too.
---
There are a couple different homemade fixes (toothpicks, rubber bands, etc) to remove stripped or damaged screws, but if you don't have the time or patience to try those out, consider grabbing this $7 Dr. Meter kit. It includes four bits that fit into any drill, and grip onto screw making them easier to remove. Just be sure to enter NJNWSJG3 at checkout.
---
Much like the Ninja blenders you've seen in stores, this Cosori blender mixes up your smoothie inside the same cup you'll use to drink out of. That means fewer dirty dishes, and less wasted cabinet space. It's a solid deal even at its usual $70, but today only, you can grab it (just make sure it's turned off first!) for $49.
---
Who has time to chop vegetables by hand? This Cuisinart food processor will make quick work of your kitchen chopping duties, and you can get it for $145 today, which about $15 less than usual. Your first duty: Use it to make homemade salsa.
---
LED desk lamps with USB charging ports are so 2017 - it's all about Qi pads now. This lamp from Aukey doesn't have adjustable color temperature (it's tuned to daylight, which is great for productivity, but less great for winding down at night), but its base doubles as a wireless charging pad for your phone, which more than justifies its $34 price tag today with promo code AUKEYT36.
---
iOttie has long made some of our readers' favorite smartphone car mounts, and four different models are on sale this week for some of the best prices ever.

All four sale models are traditional dash mounts—no CD slot or air vent trickery here—so I'd recommend going with the former flagship, the One Touch 2. Its extendable arm brings the phone closer to your eyeline, and it only costs a couple bucks more than most of the other options.
---
A lot of people are reflexively appalled by the idea of a bidet, which makes no sense, because they're amazing. Today on Amazon, you can score a Greenco Bidet attachment that will work with just about any toilet for just $23 with promo code I9ZAGADQ. That's nothing for a product you'll use just about every day. This deal could sell out any time though, so purchase or get off the pot.
---
If someone in your household eats all the tasty marshmallow bits out of the Lucky Charms box, leaving you with the cardboard-like cereal, your dreams have come true.
Amazon is selling this 3 pound bag of dehydrated marshmallows for just $20, the best price we've seen in a few months and within a $1 of this product's historic low. Reviewers note they taste pretty much the same as the ones that come in the Lucky Charms box, and you can shovel these in by the fistful without the silly cereal taking up space

---
It may be an Add-on Item, but this storage case is only $6 and you probably need it more than you think. Store comforters, table clothes, curtains, and more, plus it easily folds up when you're not storing anything in it.
---
The computer in your car is a treasure trove of information about gas mileage, engine performance, maintenance issues, and more, but without an OBD2 scanner, most can only communicate with you through the primitive language of dashboard warning lights.

Luckily, two such scanners from Kobra are on sale right now, including a wireless ones that syncs to your phone and work with third party apps to track and record anything and everything about your car.
The Wi-Fi one ($12 with code WS86992L plus a 20% clippable coupon on the page) will work with both iOS and Android, but there's also an old-fashioned code checker on sale ($13 with code ER2QNVZN), if that's all you're really interested in.
---
If this week's Ireland and South America vacation packages didn't quite fit the bill for you, could we talk you into Spain?

Gate 1 Travel's latest package includes flights, six hotel nights in three southern Spanish cities, daily breakfast, three dinners with wine, all of your transfers, and the services of a tour guide, starting at $1299 per person with promo code TZWAFSN. Just be sure to eat all of the paella. Not a lot of paella...all of the paella.
Note: If the link isn't working, try pausing your ad blocker.
---
Fun fact: A good supply of bubbly water is like 50% of the capital you need to start a successful media company, and you can 18 cans of bubly brand sparkling water in eight different flavors for just $9 right now with Subscribe & Save and a 15% coupon, or 18 cans in three flavors for $8 with the same combination of discounts.
---
Full of boat cleaning equipment, inflatable fishing boats, tackle boxes, and more, this Gold Box is meant for anyone who's heading to the nearest body of water as soon as the weather allows.
The stand out deals are on this iBobber Bluetooth Fish Finder, which is discounted nearly $30, and this four-person inflatable boat, which comes with aluminum oars and an air pump. That's just skimming the surface though, so cast a line over to Amazon to reel in the rest of the deals.
---
Amazon's in-house brands have been dominating the "wardrobe staples" category for a bit now. And if you didn't know they had a women's underwear and PJ brands too, you're missing out. Prime Members can pick up undies and bras from Mae or PJ sets and shapewear from Arabella, discounted today only. It's a great way to stock up on comfy clothes, without going to the store.
---
Foam rollers are great for soothing aching muscles, and $13 gets you a hollow core and solid core roller today. One even nests inside the other for easy storage and carrying. I'd say that's a better use of your money than 15 minutes at a massage parlor.
---
Workout while you work with this under-desk elliptical machine. A refurbished one is listed at just $150 from Woot today, and unlike similar products we've posted in the past, this one tracks calories burned, time, stride, and distance. Plus, this lower profile machine is built so you won't bump your knees on your desk while you pedal.
This sale will only last until the end of the day or until the product sells out, so don't let this deal run away from you.
---
It's the perfect time to plan for a a big run (or finish off training for an upcoming race). Nike has the perfect sale for those of us that need to update their workout wardrobe, because god knows how long you've had those leggings or basketball shorts for. For the next few days, they're taking up to 50% off over 500 styles for men, women, and kids. Everything from running tights to sneakers to sports bras is included.
---
Need Supply, the Richmond, VA shop for everything trendy and cool, is having a sweet sale. Right now, they're giving you 20% off everything during their Friends & Family sale, including sale styles and their beauty section, with the code THANKYOU20. Stock up on minimalist staples, or some really great beauty steals while you can.

---
Even without discounts, Dorco offers some of the best deals in shaving, and now you can try their six-blade Dorco Pace 6 razor for just $10, complete with a handle, six cartridges, and even some shaving cream. Just use promo code KINJA412X at checkout to save $10.

---
Super Straps can't save you from potentially getting seen wearing a backpack, but they can take away the physical pain.
Super Straps are brilliant little simple machines that create an arc under your backpack straps with a quick pull. It might not seem like it would do much at first blush, but the effects of greatly increasing the surface area over which the force is distributed are immediately noticeable.
I've been testing an aesthetically rough but functionally final prototype of Super Straps with my Cotopaxi Allpa with great results. Preorder for $49 and take a load off.
Humble's ebook bundles don't always hew close to Humble's gaming roots, but this one certainly does. Pay what you want today for nearly $200 worth of digital gaming comics based on series like Assassin's Creed, Dark Souls, The Evil Within, and even, uh, Tekken. The comics are all DRM free, but you'll need to pay at least $15 to unlock all of them.

---
---
The Nintendo Switch is better with friends, so pick up an extra set of Joy-Con for $66 on Amazon. That's only a few bucks off the regular price, but when it comes to first party Nintendo accessories, that counts as a notable deal.
---
$13 is cheaper than a lot of standard sized mouse pads, but today, that gets you a massive 3' wide model that can accommodate your keyboard as well. Just be sure to use promo code AUKEYKM3 at checkout to save $4.
---
The Nintendo Switch's flimsy kickstand only works at a single, steep angle, and the placement of the console's USB-C port means you can't charge it while it's propped up on a table. This stand from AmazonBasics solves both problems for just $7, an all-time low.
---
Assassin's Creed Origins is largely a return to form for the series, and you can pick it up for just $30 on Amazon today for both PS4 and Xbox One. At the very least, you can use it as an interactive museum of ancient Egypt.

---
Humble's newest games bundle is a boon for strategy fans. You can name your own price and download the likes of Endless Space, Planetary Annihilation: Titans, Empire: Total War, Tooth and Tail, and more. As always, the games are all DRM-free, and while you can name your own price, you'll need to pay at least $12 to unlock them all.
---
The clock just reset on Humble Monthly, and next month's early access games are Kerbal Space Program, Dead Rising 4, and Ruiner. As always, Humble Monthly is only $12 per month (or less if you prepay for longer time periods), and includes a cache of PC games each month, plus 10% off in the Humble Store, and extra benefits on certain Humble Bundles. The best part? Even if you cancel your membership, every game you add to your Steam library is yours to keep.
So if you sign up now, you'll get the three aforementioned games, plus a bunch more when the month unlocks in early May, all for $12. I have to add, landing on Mun for the first time in Kerbal Space Program is a top 3 all-time gaming moment for me.
TECH
HOME
LIFESTYLE
MEDIA
GAMING