Here are the best of today's deals. Get every great deal every day on Kinja Deals, follow us on Facebook and Twitter to never miss a deal, join us on Kinja Gear to read about great products, and on Kinja Co-Op to help us find the best.
---
More Deals
G/O Media may get a commission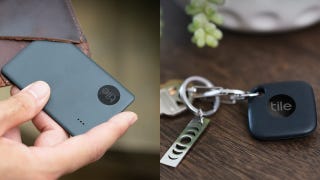 Up to 35% off
Tile Item Trackers
This Week's Best Apparel Deals

Top Deals
---
If you need a cheap, more-than-decent tablet in your life, Amazon's knocking a whopping $40 off the price of Kindle Fire HD 7 and Kindle Fire HDX 7" today, bringing them down to just $99 and $199, respectively.
These tablets aren't going to replace your computer, but they're perfectly serviceable Netflix-streaming, game-playing piece of glass, and at these prices, that's all they need to be to justify their existence. The Fire HD 7 packs a good-enough 1280x800 display and 8GB of storage, which is fine if you want to use this as a portable streaming TV, or something of the sort. Check out Gizmodo's review (which is technically of the 6" model, but internally the 7" is identical) if you want to learn more.
Spend an extra $100 on the HDX to step up to a gorgeous 1920x1200 display, faster processor, HD front-facing camera, and 32GB of storage. If you plan on using this for games or want to store a lot of movies locally for traveling, it's worth the price premium. Gizmodo loved it, too.
---
If you still haven't tried Spotify Premium, you can get three months for just $1 for a limited time. That's three months of no ads, better sound quality, offline listening, and full mobile access. Best buck you'll ever spend. [3 Months of Spotify Premium, $1]
---
If you need some extra external storage, it doesn't get much better than $25/TB. [SAMSUNG D3 Station 4TB USB 3.0 3.5" Desktop External Hard Drive, $100]
---
If the single-port USB charger that came with your phone isn't cutting it anymore, this $10 gadget is the same idea, but with four ports. It's great for sticking behind a nightstand to charge your growing horde or electronics, and even better for travel where precious power outlets are few and far between. [Mpow 25W/5A 4-Port USB Wall Charger, $10 with code S3PLBW3H]
If you want the same charging capacity on the road, this 4-port car charger will do the trick for the same price. [Aukey 48W/9.6A 4 Port USB Car Charger Adapter with AIPower Tech, $10 with code 8OJJDQ4B]
---
The iPhone 6 gets pretty solid battery life, but there are always long days away from any chargers where you wish you had more juice. If you don't want to futz with an external battery pack, this $30 charging case might be just what you need. [VictSing iPhone 6 Battery Case, $30 with code 9NTI2K4Q]
---
Google's Nexus player is the company's most serious foray into set top boxes yet, and while it launched with a smattering of issues, anyone who's seriously invested in the Google ecosystem might want to take a chance on it with today's deal.
Amazon has the player listed at $69, which is down from the original asking price of $100, and if you purchase now, you'll also get a $20 Google Play credit to use on apps, movies, TV shows, and more. If you purchase content from Google Play anyway, that's basically free money. [Google Nexus Player + $20 Google Play Credit, $69]
---
Update: If this sells out, the wood paneled version is also available with the same promo code.
The honor of today's best Bluetooth speaker deal goes to the GOgroove BlueSYNC BX speaker, marked down to an all-time low $20. That's a fantastic price for a dual-drive speaker with NFC pairing, a USB port for optional local playback, and an all-too rare physical volume knob. [GOgroove BlueSYNC BX Portable Multimedia Bluetooth Speaker with NFC, $20 with code BLUESYNC]
Note: you must choose 2nd Street Electronics as the seller for the promo code to work. This link should take you to the right page, but double check here if you're having trouble.
---
If you hate chopping onions, garlic, and peppers by hand, but don't have the space (or the cash) for a full-size food processor, this $32 KitchenAid Food Chopper might be what you're looking for. It only has two speeds, but its reviews are solid, and it'll get the job done for basic recipes. $32 is also a match for the lowest price Amazon's ever listed, so grab one before it shoots back up. [KitchenAid 3.5-Cup Food Chopper, $32]
---
There's not much to say about this knife-hiding key other than that it looks awesome, and only costs $8. Just don't forget to leave it at home before you head to the airport. [SOG Specialty Knives KEY-101 Key Knife, $8]
---
It's not a GoPro, but at $200, the Garmin Virb Elite might be worth checking out. It placed fourth in last year's Gizmodo action cam shootout, but the biggest knock against it was its $400 price tag. Well, today that's been chopped clean in half, so action junkies might want to give it a look. [Garmin Virb Elite Action Camera, $200]
---
Update: Sold out, but there are other box graters available on Amazon. Most don't have a nice wooden handle, or have only four sides instead of six, but be sure to take a look.
Rather than filling your kitchen cabinets with multiple graters, just buy one of these clever six-sided box graters. Each side offers a different sized grating holes to handle every vegetable or cheese you throw at it (or rub against it, as the case may be), and reviews indicate that each one will get the job done as advertised. [1Easylife Stainless Steel 6-sided Box Grater, $13]
---
The humble and inexpensive cast iron skillet is one of most important pieces of cooking gear you can own, and Lodge's highly-rated 10" model is back down to $15 again on Amazon. If you don't own one, you should have no hesitation. [Lodge LCS3 Pre-Seasoned 10-inch Cast-Iron Chef's Skillet, $15]
---
Want to try out a Sonicare toothbrush without breaking the bank on one of your favorite high end models? You can grab a 2 Series or 3 Series kit for as little as $30 today on Amazon. Click here to see the full list of eligible models, and note that an additional $10 will be taken off in your cart. [Extra $10 off Sonicare 2 Series and 3 Series Toothbrushes]
Bonus: [Philips Sonicare Essence Rechargeable Toothbrush ($30) | Amazon | After $5 Off Digital Coupon]
---
The MacBook is too slow. The MacBook Air has a bad screen. The new 13" MacBook Pro though lacks any glaring weaknesses (and even has the new Force Touch Trackpad), and you can save $200 on the 256GB model today on eBay, with no sales tax for most buyers. I bought this exact model the day it was announced, and couldn't be happier with it. If you have any questions about it, hit me up in the comments. [2015 Apple MacBook Pro 256GB, $1300]
---
A pair of mobile ports of popular console/PC games are deeply discounted today on both iOS and Android.
iOS
Android
---
Get ready for Netflix's Full House reboot by rewatching the entire series. Best Buy has the DVD box set marked down to $40, today only. That's the lowest price we've ever seen by a decent margin. [Full House: Complete Series Collection [DVD], $40]
---
We've seen SoundPeats' Qy7 Bluetooth earbuds (and some very similar models) dip under $30 before, but TaoTronics' creatively-named TT-BH05 Bluetooth earbuds are another great option. With a six hour battery, built-in microphone, and 4.4 star review average, they're a pretty safe bet at this price, especially if you just bought an Apple Watch and need your first pair of wireless headphones. [TaoTronics TT-BH05 Bluetooth 4.0 Wireless Stereo Headset Earphones, $28]
If these sell out or you just like the looks of the Qy7s better, they're the same price right now as well.
---
Sennheiser's HD518 headphones have great reviews around the web (including a 4.5 star Amazon average), and Newegg is selling them on their eBay storefront for the lowest price we've ever seen. [Sennheiser HD518 On-Ear Headphones, $60]
---
It's not just glass, it's science! Pyrex is the market leader in glass cookware for a reason, and you can get two of their iconic dishes, complete with matching lids, for $14. [Pyrex Easy Grab 4-Piece Value Pack, $14]
---
We've had great deals recently on smartphone mounts that attach to your dashboard, or snap onto your air vent, but how about one that's held up by your car's long-neglected CD player? [Mpow Grip Pro 2 CD Slot Car Mount Holder, $10 with code VBJUMJQW]
---
Get the best deals in your newsfeed, and maybe share with your friends?
---
Tech
---
Storage
Power
Headphones
Home Theater
Computers & Accessories
Phones and Tablets
Photography
---
Home
---
Kitchen
Fitness
Misc.
Camping & Outdoors
Tools
Auto
Kids
---
Commerce Content is independent of Editorial and Advertising, and if you buy something through our posts, we may get a small share of the sale. Click here to learn more. We want your feedback.
Send deal submissions to Deals@Gawker and all other inquiries to Shane@Gawker