I've never once made a crepe, but I find myself using this carbon steel crepe pan from 200-year-old French cookware manufacturer de Buyer multiple times a week. It's my favorite kitchen tool for making frittatas, omelettes, and more. After it's seasoned (instructions are provided with your purchase), the pan is virtually non-stick thanks to its beeswax finish. As anyone who has cooked eggs knows, a non-stick pan is a necessity for a quality meal and minimal cleanup.
Why use a carbon steel pan over a cast iron? For one, carbon steel (an alloy of 98-99% iron and 1-2% carbon) is lightweight, unlike a clunky cast iron pan, making it easy to maneuver and less likely to break a foot, should it be dropped. Second, it's an excellent conductor of heat, resulting in faster heating and more even cooking. The pan's low sides are slightly higher than your typical crepe pan, making it a versatile kitchen item and a game-changer for making fussy frittatas and omelettes.
There are two main methods of making an omelette (or, omelet, if you're doing it French style), both of which are perfect for the pan. American or diner-style omelettes resemble what you'd get at your neighborhood greasy spoon: big and fluffy, packed with toppings and folded in half. The preparation for an American omelette is pretty straightforward: beat eggs in a bowl; pour into a hot, buttered pan; run a silicone spatula around the edges of the setting omelette and tilt the pan to distribute the liquid; top with desired toppings and cheese; and fold in half. Dexterity is important here, but so are proper tools. For instance, you can't make an omelette without a good silicone spatula. A non-stick pan is also key, and low sides, featured in the de Buyer crepe pan, make for an even, easy-to-maneuver omelette.
The French omelet, on the other hand, is a bit more technical. This version is cooked until almost set, then rolled over itself to form a smaller, multi-layered omelet. Again, our de Buyer crepe pan rises to the occasion, allowing the cook to lift the eggs off the pan with ease. What's more French than making a French omelet on a French crepe pan?
The crepe pan is equally useful for making frittatas, quiche's crustless cousin. For one, the tilt-and-pour method of cooking is not only useful but absolutely necessary here. With a larger volume of eggs, it's important to ensure your frittata cooks thoroughly. A frittata is basically just a big omelette that doesn't get folded over itself. Some cooks like to finish their frittatas in the oven, requiring the pan to be oven-safe. Unlike typical non-stick skillets, the de Buyer pan is oven-safe up to 400° F. A more technical frittata method, for advanced home cooks, involves flipping the whole thing over so both the top and bottom of the disc cook through. I've successfully tried both methods with the de Buyer pan, which means I get to call myself the frittata expert of my household.
G/O Media may get a commission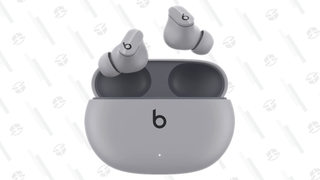 Prefer to keep your eggs simple? The de Buyer pan's nonstick surface is also perfect for slide-off-the-pan sunnyside up or over-easy eggs. No crispy stuck egg bits here!
It is on the higher end of the price range as far as carbon steel crepe pans go, but it's a quality, versatile pan that should last many years if properly cared for. And if you want to use it to make crepes, there's a recipe for that too.

---