To me, there is no creature on Earth more fascinating than the Park Slope mom, a sub-species of New York City mom that I fear, yet also weirdly aspire to be. Park Slope moms are cooler than me in the same way that all Brooklynites are cooler than me, and they have their lives together in that inimitable "mom" way, while also managing to not give any fucks. This is an intoxicating combination.

My specific, unsettling admiration for Park Slope moms was reignited after the New York Times published an enlightening story delving into their dressing habits. Namely, these moms are prone to wearing notoriously price-y No. 6 clogs — not all that surprising, in my opinion, since all moms like clogs* — and toting around their designer handbags via a thick, woven, detachable strap from a brand called Salt, also known as a revelation.
As the Times notes, Salt straps go for a startling $138, and are advertised alongside any number of Fendis, and Guccis, and Celines worth thousands of dollars. To be fair, Salt's straps do help to support local artisans in Colombia, and Salt donates to Colombian non-profit organization, Wayúu Tayá Foundation. (The Times also notes that this charitable element might be the impetus behind the straps' popularity.) But, still, that is...a lot of money for a strap, sans purse. And by the way, they're all sold out — not that I was going to buy one.
Days have gone by since I read the story, but I still haven't been able to get the Salt strap out of my head. I'm neither a mom, nor do I live in Brooklyn, but I freaking like these dumb straps a lot! I understand that the concept of putting one of these straps on a designer purse is a little like buying savagely torn up designer jeans; paying a lot of money for something that looks like you found it for a dollar at the thrift store. But damn, for reasons I can't quite articulate, I. Want. A. Strap. But like, a reasonably priced-one.
And so I sifted through straps by designers that cost several hundred dollars — who knew these straps were so in vogue? — until I found a few that look good, but still make sense for those of us without a Park Slope mom bank account. Strap in, and scroll down to see 'em all.
G/O Media may get a commission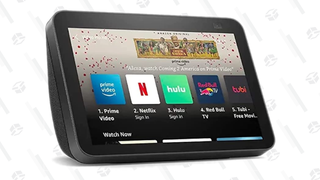 This strap is from Amazon, and it gets the job done. I was drawn to this classic green-red stripe design, but it's also available in black-and-red stripes, and a multicolored, folksy-type pattern. But the best part? It's just $10, and there's currently a 5% off coupon. What more could you want?

OK, if you do want more, this Michael Kors strap is offering it for the same low, low price of $10. A whole selection of Michael Kors straps seem to be on sale at the moment, but this one's woven detailing seemed most reminiscent of the Salt strap's vibe, plus it's made from quality leather. Also available in white, this strap could be a cool addition to a leather bag in a different, complimentary color, for that mix-and-match look.
This Rebecca Minkoff strap is the thickest of the economical straps, plus it boasts some attractive embroidery atop white leather — truly the best of both worlds when it comes to material and design. And somehow, it's on sale for $29. That's far below the next cheapest strap we found from the brand at $78, so act quickly if you want to snag this particular strap; it will probably sell out soon.
If you're mostly drawn to the Salt strap because it's handmade, look no further than this hand-woven, guitar-style strap from Etsy shop West Coast Weave. The strap won't stretch, and it's made from a flexible, comfortable-to-wear cotton fabric. At a reasonable $55, your new accessory will be a true original. You even get to pick from different buckle finishes, to match your bag.
Clare V. straps range from $55 to $125, but I found this mid-priced woven option to be particularly striking. The colors are especially vibrant, and it features two leather patches at the ends for maximum reinforcement. It's certain to take any purse or tote up a notch.

* This statement is based on knowledge of my own mom, who likes clogs.
---