There are so many cloud-connected security cameras on the market, you'd think they'd be a dime a dozen...except most of them are still $100 or $200. If you're on more of a budget, a new(ish) company called Wyze has made a few incredibly affordable cameras that can keep an eye on your driveway (or garage, or cat) for only a few Alexander Hamiltons.

Right now, the company has two cameras: the compact, $26 Wyze Cam (now in its second generation) and the $38 Wyze Cam Pan, which comes in a taller package but can pan 360 degrees horizontally and 93 degrees vertically for a full view of your house (and that's on top of the 110° field of view both cameras share). The hardware is nothing groundbreaking, but that's exactly what makes it so affordable—Wyze is using cheap off-the-shelf cameras with their own feature-packed software driving the backend service.
I tried them both out to see how they fared against their more expensive brethren, and was surprised to discover how much they could do. Sure, you don't get fancy facial recognition or anything like that, but both cameras allow you to record clips when motion is detected, adjust detection sensitivity and zones, speak to someone on the other end using your phone, and—in the case of the Wyze Cam Pan—track moving objects across its field of view or pan around the room at specified intervals.
Setting up a Wyze Cam is super easy, too: just turn it on, press the setup button, and put your phone in front of the camera so it can scan the QR code on your screen. They're powered by simple microUSB cables, and they have USB ports on the back that allow you to daisy chain them together to save outlet space. And with IFTTT integration, you can set up all sorts of automations with the rest of your smart home.

G/O Media may get a commission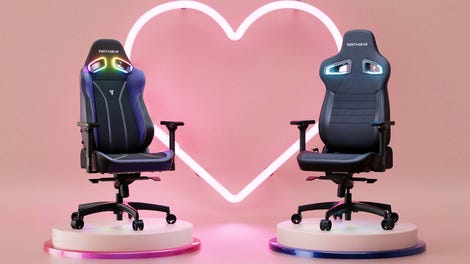 Up to $150 off
Vertagear Gaming Chairs
All that said, you can't expect the world from a $26 camera, and it does have some very clear limitations. Most importantly, it can't record to the cloud nearly as seamlessly as its more expensive competitors: when it detects motion, it can record a 12-second clip and save it to the cloud, but that's it. And it takes another 5 minutes before it can record another 12 second clip. You can stream video continuously, or you can record video 24/7 onto an SD card, which is nice—but anything in the cloud is severely limited if you want to actually catch something beyond a quick moment. It will keep those clips for 14 days, though, with no paid subscription necessary—though there isn't one available either if you want more.

I found the video quality to be quite decent, and you can choose between 360p, SD, and HD depending on your internet speed. I found that the Wyze Cam Pan's video was a bit jerky in HD, though, despite the Wyze Cam handling HD video just fine—though for basic home monitoring, this isn't really a huge problem, and the Wyze Cam Pan's ability to pan around is nice for keeping an eye on a big space—I can see almost my entire house (minus bedrooms) from a single camera in the kitchen. If you don't need that ability, the cheaper Wyze Cam is otherwise just as good, if not a little more reliable according to some users.
Both cameras are meant for indoor use, and are not technically weatherproof—through third parties do make weather-resistant housings if you want to try it outdoors. I used the Wyze cam to monitor the driveway by mounting it inside the window, and it worked great during the day—but was problematic at nighttime if the lights were on in that room, since the reflections screwed with the camera's night vision.
Finally, Wyze definitely has a few quirks that, while not chronic issues, are worth knowing about. For example, I had some trouble with notifications not coming through last week, until I logged out of the app and rebooted my phone—after logging back in, things worked reliably, but that's not exactly something you want to just "go out." It doesn't seem like this was an isolated incident, as there are a few threads of similar issues happening to other users.

Similarly, while there's an "off" button in the app, it doesn't actually turn a camera off completely—that wouldn't make sense, as you wouldn't be able to turn the camera back on through the app without it still being connected to the network. But this may confuse some users, and if you turn the camera off and your power goes out while you're sleeping, it'll begin recording once power comes back—leading some people to think the camera is turning itself back on without permission. (If you truly want to turn it off, I recommend hooking it up to an outlet timer or smart outlet like the WeMo Mini, which will actually cut power to the camera.)

You'll see a similar pattern of quirks in Amazon reviews. Despite an overall decent average rating, there are a few high-profile one-star reviews from people having problems—some of which stem from user confusion (like the power outage example above), others of which stem from firmware bugs people mistook for "Chinese spying." Wyze has gotten the nod from security experts far more learned than us, so that's not really on my list of concerns—if you want the most secure system possible, you're probably better off with a completely cloud-less setup like these EZVIZ kits anyway. But reading Amazon reviews and forum threads doesn't inspire a ton of confidence in Wyze's reliability as a home security system. The number of reported bugs and confusion points is enough to give me pause when recommending it if you need truly robust, set-and-forget setup, especially for non-tech savvy users. I do believe the folks at Wyze have the best of intentions, and have just gone through some growing pains as they develop their products, especially at such a low cost. And they have been good at rolling out quick fixes and feature updates at regular intervals, which is nice to see.
But that low cost is still the killer feature here. Despite its limited recording capabilities and the occasional quirk, I'd argue the Wyze Cam and Wyze Cam Pan still punch well above their weight class, and while I won't be using them as my main security cameras, I wouldn't hesitate to recommend them in other circumstances. If you absolutely can't afford to pay hundreds of dollars for a more mature system, then Wyze is better than nothing. Or if you want to augment an existing sensor-based security system, it'll do the job nicely. And if all you need is something to keep an eye on your lizard while you're out of the house, Wyze is more than well-suited for the job. Just be sure to check in with the cameras from time to time and make sure everything is hunky dory.
---