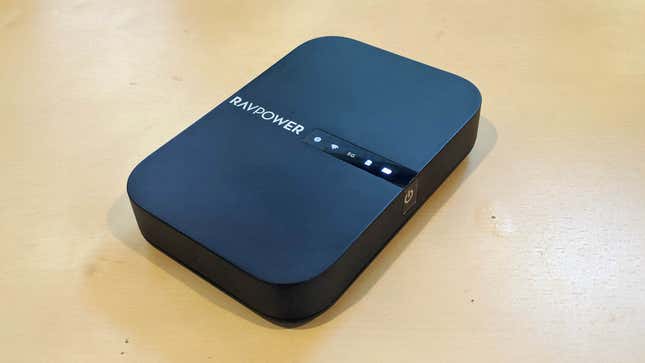 I feel like I'm in a constant struggle to eliminate clutter in my backpack. When I'm going on a "working vacation" (aka all my vacations), I pack my bag with a spare battery bank, flash drives, an Ethernet adapter, and other accessories I "might" need. So when RAVPower reached out and offered to lend us their new FileHub for review—which combines a battery bank, wireless storage, and travel router into one tiny box—I was intrigued.

The $60 FileHub is small, perhaps a bit bigger than a typical 2.5" external drive. It contains built-in 802.11ac Wi-Fi capable of up to 433 Mbps, 802.11n Wi-Fi capable of 300Mbps, a 6,700 mAH battery, a slot for an SD card, an Ethernet port, a microUSB charging port, and a regular USB-A port. The USB port is designed to not only charge your phone if you need extra juice, but also to let you plug in a USB hard drive or flash drive, and share those files with multiple computers, phones, and tablets. This also works with the SD card slot, if you prefer.
It has some other nice touches, too. For example, with the touch of one button on the side, you can back up the SD card's contents directly to a USB-connected drive. This is a super handy feature for photographers on the go who need to free up space quickly (or just want the backup for safe keeping). I'm not a photographer, so I just keep an SD card permanently inserted, with the FileHub basically acts like a wireless external drive slash battery bank.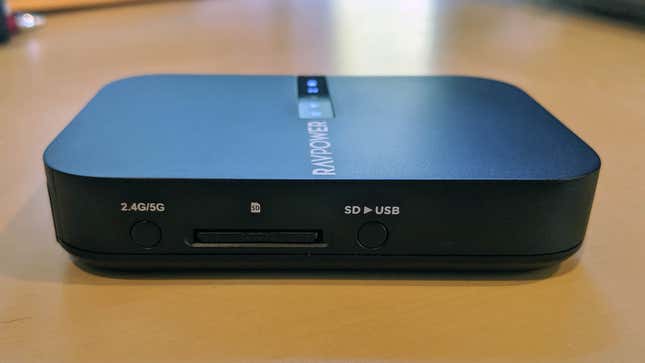 The FileHub also works as a travel router, allowing you to plug in an Ethernet cable, and rebroadcast that network wirelessly. Ethernet's not as widespread as it maybe once was, but we all still run into the occasional situations where you have Ethernet but no Wi-Fi, or where the Wi-Fi is so terrible you can barely connect.

Setting up the FileHub is...well, it isn't exactly easy. The FileHub broadcasts its own "RAV-FileHub-2G" Wi-Fi network, which you can connect to using your phone, tablet, or computer. Once connected, you can access its setup wizard through the RAV FileHub app (iOS/Android), or through the web interface by typing 10.10.10.254 into your address bar. Very intuitive! From there, you can transfer files back and forth, or view supported file types (like images, video, and PDF files) right from your SD card or USB drive.
There are some useful options in the web interface, like the ability to connect it to another Wi-Fi network—thus allowing you to keep your internet access when connected to the FileHub (at somewhat decreased speeds) or access the FileHub from your normal Wi-Fi (with somewhat decreased transfer speeds between the two).
To give you an idea, transferring a file from my PC to a Class 10 SD card on the FileHub went at 1.3MB/s when connected to my home network, even sitting right next to the router, versus 3MB/s when connected to the RAV-FileHub-2G network. (The FileHub has a 5GHz network, but it only works when the FileHub is connected to Ethernet.) On the flip side, my internet speed test measured about 50Mbps when connected to the RAV-FileHub-2G network, as opposed to the 110Mbps that I got on my home network. So you may want to connect to the FileHub in different ways depending on your use case in that exact moment.
The web interface is a little clunky and ugly, but I generally prefer it to the prettier smartphone app since I can access it on any machine, no downloads required. Plus, the app has rather mixed reviews on iTunes and Google Play, and it seems some people have trouble getting it to work properly—I had no issues myself, but your mileage may vary (which is where Amazon's generous return policy may come in handy).
If I'm being honest, though, I almost never used the app, since the FileHub supports more universal protocols that allow me to access it from better apps I already have. For example, it has a DLNA server built-in so you can stream movies to VLC on your phone or computer. I had no trouble streaming a 1080p Blu-ray rip to my PC, even when connected to my home network rather than the FileHub's, though your mileage may vary.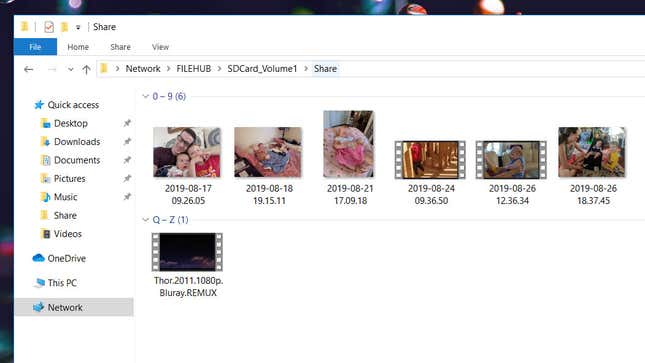 Since I'm old school, my favorite feature is the FileHub's built-in SMB server. By enabling network discovery in Windows and typing \\FILEHUB into Windows Explorer's address bar, I can connect to the FileHub's storage as if it were a regular drive connected to the PC, which is far more convenient than going through the app or web interface. This is how I spent most of my time using it.

You can see how things get a little complex here. The FileHub's best use cases, in my opinion, require a little technical know-how on things like DLNA and SMB, so while it isn't for everyone, it is useful, and has a pretty dedicated fanbase. I do wish the FileHub were a bit simpler to use, though—there's no option to just connect to the computer over USB, for example, which seems like a big oversight. And seeing as this is not RAV's first crack at the product line, you'd think they'd have a better handle on it by now.
But for all its little flaws and quirks, it's still a unique product that could fit well into a lot of different workflows, for a pretty affordable price (and it's actually on sale for $44 on Amazon right now with a coupon). So if you have the technical know-how to figure out some of the setup, it could be worth getting over that initial hump to save the space in your bag.
---