For The Inventory this year, we're breaking out our #SGapproved gift guides into two tiers for men and women - one for when you've said, "I like you" and another for when you've said "I love you."
The former clocks in with less expensive, less personal gifts, while the latter ratchets up the intimacy levels (and sometimes, the price tag) accordingly.
This week, check out Style Girlfriend's gift guide for what to get your long-term lady love. Shopping for a serious significant other means you can give presents that would be too intimate for a new partner, but also ones that would be considered too functional for a romantic interest you're still in the process of wooing. It's the best of both worlds!
No, it's not a weird sex thing (don't worry, that comes later!). Beauty rollers are the latest in trendy skincare add-ons, items like gua sha tools and jade rollers, all great for when you want to feel like you're taking care of your skin, but don't want to leave the couch.

G/O Media may get a commission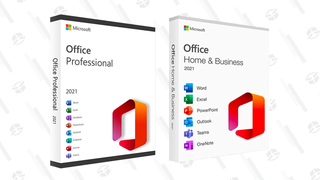 89% off
Microsoft Office Professional 2021 Lifetime License
This one comes from Madonna's skincare line and was developed in conjunction with Madge's personal derm. Gliding the Japanese-engineered contouring spheres along your face and jawline is meant to promote lymphatic drainage, while lifting, firming and easing facial tension.
Lab-grown diamonds are officially a thing! And Lark & Berry is the first designer jewelry brand to use "cultured" (aka, lab-grown) diamonds and stones exclusively, making the move toward a sustainability-focused head-to-toe wardrobe more accessible.

The first generation of weighted blankets favored function (it's a heavy-ass blanket! Enjoy!) over fashion. Now, West Elm has gotten in on the action with a weighted blanket that looks as good as it feels.

Love means never letting your lady slip and slide down an icy driveway in winter boots with worn-down traction.

Not to mention these Marc Fisher boots are sexy-y-y-y-y. The plush genuine-shearling trim! The cool-as-ice lugged sole! I'm telling you, this is winter footwear she won't want to take off.
If she stares at a computer all day, you could gift her a bottle of ibuprofen to handle screen-induced headaches. But I'd argue these crazy-affordable, super-stylish blue light glasses from J.Crew Factory would also do the trick and make a considerably more chic stocking stuffer.

Is it for her? Is it for you? Let's not think too hard about it, and just place this RiRi reference book on the coffee table where everyone can enjoy it instead.

Her New Year's Eve 'fit, sorted.

Over the river and through the woods, to her mother's new boyfriend's condo you go. If you're staring down stressful holiday plans together, bring some CBD along for all your obligatory adventures. Because sometimes being there for her looks like sneaking her broad-spectrum CBD oil after she's been cornered into a conversation about how the impeachment trial is a witch hunt by her great aunt Eileen.

Sexy lingerie is not the move, my guy. Instead, wrap up this cute and comfortable cotton PJ set from Desmond & Dempsey for a present she'll wear and truly love all year long.

No matter how long you've been a couple, it's fun—and often super-useful!—to learn new ways to relate to one another. Maybe you know each other's attachment style, and you've got your love languages on lockdown, but do you know where you relate to one another on the Enneagram?

Taking the quiz you'll feel a bit like you two are sorting yourself into Hogwarts houses, except no one ever gets Slytherin.
Help her release her inner Shiv Roy in a two-piece power suit.

This is no "pink it and shrink it" sporting situation. If you dream of a retirement spent on the links together, these clubs from new DTC golf brand Robin Golf would make a great present this holiday season. The set was designed with the right length, heft and materials for women 5'0" to 5'8" (aka, the "average" woman) to conquer the course.

A cute camisole that's also a bodysuit because, you sir, know what a bodysuit is! Or at least, now you do!

Told you we'd get to the sex toys! Featuring Dame Products' hands-free couple's vibrator Eva II, aloe-based lubricant Alu, the stealthy-chic sex wedge Pillo, and Fin, a, uh versatile finger vibe, this bundle is a true treasure trove of pleasurable options.

An iconic Tank watch from Cartier is a "have it forever" gift that will (thankfully, for your wallet) never go out of style. If you're ready to throw down some serious bills on her present this year, you could do worse than this timeless timepiece.

---