With the advent of Google's Stadia, Sony's recently-cheaper PlayStation's Now, and Microsoft's developing xCloud, game streaming might finally be on the verge of becoming normal. Are at least usable for some people. If someone on your list is in that category, they still might need a little bit of hardware. Here's what they might need.
A quick note: There's one thing that players will need for game streaming that we can't link to on Amazon: high-speed internet. PlayStation Now recommends at least 5Mbps internet, but Stadia can require up to 35Mbps for 4K streaming. If you're unsure what kind of internet your gift recipient has, maybe ask before you buy them gear for a game streaming platform.
Google has created a new kind of controller with Stadia to help reduce latency. While most controllers pair with a console via Bluetooth, the Stadia controller can also connect directly to Wi-Fi, so there's one less step between it and the gaming server. You can buy these directly from Google for $70, but you can also use other controllers if you prefer.
G/O Media may get a commission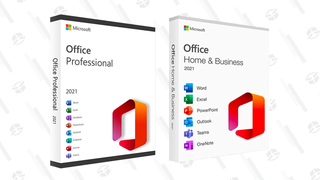 89% off
Microsoft Office Professional 2021 Lifetime License
For Stadia's early days, if you want to stream to a TV you're going to need a Chromecast Ultra. These cost $70, but they've been popular enough that your gift recipient might already have one laying around. Players can also play on Pixel 2, Pixel 3, Pixel 3a, and Pixel 4 phones, as well as tablets running Chrome OS, it might be worth finding out what they have already.
If the $70 Stadia controller is too rich for your blood, you can also pick up an Xbox One controller for about $50. This won't connect directly to Wi-Fi, but it will save you a bit of cash. This controller will also work on PlayStation Now (though it doesn't support PS4 games' motion controls) and, obviously, the Xbox One. It will also work with xCloud once that platform goes live, so if you want a more platform-flexible option and aren't worried about minimizing latency, this isn't a bad one to buy.
For PlayStation Now players, it's hard to beat the controller that most of the platforms' games were designed for. With a PS4 Dualshock controller for $47, players can connect not just to a PS4, but also a PC and stream games with a PS Now subscription. You can technically use this on Stadia as well, but as mentioned above, a Stadia controller will theoretically have lower latency, if you can stomach the extra expense.
PlayStation Now is a $10 per month subscription, but that's the suckers' price. If you pay for the year up front, it's only $60. This includes the ability to stream games, as well as a library of games that you (or your gift recipient) can play for as long as you (they) stay subscribed. Amazon sells a year of PlayStation Now as a digital code which doesn't lend itself well to being hidden in a gift box or card, but it's worth it for the year of gaming they'll enjoy.
To stream games from some far off server, your internet game has to be strong. Preferably wired strong. If you can run a cable from your modem/router to the platform you're playing on, all the better. Obviously that's not possible for some devices like phones or Chromecasts, but if you can run ethernet cable from a router like this ASUS model with four wired ports to your console or computer, all the better.
Speaking of ethernet cables, you'll need some. AmazonBasics has decent cabling for cheap, including the decently-short-range$6 for a 10' cable, on up to $12 for a 50' cable. No, those prices don't scale properly, but we'll take it. These would be ideal to connect your PlayStation 4 or PC to a wired connection so you don't drop your connection quite as much while streaming from PlayStation Now.
If you can't feasibly run ethernet cable to all the rooms of your house where you have a console or PC hooked up, a powerline adapter like this hot-selling one from TP-Link is the next best thing. These allow you to transfer data across the power lines in your house. Just plug one into the power outlet next to your router, and the other in the room where you're playing, sync them up, and then you can run an ethernet cable to your console or PC of choice.
If running cables sounds like a hassle—or if you're using a platform like Stadia that mainly works over Wi-Fi—then you'll at least want to make sure your home is covered. Mesh Wi-Fi systems like Google's Nest Wi-Fi allows you to put multiple hotspots throughout your house that create one big network. If you find a remote room of your house has a weak connection, grab this 2-pack of Nest Wi-Fi routers and upgrade your whole network. You can add as many routers as you need, so even in a big house, you should be able to get your game on.
---