More often than is normal, I find myself watching car detailing videos on YouTube. Part of that is job-related, but if I'm being honest most of it is just that I find detailing videos oddly compelling and also quite soothing — I once lost the better part of a day to headlight restoration tutorials. While detailing, and detailing videos, have their place in this world, the truth is that you don't need a lot of products to keep your car in tip-top shape; in fact, five items are really all you need. Here's what they are!

Okay listen up: For just a few bucks you can get a jug of car wash soap that will last you, like, forever. The investment will be so worth it if you're a person who washes your own car, because car wash soap won't strip the protective wax layer off the way dish soap will. Please do not use dish soap to wash your car! A big car washing sponge is also a good thing to have for the job, and a synthetic chamois for drying the vehicle off after its washing, so that water spots don't form and ruin the whole thing by making the car look dirty when actually, it is clean.

G/O Media may get a commission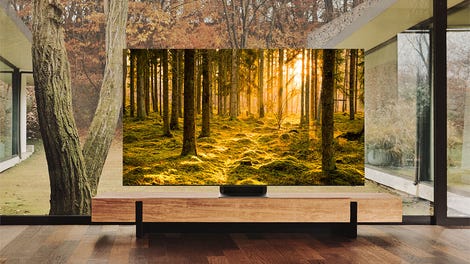 Up to 40% off
Samsung Smart TVs
Microfiber cloths are fantastic for cleaning both the exterior and interior — the hard surfaces, at least, like the dash and door interiors — of cars. It's worth having a stack of them, since you don't want to use microfiber that's been used to apply wax to the exterior of the car to clean the dashboard, for example. Quick note on microfiber: It can be machine washed and dried, but do not use chlorine bleach or any form of fabric softener (liquid, sheets) when laundering microfiber.

If you park your car outside, or frequently drive outside of a city, you'll for sure want to get a bottle of bug and tar remover. The name is a little bit misleading: It removes bugs and tar, yes, but it's also the stuff you'll want for cleaning bird poop and tree sap off your car. In addition to looking like, well, poop, bird poop, and bugs, and all the other stuff that bug and tar remover removes will eat through the clear coat on your car, leaving the paint exposed to the elements. And that's when you'll start getting rust and no no no no nope! You do not want that.

Do you need a souped up vacuum made especially for your car? No, probably not. Is it kind of fun to have a souped up vacuum made especially for your car? Yup! While Shop Vacs and standard issue handheld vacuums work just fine for cleaning up messes like spilled Cheerios, or for a more thorough detailing of your car's interior, the Dyson car vac has two things going for it that other models don't: Attachments designed to get into tight spots like door pockets and the under-seat area, and a charger that allows you to store the vacuum in the car without ever having to take it into the house to recharge.

Unlike the Dyson, this Bissell handheld upholstery and carpet cleaning machine won't give you sticker shock, and it is just the thing for people who have cloth seats or for parents whose children are still in car seats. It can easily clean up common car spills like coffee or soda, as well as more gruesome messes like vomit, pee, or a diaper blowout. It works by forcing a cleaning solution into the upholstery, and then extracting it back out into a chamber that can be easily emptied of its fetid contents.

---