Summer party season is in full swing, and this week especially, you may find yourself hosting a big ol' summer party! (I guess my invite got lost in the mail?) Though admittedly not great for every-day use, a staple of summer parties—especially ones being held in by a pool, the beach, or on grass, where people will be barefoot—are disposable cups. So to make your party (that I wasn't even invited to, not that I'm hurt or mad or anything) as festive as can be, here are some picks for the best, and best-looking, disposable cups you can buy.

There is no shortage of American flag-themed drinkware out there, but you're sort of limited in the days you can use those without looking like you just grabbed leftover paper products from your big Flag Day shindig and trotted them out for Louie's 67th birthday bash. These 9 oz cups, however, have festive enough silver stars on them to make them perfect for Fourth of July…but also not so, so patriotic that you can't use them for other occasions.

G/O Media may get a commission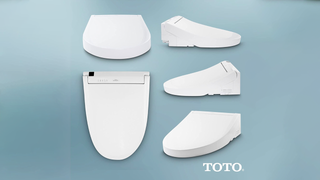 44% off
Toto Washlet Electronic Bidet Toilet Seat
Gingham is taking a lashing this summer, which is unfair and cruel, IMO. Gingham is just fine, people! Leave gingham alone. Better yet: GO FULL GINGHAM. Show the haters what you think of 'em! This set of 9 oz paper cups features a traditional picnic-y red checked motif, and coordinating paper plates, napkins and tablecloths are also available. Want to mix and match a bit? Sure! Here are those same paper napkins in blue or black; tablecloths are available in blue as well, or you could get WILD and mix checks and stripes — that striped disposable tablecloth comes in red, hot and light pink, navy and bright blue, purple and black.

The problem with most disposable and/or plastic stemware—wine glasses, champagne flutes and, for our summer-y purposes, margarita glasses—is that they're almost always a two-piece design that requires you to assemble them by putting together the bowl and the stem. First of all, this is a pain in the butt. Second of all, the stems always end up falling off, and it's so annoying. You could, of course, use a tumbler for your outdoor margarita drinking but it's FUN to have actual margarita glasses, so here come a set of slightly-spendier-than-most margarita not-glass glasses for outdoor use that do not require assembly.

I love a novelty cup! But novelty cups can take up a lot of space in your home for items that get used maybe once or twice a year…which is why disposable novelty cups are such a blessing to the novelty cup enthusiast set. This set of pineapple- and coconut-shaped cups also have the benefit of having covers on them (They come with straws! That are outfitted with jaunty hibiscus flowers!), which will help to keep bugs and flora from drifting into your rum punch during outdoor parties. And if you really want to level up on the fun, add a set of Palm Tree Yard Cups (with bendy straws!) to the mix.

You know what are fun? Jell-O shots! You know what are even more fun? FANCY JELL-O SHOTS. But if you're going to make Jello shots, fancy or otherwise, you need to make them in something. Enter: Jell-O shot cups. With lids! DO NOT FORGET THE LIDS, YOU GUYS. This brand offers Jell-O shot cups in seven sizes—from 1 oz up to 5.5 oz—but the 2 oz size is probably the right one for most needs. (Uhhh, five-and-a-half ounces of Jello shot is A LOT of Jell-O shot!)

---