I recently found myself shamelessly marveling at Tossware disposable plastic beer and wine glasses, and I'm brazen enough to say you'll likely do the same.

I realize that not all parties warrant disposable drinkware, and that certainly not all parties merit disposable drinkware that costs about a dollar per piece. That said, my wife and I were feeling fancy when we recently hosted a party with some other families. Our mood called for drinkware nicer than SOLO cups in a quantity greater than the glassware we own (or ever want to own.)
Enter Tossware's versatile, modern designs, all sustainably manufactured with bpa-free plastic that is shatterproof and completely recyclable. We used their stemless Vino wine glasses, 18oz Pint beer tumblers, and some 7oz Mini Pints (because kids don't like to feel excluded from "fancy"). A total cost of less than $35, it was an easy decision that elegantly quenched our desire.

G/O Media may get a commission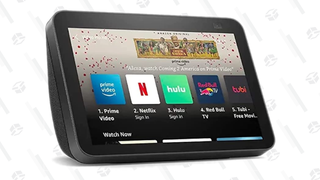 My expectations were high since Tossware costs around $12 for a set of 12 glasses (less for the mini pints), and I was still pleasantly surprised, somehow... by premium disposable plastic cups. They arrived stack-locked together, which was more convenient than I would have guessed.
Less than ten-freaking-minutes in to the party and a child dropped one on my kitchen tile, aptly demonstrating its shatterproof benefits over glass. As the evening continued, my friends not only took notice of the Tossware, but asked questions and discussed it. One was almost offended when I told her it was going to be recycled after the party, chiding that "you could surely hand wash them at least a few times." She's right - on a vacation or camping I wouldn't hesitate to reuse these. Above all, Tossware is notably pleasant to drink out of. I never felt like I was holding something disposable, and my drinks never tasted or smelled of cheap plastic cup essence.
The party conversation eventually veered away from recyclable drinkware, but it's still remarkable how much of an impression Tossware made on my friends. What's more, ending a late night with my recycling bin full of plastic instead of my counter littered with dirty glasses was a great finish to a perfect evening with friends.
---