I recently got a spate of questions about cleaning natural stone surfaces like marble and granite. And yeah, these ubiquitous materials are kind of a bitch to clean and honestly shouldn't be as ubiquitous as they are for that reason. ANYway! The problem with natural stone is that it doesn't love anything acidic, which means that cleaners that have a vinegar or lemon base are out. And that's, like, a lot of cleaners. Humph. But there are plenty of products that are quite good to use to clean natural stone, and these are they.
You don't actually need a specialty stone soap to keep marble, granite, slate, etc. surfaces like countertops and shower walls clean. Good old dish soap will do the job just fine! But there are two important things to bear in mind: The first is that you want to pick a pH neutral dish soap, like Ivory, and stay away from soaps that contain acids like lemon or orange. The second is that a little bit goes a long way — overusing soap can leave residue that will make natural stone look dull.
G/O Media may get a commission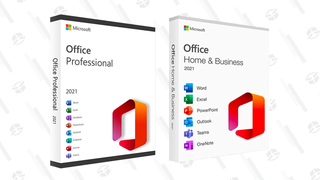 89% off
Microsoft Office Professional 2021 Lifetime License
Yes really bleach! Bleach is alkaline, and therefore it is safe to use a mild bleach solution to remove mold and mildew from grouted natural stone surfaces. Just as with dish soap, a little goes a long way. Also, be sure to use diluted liquid bleach and steer clear of cream cleansers that contain bleach, as they are too abrasive for use on stone.
DROP THE CLOROX WIPES! While bleach is safe to use on natural stone surfaces, Clorox Wipes are not — they don't contain bleach but they do contain acids. Triiiiiicky! If a disposable wipe is a thing you want in your life, opt for ones specifically made for use on marble, granite and other natural stone surfaces to avoid damaging them.
A much better choice than an expensive, waste-creating disposable wipe, however, is good old microfiber. It can be used dry to wipe off countertops, which is important because water can make a real mess of natural stones, especially popular countertop materials like granite and marble. It can also be used wet, with a small amount of dish soap, to clean and disinfect (remember: if dish soap is good enough to clean your cutting boards, it's good enough to clean your countertops).
While microfiber is great for general cleaning and for wiping up spills on flat surfaces, like countertops, a more practical way to keep water spots at bay on vertical surfaces like shower walls is to use a squeegee. The squeegee will also help to prevent mold, mildew and other bacteria from developing by keeping tile and grout dry.

---