While I know that Stranger Things premiering on the Fourth of July was a strategic decision planned and approved by at least 15 levels of marketing managers at Netflix to tie the release to the show's summer of 1985-set third season, it still feels like a fun, fizzy coincidence! Because there's something about the July 4th holiday that has always seemed super '80s to me.

Maybe it's that I'll always associate the Fourth with its most famous tune...no, not "The Star-Spangled Banner." I'm talking about Lee Greenwood's schmaltzy-and-problematic-but-also-perfect(?) "God Bless the USA," released in 1984. Or maybe it's that patriotic apparel hasn't modernized much beyond the Reagan era.
Whatever the reason, I'm here for the surge in 1980s summer style. Ooh, maybe Netflix can stage the entire next season of Grace & Frankie as a flashback to when everyone was still unhappily married during the Cold War? But now I'm just spitballing…
So, check out this #SGapproved mix of Stranger Things-inspired '80s summer style. Some are OfFiCiAl CoLLaBoRaTiOnS, while others are simply fashion throwback picks our team liked.
In the trailer, we see the whole gang celebrating what looks to be a very fucked up Fourth of July in Hawkins, Indiana. Chief Hopper (played by an extremely burly-in-person David Harbour, who I bumped into once in a coffee shop, an encounter I've replayed in my head many times since) angrily tromps through a carnival while wearing a totally rad Kokomo-era Beach Boys-esque short-sleeve button-up shirt. This one from Cremieux would do the trick for achieving your own Hopper vibes this summer. Lean into the #tbt feel with light wash jeans and a boat shoe, or keep it current with athleisure shorts and a pair of tech-y trainers.

G/O Media may get a commission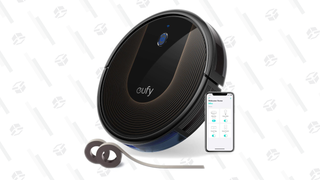 48% Off
Eufy BoostIQ RoboVac
Each piece in this capsule collection from Highsnobiety references iconic locations featured in the show's latest season, from Scoops Ahoy, the ice cream parlor where Steve works (and wears a very silly sailor's costume...poor Steve!), to Starcourt Mall, where Eleven gets her first look at American consumerism...I mean exceptionalism. U-S-A! U-S-A!

As far as branded collaborations go, this one's got good street cred. Created by Highsnobiety's in-house team, everything from fabric sourcing to fit to sustainable production was thoughtfully considered, making for a surprisingly high-quality product you'll be wearing long after that curly-haired kid checks into rehab for "exhaustion" in a few years.
Like flip flops, tank tops remain very much a "time and place" fashion item for guys. The time? The "wish I could just walk around naked it's so hot" dog days of summer. The place? The pool. Or maybe a backyard barbecue. Not to the bars (unless those bars sit alongside the Jersey shore, I suppose). Definitely not on a date. This one from Target rings up under $10, and looks vintage in a good way.

Nike's collaboration with Netflix rolled out with a fun, almost spooky teaser on social media, featuring boxes of product "found" at Nike HQ from 1985. Of the three sneaker styles released in the collection, the Cortez would add the most oomph to a guy's wardrobe in 2019. The collab's first drop of the Cortez in Hawkins High green and orange is already sold out, but a red and white colorway comes out on the 12th and is similarly stylish.

This simple white ringer tee with a yellow and turquoise collar and sleeve detail looks oh-so retro in the best way. Throw it on with your favorite chinos and some clean sneakers for an unexpectedly crispy—and ridiculously easy—summer look.

This is actually a women's shirt, but if you size up, it'll fit similar to the Riviera style from Bonobos. Levi's dove into the Upside Down in a big way with this collaboration, teaming up with the show's costume designers to outfit actors in pieces on the show that fans can now buy and wear for themselves while binging the season. Eleven wears this Aztec print short-sleeve shirt to the mall for what looks to be a very badass showdown with a Demogorgon. Skip the otherworldly battle and wear yours for a night out on the town with ripped black jeans and a black leather Chelsea boot for a very rocker of an undetermined era look.

Nothing screams 1980s like some hi-vis. This pair of shorts from Guess (I know! Guess! Remember them? They're still around!) comes in highlighter yellow and ecto-slime green. Wear them with your pool slides to your Fourth of July festivities.

I actually really love a tall sock on a guy. (Blame it on a crush I had in college...this guy was from the tiniest town in the middle of Pennsylvania but dressed like a sk8er boi born and raised in southern California, and. I. loved. it.) This summer, why not really commit to a covered ankle and wear the retro ringed style? These socks would look perfect with a pair of Vans Old Skools or Reebok Classics, some wear-everywhere athleisure shorts, and a breezy button-down on top.

H&M Hawkins Pool Swim Shorts, $18
We're trying to be better at SG HQ about making fewer fast fashion recs because it's hard to deny the industry's negative environmental impact, but this H&M collab broke us. Not sure the penance for copping these Hawkins Pool lifeguard swim trunks...maybe go buy some metal straws? Donate to Jay Inslee's doomed presidential campaign? Meatless Monday?! Sorry!

---