An apocryphal truism (that may or may not have originated with Team SG?!) is that the henley shirt is to men what the push-up bra is to women. Namely, a look-good garment that puts the wearer's physical, uh, assets on display.

The casual shirt's two or three-button placket and generally snug fit offers up a trifecta of male cleavage, biceps, and (at least the illusion of) broad shoulders. Add to that how freaking comfortable and versatile henleys are, and you can see why SG HQ considers them a year-round men's style staple—and, why every guy should own at least one. Or two. Or three.
I know I often pop up here arguing the merits of owning fewer, better things—aka, trying to convince you to splurge on not-so-easy-on-your-wallet cashmere sweaters and leather dress shoes and shearling-lined coats (oh my!). But hey, I'm not above a good deal!
Since henleys are usually constructed from more humble (read: less expensive) materials like cotton and modal fiber, you can afford to stock up and still have enough left over for premium seating on that hay ride you're headed to this weekend.
So, take a look at these SG-approved henleys, all under $60:
G/O Media may get a commission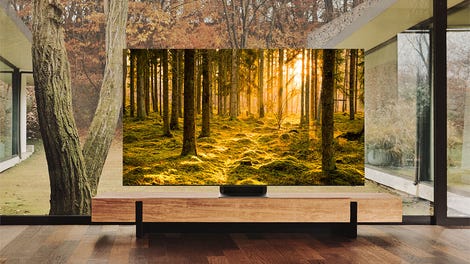 Up to 40% off
Samsung Smart TVs
There's just something about a henley that reflects the oh-so-cozy feel of fall, as well as the falling temperature, and this RVCA style is no exception. Thickly slubbed cotton offers up texture and warmth galore. Wear this long-sleeve henley on its own, or layered under a cozy flannel shirt or trendy chore coat (or, heck, both).

I always get a little nervous when my favorite brands drop truckloads of product at discount retailers. So...I don't know why there's so much Save Khaki available on Nordstrom Rack's website right now, but for the time being, I guess, just take advantage?!

Because I'm telling you, this aptly named "Good Blue" heathered henley shirt would easily ring up above our self-imposed $60 limit elsewhere.
This cotton henley would look great with lace-up boots and a pair of 5-pocket corduroy pants. You could keep things neutral on the bottom, but I say, opt for a more fun, festive color native to a Thanksgiving centerpiece cornucopia. Think: gourd-grade yellow or cranberry red.

And don't be thrown by the waffle texture of Everlane's heathered cotton top. This henley should absolutely not be banished to a pajama pants-pairing only, I promise. So long as the rest of the outfit looks put together, you'll look stylish and totally appropriate to leave the house.
Of course, not everyone's reaching for warmer layers just because it's October. For our fair weather friends, check out this short-sleeve heathered henley from Madewell's men's line. Made from a cotton jersey material, this indigo-dyed style with a cool, contrast placket offers up a nice "broken in from day one" feel, and it only gets softer after washing.

Basics? From Old Navy? Groundbreaking! I kid, but real talk: Old Navy is low-key great for basics, and the SG team will recommend their super-affordable tees (long-sleeve or otherwise) to anyone who will listen.

Each of the colorways Old Navy offers would look great, but I'm really into the "Robbie Red," which just feels so cheerfully seasonal! You could wear this henley with jeans and a field jacket now, and under a burly buffalo plaid shirt jacket later.
This colorful henley nods to collegiate fan apparel (it is Abercrombie & Fitch, after all) without actually repping a team. Meaning? It works as well for a Michigan fan who doesn't want to look too fratty, or for a Big Ten agnostic who just wants to add a little color to his fall wardrobe.

It can seem virtually impossible to achieve the perfect combination of clothes in one outfit this time of year. You're freezing when you leave the house in the morning, and wishing you'd packed swim trunks by the time you're headed out to buy a sad desk salad for lunch.

It's not fun to be either extremely overheated, or totally freezing, which is why a strong layering game in fall is a must. This J.Crew henley is perfect for under a sweatshirt or sweater you'll shed later so you can easily achieve an internal temperature that's juuust right.
---