The good and bad of being so well known for one thing is that when you want to start doing other things, people are all, "But I know you in this one single context and that's it! Why are you disrupting my already precariously situated worldview?!" Like when Ed Sheeran started acting, or Casper launched sheets.
Such is the case for The Tie Bar, the Chicago-based men's brand that today sells way more than just guys' ties and accessories.
The Tie Bar got its start all the way back in 2004, and has since evolved from a once-tiny tie company with a role in making dressing up mainstream for guys again, to a full-fledged menswear brand with stores across the country.
Allow me to virtually walk you through the shop and show you what you may have missed since last popping in to buy your groomsmen matching bow ties, or to stock up on lapel pins:
There's cute and there's too cute when it comes to men's accessories. A tie bar in the shape of an anchor falls just short of turning your outfit into a billboard that reads, "I'm a boat guy."

Just avoid wearing it with a nautical-themed tie. Actually, just avoid nautical-themed ties in general. You're better than that.
---
G/O Media may get a commission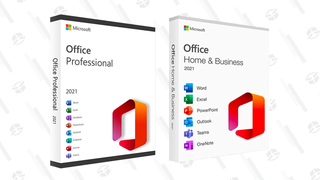 89% off
Microsoft Office Professional 2021 Lifetime License
The Tie Bar launched dress shirts back in 2016, and they're perfectly serviceable for an affordable off-the-rack option.

Not much of a dress shirt guy? Don't miss their more recent release of casual button-up shirts. The kind best wore untucked (have we come up with a name for these shirts yet? Or are we just calling them "untucked shirts"? These are the things that keep me up at night). This solid gray flannel shirt would look equally stylish in a dress code-free office with chinos or 5-pocket twill pants, as it would for a winter weekend, dressed down with jeans.
---
At this point, it's entirely possible to kit out your entire corporate casual work wardrobe with nothing but The Tie Bar. Case in point: Wool dress pants that ring up under $100. Even better? The brand's trousers come in both an athletic and "trim" fit to cover even more office-bound guys.

---
There are two kinds of people in the world: One who, with a gift card, spends it all on the most expensive thing from a brand that they would never otherwise buy; and the second kind, who scrounges together a motley crew of clearance items to "get the most" out of their Shop 'Til You Drop spree.

When it comes to brands like The Tie Bar that have disrupted the supply chain in a way that allows them to offer high-quality products at lower price points, you may as well "go for broke" since even their most expensive stuff isn't really expensive. Like, at all. In this case, a 100% Italian wool tie that'll set you back less than a #YangGang MATH hat.
---
Did you know The Tie Bar sells sweaters? This is what I'm saying! They've been busy! Layer yours under a sport coat with a patterned dress shirt (like this one) for work, or on the weekends with jeans and a white or grey crewneck tee underneath.

---
Yes, The Tie Bar has a ton of fun patterns and colors of pocket squares, but first, make sure your basics are covered. Namely, white linen pocket squares with a rolled border. You can pick your poison when it comes to colors; I like the burgundy for the holiday season. Merry merry!

---
Three pairs of dress socks for twenty bucks? Yes, please. Feeling funky? Go with this "fruit and fauna" 3-pack.

---
At SG HQ, we get a weirdly large amount of questions about leather belts, mostly about where to get a "good" one. But here's the thing..as best as we can tell, a belt is pretty much...just a belt. It'll last you awhile (longer if you treat it with leather conditioner semi-regularly) but not forever. As such, the best place to get a belt is wherever you're already getting other stuff. Meaning, this one fits the bill!

---
...A-a-a-n-d the same goes for scarves. Unless you're going full Burberry, there's no need to spend all that much on a scarf, especially one that's going to stay hung in the closet around the lapels of your topcoat until you need it for date night or holiday dinner with the fam.

---
A silk knit tie is a wardrobe essential for a modern man. Blue or navy is a good place to start, especially when it's handmade with 100% knitted silk. When a tie looks this good, you'll be less annoyed by having to wear one in the first place (unless you love dressing up, in which case, awesome! Go buy this bad boy in ever color and go get a week's worth of fits off!).

---