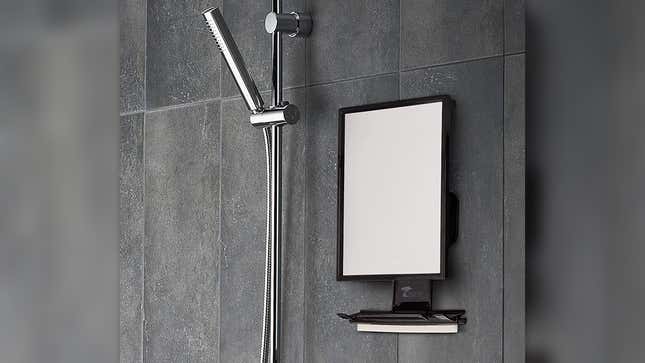 Fogless Shower Shaving Mirror | $38 | Amazon
Stop leaving a mess over your bathroom sink. I was in the habit for a while of just shaving and trimming in front of the bathroom mirror because, well, how else are you going to do it? The problem is just the hair scatters everywhere over the sink and vanity and is just annoying to clean up. Little specs of hair that don't want to wash away or be picked up in a paper towel. That's when I realized I'd much prefer to shave in the shower. This fogless shower mirror helps you do just that.
Fogless? But how do? Well, behind the mirror is a chamber you can fill with water. Just slide the mirror off the bracket and fill it with hot shower water each time you're in there. With hot water pressed up against the back of the mirror, it's scientifically impossible for condensation aka fog to collect on it. Now you can see your pretty face in the mirror while the shower continues to run.
The mirror has 360° of rotation which is great if it's to be used by two or more people of varying heights. It has a convenient shelf built in to hang your razor, loofah, sponge, or what-have-you. It also comes with a squeegee that slides right out of the shelf you can use to remove any excess water droplets from the mirror.
This fogless shower mirror normally goes for $40, but right now you can save 5% when you clip the coupon on the item page.