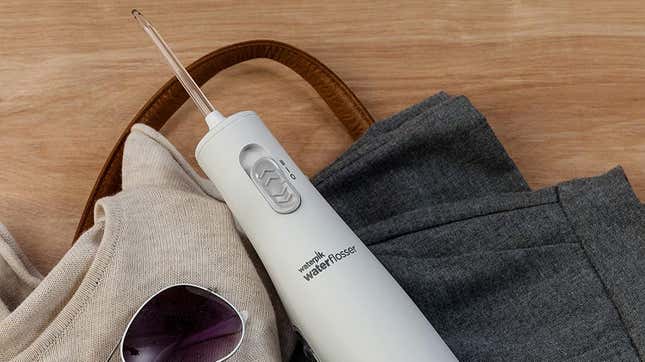 Waterpik Cordless Water Flosser | $26 | Amazon
As I joked in my Colgate Hum review over the summer, I haven't always been as disciplined as I should be when it comes to my teeth. In fact, if I'm being honest, I neglected to floss regularly until a few weeks ago when I found out I'll need grafting surgery due to gum recession. Don't make the same mistake I did. While analog dental floss or floss picks will do the trick for most people, my dentist recommended investing in an electric water flosser, especially since I have a metal permanent retainer affixed to my bottom teeth, which makes it difficult to eliminate the food-derived bacteria that often gets stuck in there.
The Waterpik WF-02W011, a cordless battery-operated water flosser is one of the most affordable options when it's on sale, as it is now for just $26. By combining water pressure with pulsations, Waterpik's flosser is able to reach those spots you can't access with a toothbrush—or, in my case, even regular old dental floss. It's also easier to use than traditional string floss, removing up to 99.9% of plaque at the press of a button. Just make sure to pick up some rechargeable batteries while you're at it. Although the Waterpik does include a trio of AAs, replacing the non-rechargeable cells is sure to add up over time. Otherwise, a water flosser is a good, practical use of your Christmas cash.
---