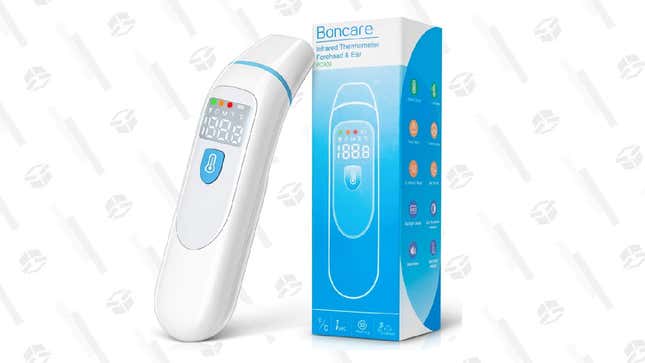 Boncare Infrared Thermometer | $17 | Amazon | Use Code 584QOUMU

There's no way being shot in the face with an infrared thermometer will ever be comfortable. I went to the Metropolitan Museum of Art a few weeks ago and immediately when you walk in they take your temperate like this. In fact, there have been several establishments I've been in that are doing this. If you're in looking for a way to find out if someone is running a fever without touching them this is for you. Save $23 on this Infrared Thermometer from Boncare for the next days. All you have to do is use this code 584QOUMU at checkout.
This forehead and ear thermometer is great for all ages and sizes so it'll work for the whole family. Works within seconds for an accurate reading with minimal fuss which is great for squirmy babies or children. And because it's all external its much more hygienic and allows for few germs to be spread. You can even save readings in case you are keeping track to make sure no one is getting sick or that someone is recovering. There is actually a fever warning system that will sound if the person in the question is running a little warm but the LCD screening is pretty easy to read as well. It comes with a one-year warranty but just remember to grab two AAA Batteries.
This deal runs until October 12. Prime members enjoy free one-day shipping.
---