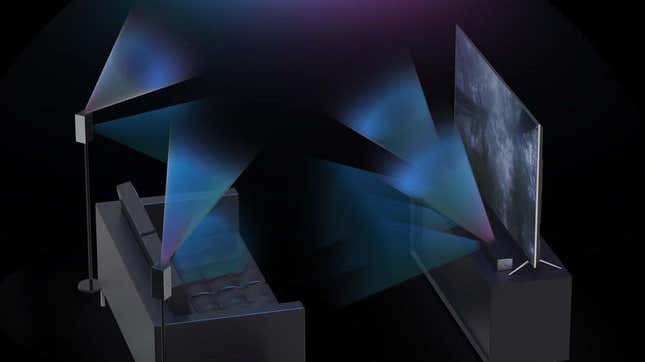 While 5.1 or 7.1 surround sound involves placing speakers around your room on a single plane, the concept behind Dolby Atmos is to give audio an element of height. If you don't want to install speakers in your ceiling though, this Vizio system is one of the easiest and cheapest ways to pull off the effect.

At first glance, this looks like a 5.1 system similar to Vizio's excellent sound bars. The main bar at the front of the room carries three channels, the two satellite speakers (truly wireless, in this case) provide your rear channels, and the wireless subwoofer handles the bass. But this being an Atmos-certified 5.1.4 system, it also includes four speakers (two built into the sound bar, and one in each of the satellites) that face upwards to bounce the Atmos channels off your ceiling, and back into your ears.
The effect won't be quite as convincing as true ceiling-mounted speakers, but you won't do better for this price. Gizmodo covered a similar Vizio system (a 5.1.2 version), and came away impressed. This model normally sells for $1000, but today on Amazon, it's $300 off, matching an all-time low (which wasn't available for long). Amazingly, that's only $100 more than the price of the 3.1.2 version of the same system, which doesn't include the satellite speakers.
---