Mechanical keyboards are the only good keyboards, and if you're in the market for a new Cherry MX Blue board, perhaps you'd like some retro flair to go with it.
The Qwerkywriter S is a Cherry Blue keyboard wrapped in vintage style. It'll be the coolest object on your desk, and the aluminum chassis feels super-premium while the texture on the keys is just perfect. All the features you'd expect demand from a $300 keyboard are here, including wired and 3-device wireless modes and N-key rollover, but it's the extras on the Qwerkywriter S that make the argument for its premium.
Like the Logitech Craft Keyboard (which isn't mechanical), the Qwerkywriter features a knob, two of them in fact, which are very handy for volume control and scrolling. As you'd expect, the return bar on the left defaults to "enter", but with a little effort you can bend all of these inputs to your whims, albeit without the software support you'd get from someone like a Logitech.
The Qwerkywriter also has a smart device stand that, depending on which devices you have, could definitely hold your tablet and smartphone at once. With the ability to switch between three Bluetooth devices seamlessly, you can just feel the productivity potential.
The Qwerkywriter certainly isn't the only retro-inspired keyboard out there, but the tenkeyless-esque form factor gives it a major (subjective) edge over options like the Azio Retro. It's not my favorite keyboard to type on in a vacuum, that honor still goes to the Matias Mini Tactile Pro, and it's also not packing many of the features you'd get on much less expensive gaming keyboards.
G/O Media may get a commission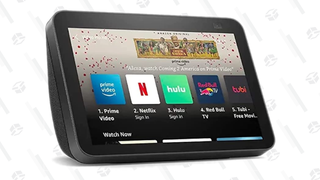 But it's awesome. You're going to spend a lot of time with your keyboard, so you should really love not just typing on it, but looking at it as well.
---