Here is a common summer scenario: You check your weather app, look out the window, ask Alexa what the temperature it is outside—whatever—and decide to throw on a dress to provide your legs with some relief from the sweltering heat. However, mere moments later, your inner thighs are on fire anyway, because you've struck with a dreaded case of thigh chafe, aka "chub rub."

Chafing thighs is an uncomfortable, indiscriminate reality for many, particularly in summer, when hot weather forces us to bare our legs to the world. Unfortunately, the heat also leads to sweating, which leads to more chafing. A vicious cycle indeed.
But you don't have to spend the rest of summer in agony. Below, you'll find a range of products to help fight the friction.
If you've ever seen the movie Juno, you may recall that good ol' fashioned deodorant works wonders when it comes to preventing painful chafing—and not just for runners. Plus, it's especially useful when you're in a pinch, since you probably already have some on hand. Just keep in mind: It needs to be the invisible solid variety of deodorant. Gels, sprays, and soft solids won't work.

G/O Media may get a commission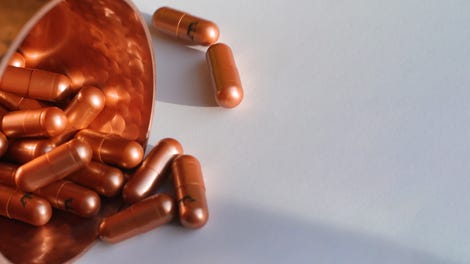 health
The Lyma Supplement
MegaBabe founder Katie Sturino created her company with average women wearing skirts and dresses—as opposed to athletes—in mind. Thus, MegaBabe's Thigh Rescue Anti-Chafe Stick is formulated with skin-friendly ingredients like aloe, vitamin E, pomegranate seed extract, and grapeseed oil, making for a super smooth feel that lasts all day. Never fear, dudes, there's a stick especially for you, too (though, the two products seem to be nearly identical ingredients-wise).

If a stick seems too bulky for you, the makers of famed athletic tape KT Tape has started making KT Performance+ Chafe Safe Wipes. Each wipe is individually packaged, so they'll fit in the smallest of pockets or purses, and though they're specifically designed for sports, they'll still work on those of us who are not athletically inclined. Bonus: These really stand up to sweat and humidity, two of summer's most notorious hallmarks.

Maybe you don't want to rub goop all over your inner thighs. I get that! Instead, ladies can sport these not-so-horrible-looking, stretchy anti-chafing thigh bands from Bandelettes. They come in a range of colors (including beige, which is helpful) and sizes, and in both lace and not-lace. A silicone band on the inner part of the band acts as an adhesive against your leg to help these things stay put.

Knix is probably best known for their Thigh Saver. Available in either black or beige, the Thigh Saver is a seamless, ultra-light short that hits at about mid-thigh to get rid of any rub. Plus, they feature a sewn-in gusset, so really, they double a pair of long underwear and eliminate the horrifying prospect of panty lines.

Thigh Society is a company that is completely dedicated to eradicating the chafe. Like Knix, they sell seamless shorts to wear under skirts and dresses—but then they take it a step further. Choose from styles that are regular, high, or ultra high rise, and Original or Cooling options (the Cooling are supposedly 40% lighter than the Originals and promise to keep you 1 degree cooler). Best of all, they offer several shades of nude shorts in addition to classic black.

That being said, regular bike shorts can help ease your pain, too. This cotton/spandex pair from Hanes is as basic as they come, and starts at just $5.

---