Thanks to things like rolling Black Friday–Cyber Monday–December–last-minute holiday shopping sales, late November and December is an onslaught of reasons to drop money on family friends and yourself. After all, if you're going to buy a vacuum or Instant Pot or literally anything from J.Crew in the next six months, you better do it now while it's 30% off. A little strategic sales shopping for yourself is smart as long as you don't let it get too out of hand. The rest of your personal shopping can probably wait till January, right?
Well, sort of.
There's one thing you shouldn't wait on, even if you can't find a sale and that's stocking up on flannel PJs.
Somehow, flannel PJs became a classic Christmas gift. I blame the fact that plaid feels inherently seasonal (even though there's nothing explicitly Christmas-y about it). It's probably been made worse by the fact that everyone wants to post matching family pajama pictures for cards and Instagram which, like, you do you, but no thanks from me. (The only time I've matched my family was in 1992 and that was enough for us.)
Gifting and obligatory matching then create the phenomenon of retailers like Land's End, LL Bean, and the Gap stock up on cozy pajama bottoms, pajama sets, and flannel bathrobes in mid-November and they quickly fly off shelves.

G/O Media may get a commission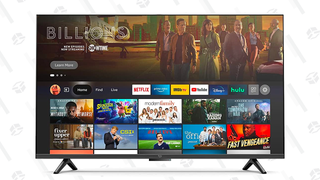 22% off
Amazon Fire TV - 50" Omni Series 4K - Early Access Deal
Then they just... never come back. By January, resort wear is creeping onto shelves, and we're having to think about spring again already. But, of course, winter isn't over. It's far from it. In much of the U.S., it's hardly begun. For most of the east coast, where I've lived all my life, it starts getting kinda chilly in the late half of the year with the real winter waiting to rear its head in January and February. It's still a long way off till warm weather for a lot of us, folks.
This is why you'll be so glad if, now, you think ahead and buy yourself some flannel PJs. You'll be able to slip into them on cold nights and weekends and curl up feeling a bit more safe from the winter winds in something warm and soft. I found this out the hard way when I lived in Boston one long, dark winter and realized after Christmas that my old building had old pipes that clanged and didn't really warm up my apartment. I decided to stock up on more warm apartment wear and found so many things sold out or otherwise unavailable. New England Winter: 1. Me: 0.
Last year, I bought a pair of flannel PJ bottoms for myself and a pajama set for my perpetually cold boyfriend. This year, I think I'll also grab a flannel nightshirt for days when flannel pants just feel like too much work.
I will note that brands that feel very familiar to the seller of the Amazon coat will likely still have flannel January, as well as year-round. There are even some pretty well-rated options from companies with names like EVERDREAM and CYZ and Ekouaer
But I feel like, for something you will be hibernating in, you gotta cast your lot with legacy brands that really know the world of flannel and respect its soft warmth. I'm sure many of these other brands are fine, but what if you pick the wrong one? Do you really want to risk your winter warmth on a brand you haven't heard of?
Which brings me to a final piece of advice: Buy your fleece-lined moccasins now, too. Once you slip your feet into a pair you'll wonder how you did without them. I like a pair with a hard sole so you can run to the mailbox or take out the garbage in them. They are also a popular gift that gets harder to find in January.
Just one more word of caution: While you're collecting flannel and fleece-lined layers, think long and hard before you invest in a pair of footie pajamas. Are you really going to want to climb into the house version of a romper that you have to unzip every time you need to pee? Keep it simple, keep it cozy, keep it flannel. Until it gets warm, then its all caftans all the time for me.
---