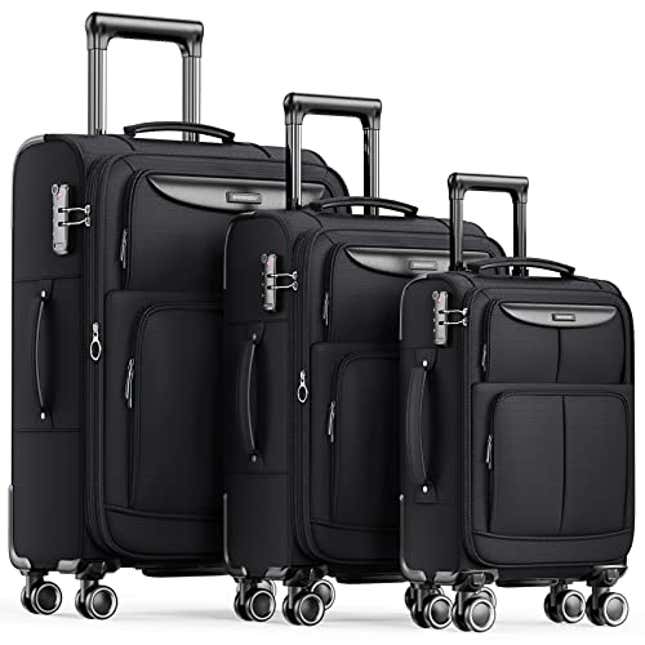 The frantic pace of everyday life often makes us yearn for a bit of respite, and there's no better way to achieve that than by exploring new places. A stress-free travel experience begins not just with a great destination, but with the luggage that carries our essentials. Consider the top-rated SHOWKOO Luggage Sets available on Amazon, coming with an array of features that make them an unquestionably smart choice for all globetrotters.
This three-piece luggage set made from high-density Oxford fabric guarantees durability and waterproofing, highly valuable qualities for protecting your belongings during your journeys. Another impressive feature of this set is the potential space it provides. Smaller 20in suitcase is perfect for short trips, while the larger 24in and 28in cases can expand to offer 20% more packing space, capable of fitting in all your travel necessities with ease.
Maneuverability is an important aspect to consider when choosing your travel companion. This is where the SHOWKOO Luggage Sets shine. The 360° silent double-Row spinner wheels ensure quiet and effortless movement, so you can glide through busy terminals without exerting unnecessary pressure on your arms. Combining this with the ergonomic, adjustable 3-step iron handle, every part of your travel will feel like a breeze.
Security is another prime concern for every traveler. With SHOWKOO Luggage Sets, your worries are put to rest. The bags come with a TSA-approved combination lock, allowing only TSA agents access to your luggage during checks without causing any damage to the lock itself.
The baggage organization has been given special attention here, with full zipper internal dividers and cross straps for effectively holding your items in place during transit. For last-minute additions, there are two large external pockets, adding to your convenience. Every feature has been thoughtfully placed, underlining this product's position as one of the top softside luggage sets available on Amazon.
In conclusion, if a reliable, spacious, and ergonomically built suitcase set that ensures the utmost security of your belongings is what you seek, then the SHOWKOO Luggage Sets remains your ultimate choice on Amazon. This blend of well-built design coupled with a slew of convenient features makes it the go-to option for every travel enthusiast. So why wait? Plan your next trip and let SHOWKOO be a part of your wonderful journey!